Earlier this year, the VRE Researcher Profile module was successfully used to record over 600 Public and Community Engagement events and activities inputted directly by yourself and your colleagues.
All of the data that can be inputted into the VRE Researcher Profile module – from your research and teaching narratives to media showcasing your work – can now be made visible to the public.
Please see the guidance on how to use the VRE Researcher Profile module here [link], and read below for insight into (i) where the data you input into the module publicly displays and (ii) what kinds of information you can present on these profiles.
An FAQ page is available on SharePoint [link] and if you encounter any issues/errors or wish to provide general feedback please fill in this Form.
Teams links to "VRE Researcher Profile Drop-in Sessions" focussed on using and understanding the module and where the data outputs are listed on the Researcher Development Hub [link]. 
The public display of information inputted into the VRE Researcher Profile module
The data you input into this VRE Researcher Profile module outputs onto two different public web profiles:
The University Website Profile
The University Website Profile, which currently displays the following fields from the VRE Researcher Profile module: "Biography" (under the heading "About me"), "Research", "Teaching" narratives, and some social media links.
The profile is hosted on the University of Westminster's website can be accessed in the following ways
The WestminsterResearch Profile
The WestminsterResearch Profile displays the above (aside from the "Teaching" narrative) and all of the other information you input into the VRE Researcher Profile module. This WR Profile is hosted on the WestminsterResearch website and can be accessed in the following ways:
The "Westminster Research" link in the "Connect with me" section of your University Website Profile
A link at the bottom of your University Website Profile under the heading "Publications", if you have outputs
Via search engine results

Make your Public and Community Engagement (PCE) activities visible to the public
All academics at Westminster should be recording their PCE activities in the VRE Researcher Profile module.
You can select which of these you would like to be visible on your public WestminsterResearch (WR) Profile using a  button that now appears on every entry.
You can also now provide an "Engagement" narrative that explains your approach to public and community engagement and/or knowledge exchange.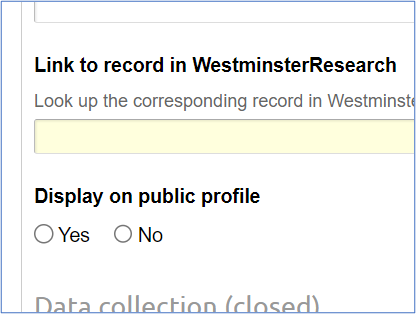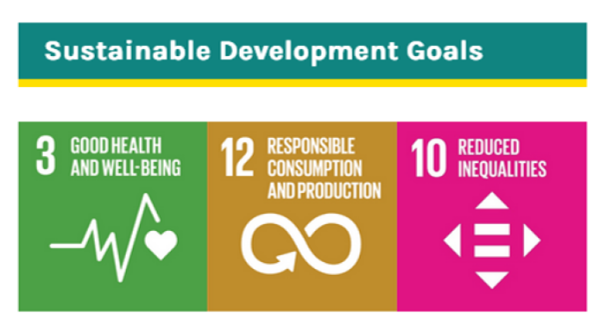 Specify your Supervision Interests
The public WR Profile can help prospective doctoral students to identify a potential supervisor.
Highlight your alignment with Sustainable Development Goals
Up to three UN Sustainable Development Goal (SDG) icons can be displayed on your WR Profile, helping visitors to recognise where your work fits in with respect to the aim of achieving a better and more sustainable future for all.
Feature videos that showcase your work
You can feature up to three videos that showcase your research or engagement activities.
Highlight key research outputs
You can present "Featured outputs" that you consider to be key works.
Your other research outputs will now appear in a table, organised by type.
For queries on outputs, please contact Nina Watts, Repository and Open Access Manager, at N.watts01@westminster.ac.uk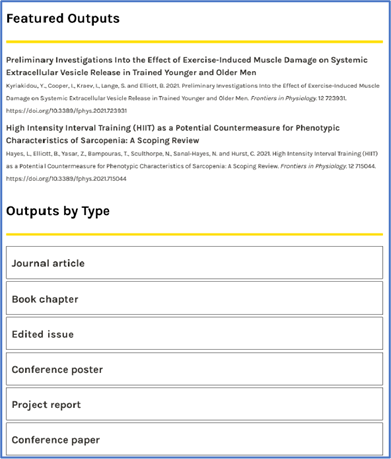 Present the range of scholarly activities you undertake
You can now record and display activities such as editorial work, work you have undertaken for funding bodies, conference/event organisation, and awards you have received.
Your work as a supervisor will also be displayed via a table of active and complete Supervised Student Theses.
If you find that there is any incorrect data in this table, please contact graduateschool@westminster.ac.uk
Display funded projects
The WR Profile's "Projects" page lists all funded/awarded projects that have been processed through the Research and Knowledge Exchange Office.
If there are any such projects that are not currently displaying, or which need updated titles, please contact your Research Development Partner (for research projects) or your Collaboration Partner (for KE projects).
To identify this relevant Partner please see our "Who's who in the Research and Knowledge Exchange Office" page [link]
Latest posts by Jeeshan Gazi (see all)