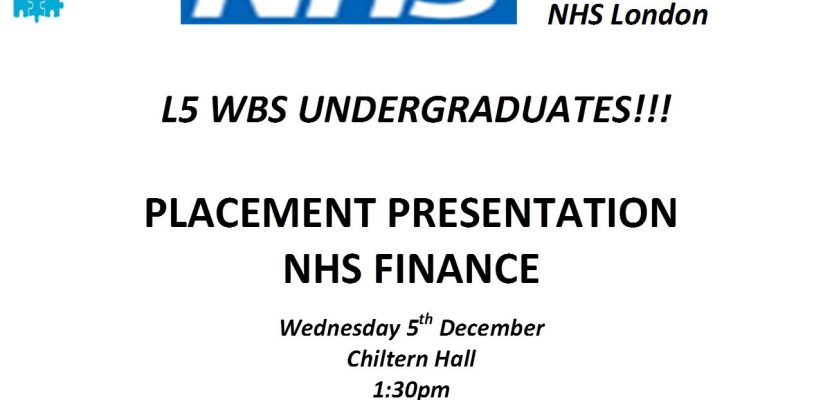 Did you know the NHS Finance Placement Scheme in London favour Westminster Business School students to undertake their placement positions? For July 2012 they took 26 of our students out of a possible 30 placement opportunities.
On the 5th December 2012, I attended the guest lecture which was headed by, Mr Sotiros Kyriacou, a Chartered Accountant of 22 years working in the NHS Finance Department.
Mr Sotiros joined Westminster Business Experience Team, to deliver a presentation to second year business students, about the placement opportunities NHS have in their finance department. In this blog spot I will explore three key areas Mr Sotiros voiced to other business school students.
A background of the NHS
What the finance work placement scheme comprises of
Tips on how to become a successful applicant
Background of the NHS
As you may already know, the NHS has come under major scrutiny by the UK government about budget cuts and further reductions. In October 2012 the government proposed hospital closures and staff layoffs, which will in essence decrease the quality of care.
Finance 12 Month Placement Scheme
NHS London, are offering 30 candidates, finance work placements for a 12 month period. This is only open to second year (Level 5) students.
NHS can offer:
Backing & Support to anyone holding a junior placement role
£17,000 Salary for the year
Valuable experience in Accounting & Finance
ACCA/CIMA/ICAEW Acceleration – Further Exemptions
Fast track to a graduate position
If you decide to take up a graduate position with NHS and want to do the ACCA/CIMA/ICAEW qualifications, NHS will cover 75% of your fee's
NHS has great connections with Kaplan, London school of finance, BPP University College, where you will gain help, if needed.
NHS can give the same experience as other larger finance companies such as KPMG, Goldman Sachs, Deloitte and PWC.
You have the opportunity to work within different departments of NHS: Financial Planning, Accounting, Finance, Payroll and many more.
What the NHS is looking for:
A person who can manage themselves
An individual who needs no supervision
Courage to stand up for themselves
Responsible
Realities you will face:
Competition from other students – Therefore you need to stand out from other students. How can you do this? Voluntary work, Experience in Accounting & Finance, thinking outside the box
You will need to really market yourself – What skills you have/Work Quality/Knowledge/Dedication and Experience in the field you want to go into.
Interview
Why do you want to work at the NHS?
What do you know about the NHS?
Why Accounting & Finance?
What motivates you?
Interview and CV Tips
The core elements the NHS or any other employer will look at is :
Personal Profile/Statement
Career Achievements
Education Achievements
Personal Details
Remember to be unique as possible, think of yourself as a new brand or product; you need to market yourself to attract people to your brand identity. Keep you CV no more than two pages. The first page is where you will attract the reader's eye instantly so make sure to keep it short, but be clear on what you have done in your life for example, Personal Profile, Education, Work Experience, Voluntary Work. On the second page you can state your hobbies, interests and references.
Tips
Do not lie on your CV
Focus on your strengths, never write your weaknesses on your CV, such as 'you cannot work in a group'
Get others to look at your CV
Do not use negative language
References – Make sure they are ready to be contacted
Interview
Panel of 10 people interviewing
They want to see if they can trust you to stand up on your own two feet
Always show positive gestures and keep a good posture
Do not look down when talking
Stay calm
In the past they have asked questions on debit/credit entries in bookkeeping, accruals and prepayments, this is basic accounting you will need to grasp, when applying for jobs.
Secret of success
Always remain positive and honest. This will give you the confidence to really excel in the interview. Get into the right mind-set and be prepared for any questionsthat could be asked, and do not leave anything to chance.
Please use the one-to-one CV workshop sessions the Business Experience Team provide. Also mock interviews can be booked with Iram Sial (Placement Co-ordinator) I.sial@westminster.ac.uk.
Latest posts by Masood Azam (see all)