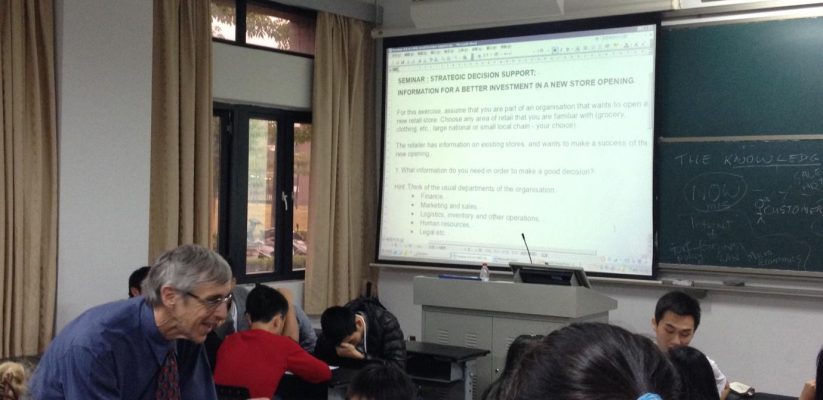 Jim Coakes and I recently visited China to meet students and staff at some of Westminster Business School's Partner universities and agents.  In this blog post I will cover some highlights from our trip:
This was a very interesting trip indeed as we gave sample lectures in a number of different locations and thus experienced a wide variety of travel to and from these universities. Initially based in Shanghai and visiting Xianda College and UKAES; we then moved onto Fuzhou and went to Fujian Normal University; followed by Xiamen University at Zhangzhou; then Huaqiao University in Quanzhou; and finally two different locations of the Guangdong University of Foreign Studies within Guanzhou. Whilst all these places are located in South Eastern China, as with most places in China, the distances were much larger than you initially thought. China is building big and all buildings and other sites such as rail stations are large, and with many university campuses to walk between buildings is not feasible – you need transport.
We flew both internationally and locally, used the Bullet Train; used High Speed trains and local trains; and even travelled from Xiamen – which is an island – to Zhangzhou by boat; and of course used multiple taxis and Metros in the different towns.
This is a photo of us – Jim , Elayne and Yen – our Agent, Interpreter, and Westminster Alumni –outside of the Xiamen University's main building at the Zhangzhou campus. Xiamen has 4 main locations for their campuses. As you can see the weather was quite warm on this day but this was unusual as we seemed to bring the rain to every place we stayed. Note also how the new this building is, anything built before 1970 is now considered old and is being torn down or re-modelled.
The staff and students were very welcoming and indeed at Huaqiao we were given a 7 course western style banquet before teaching in the evening. It was rather heavy to teach on such a full stomach but we had a go, especially as we found ourselves in front of 150 students. We were served by students from their Hospitality degree who did a good job of attempting 'silver service'.
Here we are in the lecture theatre with attentive students. We were talking about Web 2.0 and eBusiness. This proved to be a popular topic for us to talk about as we repeated this talk in several places, but the other topic that interested them was Knowledge Management which was very new as an idea.
What was also new to the students was working in seminars on cases and they enjoyed this very much as you can see from the photo below, asking questions and being prepared to discuss their findings with the class.
You can also see the blackboard – literal! This was the norm we found in the classrooms we were offered. The tutor at Guangdong University of Foreign Studies at Guanzhou wrote afterwards to us:
Thanks for your wonderful lecture this afternoon and many students showed their excitement and great interest in the lecture, and they hope there will be more lectures presented by foreign teachers in the future. Also, after the class, some of the students asked me for the catalogue of Westminster Business School.
Whilst it was hard undertaking so much travel to 7 different university locations plus visiting an Agent to interview potential Masters students and train staff within 2 weeks, we did enjoy the hospitality and friendliness of staff at the places we visited and do hope to go back. We have invitations already from all these universities so maybe next year….
Elayne Coakes (Dr) – Senior Lecturer, Information and Knowledge Management
Latest posts by Westminster Business School Blog (see all)