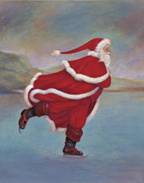 At the Westminster Business School, students are finishing off their assignments and I see clusters of them working around their laptops in the social learning spaces.  Some are busy preparing for their presentations at our learning and development student conference. Academic staff are very busy marking and also finishing off their research papers. The Christmas tree has arrived and looks splendid in the reception area. Parties are taking place as students and staff celebrate the end of term and the forthcoming holiday period.
I always think that the next few weeks offer time for reflection before the arrival of the New Year. 2012 has been a fabulous year in London and many of us have wonderful memories of the Olympics, ParaOlympics and  the Queen's Diamond Jubilee celebrations. It has been a time of change in the Business School – I arrived as Dean in April and,  following a long period of construction work, we have a wonderful world class building – modern, light and welcoming.
One of my activities over the holiday period is to start thinking about and writing about the new relationships that have appeared with respect to students' learning. I am very interested in how students and staff use different kinds of space:- social learning space, study spaces (in the library), teaching spaces, travel space (train, tube, bus and walking) as well as private spaces. It seems as if the demarcations between these different spaces are being softened and merged. Learning is taking place in all of them with the help and support of the many different technologies. I know that when I back my bags to go on an international trip I always seem to have too many gadgets – laptop, Kindle, Blackberry, personal mobile phone ….. I use them in different ways at different times and would love one charger!
The use of many different technologies – Facebook, Twitter, e-mail, Skype – means that the differences between public and private lives are not as clear as they used to be.  One interesting phenomena, for me at least, is that of 'presence' and 'absence' – I can be physically present in a physical space but absent as I am in a virtual world via e-mail or Facebook. I can also be physically absent but present at meetings and tutorials via Skype or video conferencing.  In my research on e-mentoring, I have found that for students and mentors there are issues about presence and absence in a virtual world. This can cause upset and conflict – different people have different expectations and also understandings of developing communication methods. Important differences exist in different cultures and parts of the world. It can be challenging to 'get it right' and so developing effective online communications is something that many of us are learning about as we negotiate and re-negotiate new forms of learning, working and communicating with each other. It affects our family and social lives too – as different people are absent and/or present in physical and virtual worlds at different times. I am looking forward to working on these themes and reading the literature over the forthcoming  holiday period. More on this topic next year!
Over the holiday break I am looking forward to meeting with family and friends in Yorkshire particularly in windswept Whitby, walking the dog over the Yorkshire Wolds (snow would  be lovely), and also catching up by Skype and Facebook with family and friends across the world.
I hope you have a wonderful holiday.
Latest posts by Masood Azam (see all)