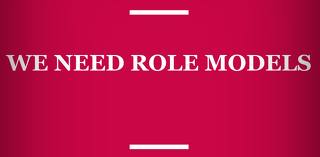 The HRM Department's annual conference took place on Tuesday 3 April and it was great to see practitioners and students coming together for this interesting event. I was asked to speak about role models and this caused me to reflect on my own career and experiences. The term role model generally means someone who provides an example e.g. in terms of their behaviours and achievements. In preparing my presentation, I asked friends and colleagues about their view of role models and they answered with examples such as Nelson Mandela, Richard Branson and J K Rowling i.e. people who have a global impact. On reflecting about these examples, I realised that for many of us these role models are perhaps well beyond our experience and vision. This caused me to think about the role models in my own life and I realised that they were people who were accessible to me.
My mother, a doctor who brought up five children, offered me a wonderful role model of a professional woman who managed a complex work/life balance – she always said that she needed work to keep her sane after family life and her family offered her a welcome escape from work! Colleagues at work e.g. a dean in my previous business school from whom I learnt much about leading and managing.
Four important messages from him included:
• Make decisions on the basis of the criteria of quality, reputation and finance
• Dealing with problems by discussing them with colleagues and developing a sound solution
• Choosing your battles rather than taking up every issue full belt
• Keep in touch with informal communications rather than relying on formal ones.
I hadn't realised I had learnt these messages until I moved to Westminster Business School where they help guide me through my daily life as dean.
I then talked about mentoring which provides access to a role model and the importance of both formal and informal mentoring schemes. I always have several mentors who help guide me through particular aspects of my daily life and also my longer term career.
I described the characteristics of successful pairs which came out of my research as:
• Discuss expectations
• Identify working practices
• Clear structure and activities
• Regular 'meetings' – at least every fortnight
• Importance of face-to-face meetings.
In addition, I talked about when mentoring doesn't work and this was often due to:
• Unrealistic expectations
• Don't spend time working out how to work together
• Disappearances
• Lack of clear boundaries
• Unprofessional communications
I illustrated the example of an unprofessional communication with the following e-mail from a student mentee to her mentor:
Hi
Can't make meeting tonite. What about next Monday i am very busy with course work. Hope all well with u.
Jane
And talked about the importance of professional communications. I know the negative impact the previous example made on the mentor who would have responded quite differently if she had received this e-mail:
Dear John,
I am very sorry but I have to cancel our mentoring meeting tonight. I am really sorry for any inconvenience this may cause you. If it is convenient with you then I would like to re-arrange the meeting for next week. I am available every evening except Friday.
All best wishes
Jane
Finally, I talked about the importance of professional networking and the importance of being prepared:
• Manage your image
o Keep your personal and professional lives separate
o Facebook and LinkedIn are used for different purposes
• Manage your communications
o Business card
o Clear message about yourself
• Be professional at all times.
I enjoyed this presentation – and I hope the audience did too. It made me reflect on my learning processes through role models, mentoring and networking. It also made me realise how much I had learnt as a mentor in addition to learning from my mentors.
Latest posts by Masood Azam (see all)