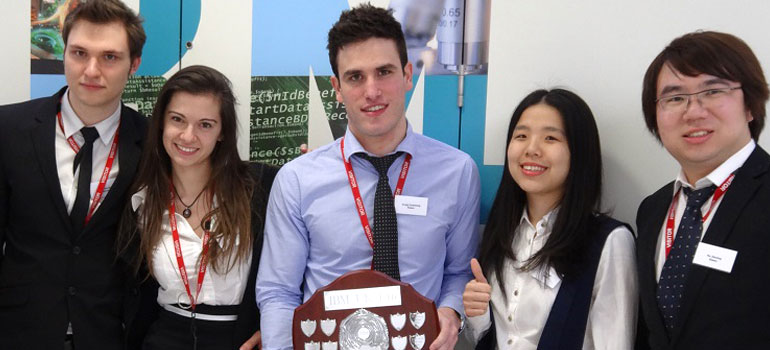 The world's leading event for employability & enterprise skills: Join the UBC Business Challenge .
Add this to your CV and also have the chance to win £1,000 – Deadline Friday 11th October for selection.
We are looking for 4 teams of 5 students from the 2nd Year and last year students who are registered for a work placement to work in teams to compete in the world's longest established and most recognised simulation-based competitive challenge for undergraduates designed to develop employability and enterprise skills.
The Challenge gives undergraduate students the opportunity to work as a board of directors of realistic, simulated companies, making all the critical business decisions that affect the company's performance. First round of decisions runs from mid October to late November. Make it through to second round and thats the semi finals at the end of February/early March and you will have the chance to spend the day at one of the sponsors, e.g. at Jaguar Landrover, RBS, Proctor & Gamble, Serco. The final stage at IBM is late March – the grand final which only the top 10 teams from the semis make it to.
The challenge allows you to:
– Develop graduate employability skills
– Improve decision making
– Enhance team working
– Develop commercial awareness
– Introduction to top employer
– Make your CV stand out by taking part!
The Challenge is a true learning experience for all those who enter. It will help students to improve their decision-making skills, develop their team-working abilities and increase their knowledge in key business areas such as marketing, finance and production.
For more information, check out the website
More information is on the IBM Universities Business Challenge link shown below, however also look at the UBC website for more information about detailed timetable, detailed overview.
To register a team or even as an individual, contact Iram Sial – I.Sial@westminster.ac.uk by Friday 11th October stating a paragraph about why you want to take part in the challenge.
Latest posts by Westminster Business School Blog (see all)