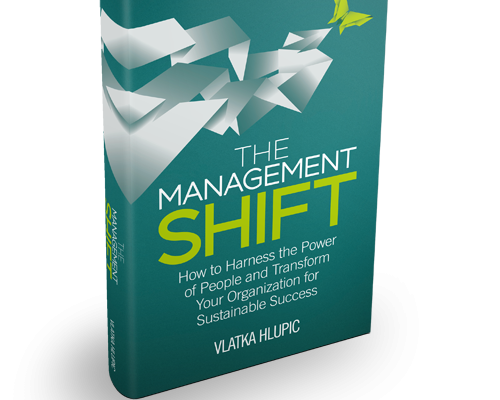 Can you please tell us a bit about yourself?
I have an inter-disciplinary background with various academic and professional qualifications – from economics, information systems and computing, to coaching, psychological kinesiology and neuro-linguistic programming. I have many interests in addition to being an academic. I am an executive coach; I have worked as an adviser for many international organisations and Governments; I am a founder and the Chief Executive Officer of the Drucker Society London. I am also a keynote and TEDx speaker at major international events. Perhaps most importantly, in addition to all this knowledge and experience, I have a huge passion to make a difference and make this world a better place. That is why I wrote this latest book "The Management Shift", in which I brought together both theory and practice, to transfer academic knowledge into action and make a positive difference for individuals and organisations.
We would like to jump right into your new book and ask you a few questions about "The Management Shift – How to Harness the Power of People and Transform Your Organization for Sustainable Success".Can you please tell us a bit about your book?
Many theorists describe the principles behind enlightened leadership; many advisers help implement good practice. In this book I brought together the key elements to provide a comprehensive overview of the 'What', the 'Why' and the 'How' of better leadership.
While people are often stated as a company's greatest asset, few businesses have a clear model of leadership that improves engagement, removes barriers to innovation, and uncovers hidden strengths in people and the organisation. This book addresses that need and, more importantly, demonstrates HOW organizations can make The Management Shift to a new way of thinking and working.
Based on leading-edge research and supported by numerous case studies, which demonstrate the power and impact of change, "The Management Shift" offers managers a practical and systemic approach to diagnose leadership issues in their organisation. It then provides an implementation process to shift their mindset and organisational culture to the new level of thinking, performance, and ultimately business success.
How would you describe "The Management Shift"?
Research shows that corporate life expectancy and performance have declined 75% in the last 50 years , and that only 20% of employees are fully engaged at work . This means that individuals and organisations need a different approach if they are to achieve lasting prosperity. They need a shift in mindset, organisational cultures and corporate consciousness to the new level of thinking and performing. Organisational culture needs to be more focused on people, purpose and collaboration. This is the essence of The Management Shift.
A summary of research presented in "The Management Shift" book was submitted as a written evidence to the All-Party Parliamentary Group on Management, and it was included in their report Management 2020. The key findings of this report emphasise the importance of focusing on People, Purpose and Potential. My book provides research evidence on why this is so important and how it can be achieved in practice. An Individual Shift is facilitated though the 5 Level Emergent Leadership Model described in Chapter 4. I developed this model on the basis of extensive research in individual and organisational development. This model shows developmental levels for individuals and the corresponding level of organisational culture. Each level is characterised by specific mindset, beliefs, language used, leaders' behaviour and organisational outcomes. For example, at level 1, a dominant mindset is "Lifeless", the corresponding organisational culture is Apathetic, and not much gets done. Culture is based on fear, and employees are isolated and disengaged. At level 2, the individual mindset is "Reluctant", the culture is "Stagnating"; people do a minimum they can get away with. Leadership is autocratic, there is a blame culture and employees feel overwhelmed.
At level 3, the mindset is "Controlled" and organisational culture is "Orderly". Leadership style is based on traditional command and control, employees are micromanaged and they do what they are told to do. Levels 1, 2 and 3 correspond to traditional management, Management 1.0 or Tayloristic management.
A fundamental shift in performance, innovation and engagement happens when a critical mass of individuals move from level 3 to level 4. A dominant mindset becomes "Enthusiastic" and culture becomes "Collaborative". Leaders lead by letting go, power and authority are distributed, there is a strong teamwork ethos and employees feel purposeful and passionate about their work. Integrity, passion, purpose, transparency, accountability, team ethos and a caring culture are embedded in this level.
Employees at level 4 can occasionally reach level 5 where mindset becomes "Limitless", and culture "Unbounded" and anything seems to be possible to achieve. Levels 4 and 5 correspond to "The Management Shift" or Management 2.0. At these levels companies can experience more innovation, better engagement and more value creation.
Can you please tell us a bit about the "6 Box Leadership Model"?
The next step in my research was to move from the Individual Shift to the Organisational Shift and find out how organisations can be helped to move from Level 3 to Level 4 and achieve "The Management Shift".
I studied my research projects that covered diverse areas conducted over many years. I read over 1,000 books and articles and created a framework around factors that drive value: creation, engagement and innovation. These factors were grouped in six areas: Culture, Relationships, Individuals, Strategy, Systems and Resources. This is how the 6 Box Leadership Model was created. I have then developed an online questionnaire and used in various organisations to help diagnose hidden strengths and weaknesses in those six areas and help organisations shift to the next level of performance.
How can a "Management Shift' help societies ?
Shifting up the levels creates positive ripples that spread from individuals to their teams, families and entire organisations and societies. Research in social neuroscience has revealed many of the often sub-conscious dynamics through which we absorb the moods and attitudes of those around us. Through our 'mirror neurons', we can navigate our social world. We can detect someone else's emotions through their actions, and our mirror neurons mimic those emotions.
One should never underestimate the power of individual thoughts, actions and words. This is beautifully illustrated by this quote from Robert Kennedy: Each time a person stands up for an ideal, or acts to improve the lot of others, they send forth a tiny ripple of hope… These ripples build a current which can sweep down the mightiest walls of oppression and resistance.
Would you like to add anything else ?
This book is my life's work, and a huge amount of effort went into the research. Normally academics write books for academics, while practitioners write books for practitioners. I have brought together both – the theory and practice – which is rather rare.
I am delighted that this effort has been recognised by many leading management thinkers who see this book as ground-breaking, providing a substantial contribution to the field of management innovation.
Examples of some of these endorsements include:
• "The most articulate, fully researched and inspiring managerial manifesto for the 21st Century corporation yet written." – Jules Goddard, Fellow London Business School. • "Outstanding, unique work from one of today's most important management consultants." – Marshall Goldsmith, Winner of Thinkers50 Leadership Award.
• "Vlatka Hlupic makes the case for fundamental change in management theory. She is posing some questions that should have been asked already a long time ago." – Arie de Geus Former Corporate Planning Director at the Shell Group and author of The Living Company.
• "This is an inspiring book. Dr Hlupic makes a compelling case for radical changes in how large companies work." – Julian Birkinshaw, Professor of Strategy and Entrepreneurship, London Business School. More endorsements are provided at my new personal website www.vlatkahlupic.com. Some blogs are also provided on this website with additional information about this book.
When can we expect to find your book in the stores ?
The book can be pre-ordered now on Amazon and Palgrave Macmillan website, and it will be out on 30 October 2014.
So what is next? Do you have any more exciting things planned other then launch of the book?
Research is never completed. I continuously expand and refine my ideas with new information and insights. I guess there will be a new book produced in due course. For now, I am focusing on disseminating ideas from this book, writing blogs and articles, giving talks about this research at various places (such as the House of Commons, Croatian Embassy, Beyond Budgeting Conference etc.), spreading positive ripples and encouraging and inspiring others to do the same.
Latest posts by Westminster Business School Blog (see all)