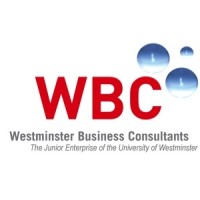 Westminster Business School has a benefit that very few Universities in the United Kingdom can boast: its own Junior Enterprise. Westminster Business Consultants is the oldest-running Junior Enterprise in the United Kingdom, and is one of only three currently in operation. Forming a part of the European network of Junior Enterprises, JADE, WBC is an organisation completely run by students of Westminster Business School. With 50 active members and a management team of 6 Westminster students, WBC is steeped in 20 years' of history; having worked with clients including Microsoft, AirBus, Groupe Lucien Barriere, Peugeot and IBM, Westminster Business Consultants is a vital resource for students hoping to develop their business acumen and gain experience, and is instrumental in helping to ensure the employability of Westminster Business School graduates.
So what does WBC do?
Divided into a number of departments including Marketing, Finance, IT, HR and Sales, WBC offers consultancy services to many small to medium enterprises (SME), both in the United Kingdom and around the world. According to Mohammed Rahman, Managing Director of WBC and 3rd year BSc Accounting and Management student at Westminster Business School, Westminster Business Consultants are working on a number of projects this year, including a market research and business planning services for the recruitment start-up, 'The Grad'. Mohammed is proud of WBC's progress this year, with expected revenue in the tens of thousands for the year 2014-15.
JADE – the European Confederation of Junior Enterprises
WBC forms a part of a larger network in Europe, JADE – the European Confederation of Junior Enterprises, which consists of over 280 JEs with thousands of Junior Entrepreneurs around the world, in countries ranging from Romania to Switzerland. Every year there are a number of events on the JADE calendar which WBC attends, including the Spring Meeting 2015 in Brussels, where over 200 Junior Entrepreneurs from the network represent their JEs at the European Parliament for the annual conference, which focuses on Youth Entrepreneurship. At the Spring Meeting WBC members and alumni are fortunate enough to receive mentoring and teaching from a number of industry leading companies, in the form of workshops and lectures, as well as ample networking opportunities facilitated during the infamous JADE social events. Westminster Alumni and ex-Managing Director of Westminster Business Consultants, Victor Soto, served as Vice President of the JADE network in 2013/14.
How can Westminster Business School students join WBC?
Westminster Business Consultants offers two intakes each academic year, one in September and the other in February. To keep up to date with employment opportunities with Westminster Business Consultants, visit the WBC website, and follow them on Twitter and Facebook.
The subsequent blogs in this series will include interviews with the management team at WBC, and highlights of the JADE Spring Meeting 2015, taking place in Brussels in March.
Latest posts by Masood Azam (see all)