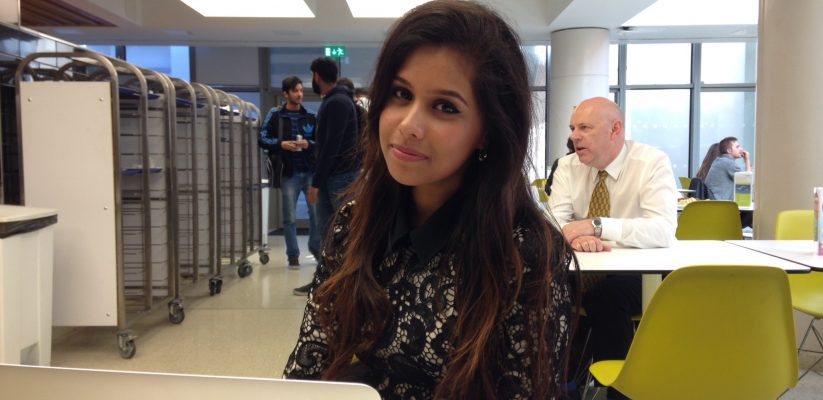 On 23 February 2015 Westminster Economics Society hosted its 'Investment Banking Event' at Westminster Business School. The event, which took place in Marylebone campus' LA103, featured a talk from Rahul Bhargava from Square Mile Training, a start-up company helping to train financial professionals and students to become investment bankers. The event had a phenomenal turn out, with barely enough room left to stand.
We caught up with Westminster Economics Society's President, and second year Business Economics BSc student, Farah Surooprajally to find out more about the event, society and her personal motivation for being involved with the Economics Society.
What was the event?
Our Investment Banking Event gave details about different roles with in an investment bank, what to expect when working in the industry, and recruitment advice – such as CV preparation, interview tactics and details about numerical and psychometric testing that some banks use.
Who decided to host this particular event?
Rahul emailed the Society, asking if anyone would be interested in Investment Banking, and if so offering a free introductory lecture by his company, Square Mile Training. Rahul founded Square Mile Training to help prepare people for careers in Investment Banking, having worked in the industry himself.
How long have you been involved with the Economics Society?
Since September; I wasn't initially the President of the society, I was inaugurated as Vice President, but then for various reasons I had to step up as President as the original person had to step down. The last President of the society was really great, a guy called Benard, and I took over from him in September.
How did you advertise the event?
I emailed Rahul and he was able to arrange a date very quickly – and then we booked rooms through the Students' Union, and they also helped us sort refreshments for the event which took some organising. Once this was done, we began to push it across social media and through posters. We also had representatives who approach people on the Learning Platform and visited lecturers to promote the event to students, which meant people were more inclined to come. I think this is the most successful method and for this particular event we had brilliant results.
Tell us more about the team of Westminster Economics Society?
We currently have a Treasurer, a Vice President (Mariam Siddique) who's very involved, two Social Media Officers and then a Marketing team who approach people face-to-face prior to the event. They also approach academics at the University.
What motivates you to be involved with Westminster Economics Society?
This is the first society that I've been a part of, but I've always been really interested in pursuing leadership. When I was studying for my A levels I even started looking for extra opportunities to be involved in leadership, which lead me to an initiative called 'Young Enterprise' where we hosted events, and actually set up our own business. In addition to this, I have also been involved with non-profit organisation vInspired who help to create opportunities for young people to volunteer in their local communities.
What events can we expect from Westminster Economics Society in the future?
Well, the Investment Banking event was our last one of 2014/15 academic year, but we're currently organising an event for September called 'Skills to win' in which we hope to host a presentation skills seminar, team-building exercises and other skills that will help people apply for jobs, undertake assessment centres, and hopefully secure employment following their studies at Westminster Business School.
The event was covered widely on social media, with the Society, the Business School and academics from the Department of Quantitative Methods and Economics live-Tweeting the event.
For more information about the Westminster Economics Society follow their updates on Twitter and Facebook. For all updates from Westminster Business School, including other events and Societies, please follow Westminster Business School's updates on Twitter and Facebook.
Latest posts by Masood Azam (see all)