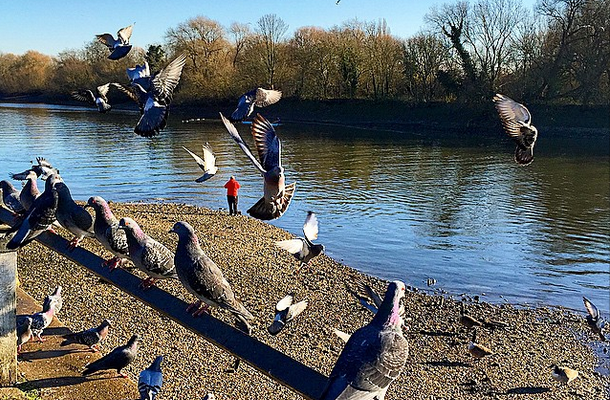 For almost three years, I have been living and working in central London during the week and then back to home to East Yorkshire for weekends and holidays. Hull Trains provides a brilliant service as I move from country to city, and back again.
I have become fascinated by the wildlife in London. My London flat is a 5 minute walk from Kings Cross station and although it is a built up area with little green space there is plenty to see. A fox slinking along a communal garden late at night. A jay burying its find in the plant pot on my neighbour's roof garden. Despite the talk in London of always being within 7 feet of a rat, I have never seen one. However, I am aware of huge numbers of mice as whenever it rains they rise up through the buildings like an unwelcome tide. My biggest fright was getting back to the flat one night and discovering a mouse swimming about in the toilet! A never-ending supply of moths chase after clothes and other textiles. Battling with these mice and moths is an ongoing saga ……
My walk to work includes Regent's Park and I am still fascinated by the many herons fishing in the lake. They offer wonderful photo opportunities as they sit statue-like searching for fish. Overhead, the parakeets (a tropical invader) fly about and you occasionally see the flash of their green tails. Sometimes, the sounds of the zoo animals can be heard and this adds to the sense of an eclectic mixture of creatures coming together in a city landscape. One day, I saw an old and rather scruffy fox walking down the middle of a road as rush hour traffic was brought to a stop.
Weekends when my husband joins me in London are reserved for longer walks. Favourites include the Regent's Canal and the many rivers of London. Of course, everyone is familiar with the Thames and there are many walks alongside it. Perhaps less well known are rivers such as the Wandle and the Lee. The Wandle flows south of the Thames and offers countryside walks where it is possible to glimpse kingfishers and deer, and during the spring the ponds around this river are often full of lively toads and frogs. The River Lee flows through the Lee Valley which became famous during the 2012 Olympics. You can visit the White Water Centre where world class canoeists battled it out for their medals. Nowadays, it is full of youngsters who are perhaps getting ready for future Olympic games. This river offers great opportunities to get away from the city and it is possible to see bitterns, water voles, deer and many other species. One of the great advantages of these river walks is that it is possible to walk them in stages as underground or over-ground railway stations mark their path. If you are interested in these London river walks then there are numerous books on the subject and lots of free information available via the Internet.
At the end of each week, I am always pleased to get back on the train and travel back to Yorkshire and I have got to know the places on the journey where I am most likely to see Red Kites, deer and other beasties. Now that spring is about to arrive, I am looking forward to continuing our London walks.
Latest posts by Westminster Business School Blog (see all)