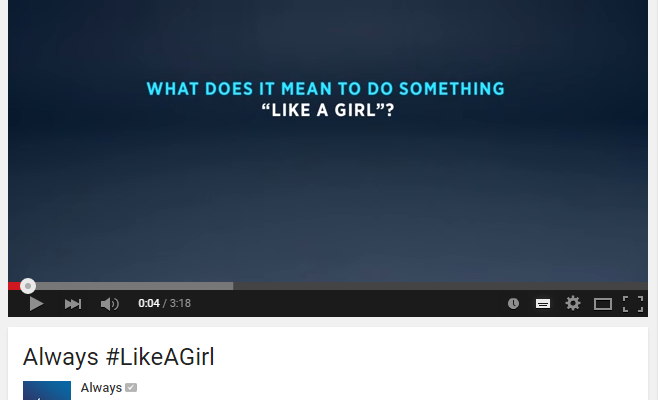 A Westminster Business School alumni has helped produce a hugely successful and critically acclaimed advertising campaign. Westminster Marketing MA graduate, Angel Capobianco, worked as a Copywriter on the '#LikeAGirl' campaign for Always, the feminine hygiene brand owned by Proctor and Gamble, which has won a number of awards, including the 'Titanium Lion' award, the 'Grand Prix', a 'Glass Lion' award, seven 'Gold Lion' awards, two Silver and one Bronze in the PR Category at this year's Cannes Lions International Festival of Creativity, the most regarded of which being the revered 'Titanium Lion'. The campaign is one of a number celebrated at this year's Festival that debunks stereotypical taboos concerning feminine hygiene products.
The Telegraph wrote that "the power of the Like a Girl video – the reason people have connected to it – lies in the fact that we start out laughing but end up crying. The imitations are funny, and silly and culturally recognisable, and yet the true meaning has deep implications for at least half of our world."
When asked about the project, Angel said the following:
"I was responsible for the initial big idea behind the #LikeAGirl campaign. We were told that girls experience a drop in confidence during puberty and that Always wanted to fight that. So my team and I started looking into different things that contribute to that drop in confidence. And the one thing that really resonated with me was the fact that people get called a "girl" or "girly" as a legitimate insult, and that that has to be a huge knock against a girl's confidence when she hears something like that. I know that for myself, growing up playing sports, being told that you "throw like a girl" or "run like a girl" was about the worst thing that someone could put you down with, and once I really started thinking about it, I realised how wrong that is.
"How these words that you don't really think about on the surface, really mean so much underneath…that doing things "like a girl" meant being "less than"… that being a girl is a bad thing. And that's hugely detrimental to a girl's confidence when she hears that and internalises it. So we wanted to start a movement to make doing things #LikeAGirl mean amazing things. I mean, Jessica Ennis runs #LikeAGirl, Serena Williams hits #LikeAGirl, and nobody would ever call them "less than". So I brought the idea forward to the team, and it really resonated with everyone. We worked through creating the campaign and executing it together, and I really couldn't be happier or prouder with the result. Championing girls' confidence is SO important, and as an ad creative, of course you want to put great work out there, but doing something that really inspires social change and has the opportunity to affect so many people's lives… that's what really makes you proud.
"As for the awards it's won, there have been MANY! You can see a full list on my LinkedIn page: https://uk.linkedin.com/in/acapobianco1
"At Cannes, we won 1 Titanium Lion, 1 Glass Lion, 1 Grand Prix, 7 Gold Lions, 2 Silver Lions, 2 Bronze Lions, and were shortlisted in 3 other categories. We really swept it! I would lead with the Titanium Lion or Grand Prix as opposed to Gold 🙂
"We also won several Clio awards back in September – The Grand Clio, 2 Gold, 3 Silver, and 1 Bronze."
To learn more about Angel's success, watch the #LikeAGirl video, or read more on the Always website.
Latest posts by Masood Azam (see all)