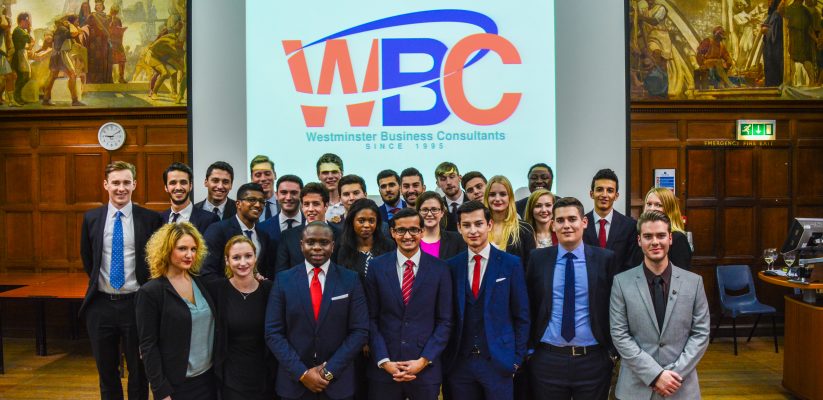 Westminster Business Consultants (WBC) is a University of Westminster, student led Junior Enterprise offering consultancy opportunities to Westminster students. Recently celebrating it's 20th birthday, WBC flies under the flag of the European Confederation of Junior Enterprises (JADE) and is supported directly by the European Commission. Providing a range of services to SMEs, larger businesses and charities, WBC aims to both bridge the gap between academia and the world of business and create a safe environment for students to grow into professional life. To learn more about WBC and how they operate, we talked to Managing Director, Shaurya Pandey:
Introducing Shaurya Pandey, Managing Director of WBC
My name is Shaurya pandey, I'm a third year Business Management student specialising in International Business. I spent my sandwich year both in Australia at the University of Technology, Sydney, and in India doing an internship with Ernst and Young. I'm definitely a very active student, and during university I have been part of the football team, the Business Society, the Accounting and Management Society, the Westminster Entrepreneurial Society and of course, WBC. In my final year I decided to focus on Westminster Business Consultants and am now the Managing Director.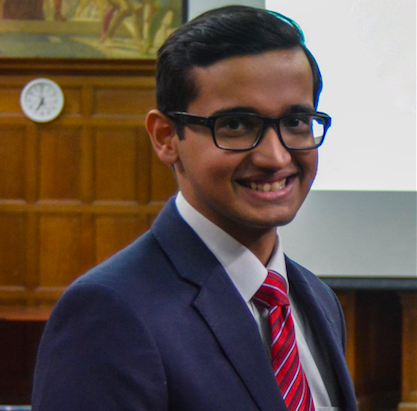 Joining Westminster Business Consultants
I came across WBC at a Business School Careers Fair and decided to join them. It is a great organisation with now 30 members and is a great place for personal and professional development. WBC is a student run organisation and is really designed to help Westminster students into the world of business in a safe, constructive and positive way. Of course it's challenging – it stretches you in different directions, but it's been a wholly positive experience and one that I will not forget. WBC is a very unique thing for the University because we are the first and only Junior Enterprise in the UK (apart from one in Brighton which we helped to set up). As a Junior Enterprise, WBC is connected to JADE (Junior Association for Development within Europe). We are one of about 280 junior enterprises in 14 countries under this umbrella – there are about 16,000 students involved overall! I am very proud to say that we are now 20 years old and whilst many Junior Enterprises have failed in the past, Westminster Business School has supported us and helped to keep us going.
What we do: the services of Westminster Business Consultants
We see ourselves as Junior Entrepreneurs and have worked with a lot of start-ups in the past, which has been very exciting. Other, larger organisations that we have provided our services to include:
There are 5 main services that we provide, which are:
Performance improvement, which is more familiar with the types of services that the Big 4 provide. Here we work with start-ups to see where performance is lacking. We help them to improve efficiency and assess feasibility of entering new markets.
Digital advisory – everything is tech now and we need to tap into that market. We have three related projects right now that we are negotiating – projects that focus on Youtube, website design, and social media management.
Traditional marketing.
Market research – we do a lot of market research and conduct feasibility studies, looking at whether clients should enter particular markets or not.
Event management.
One of the engagements we are currently working on is for a big client who is developing an app. He's working with one of the fastest growing tech companies in the UK and we are providing them with students to conduct the focus groups. We can see stage by stage how the app is developing so it's very interesting.
Internally, this year has been a bit different in that we are really focussing on ensuring complete efficiency. We have introduced a lot of new changes recently within operations, project management, our services, rebranding, and website design.
Global Networking and our alumni
The whole point of being one of many Junior Enterprises is that if anyone wants to expand into Europe, we have a point of contact. A unique selling point for us is that we are based in London. Because of this we get a lot of work from other JEs who have clients interested in starting a business out here. We are also looking to develop relationships with similar student-run organisations across the world and have established contact with people in N America, S America, Europe, Africa, Asia, and most recently, Japan.
You can work for WBC a year after studying. We are often in touch with our alumni and can see who's doing well – the previous leader is working as a consultant for the NHS, the one before that is working in Goldman Sachs – just two of many successful alumni!
How WBC has helped me personally and professionally
I joined WBC in 2013 with the Business Development Team. I remember going through the interview process and I can honestly say that if you had met me three or four years ago you would have met a whole different person. It has enabled me to meet more students from my batch, and students younger and older than me. I'm proud to say that many students who received an Achievement Award also work in WBC and that we have a really good circle of students who are really driven. When I reflect, I can see how my confidence has grown and I remember how nervous I was before my first networking event. We went with a group to the Gherkin and I thought, I can't do this, but actually I learnt by doing and it just got easier. Now I meet clients all the time, I speak in front of lectures, and where I used to shake and stutter it now feels easy. I've also developed skills in budget management, strategy, HR, politics, digital marketing, and gained experience of handling relations with Westminster Business School – it's been an amazing experience.
Final words
I feel that in joining WBC I have realised my strengths. I'm not perfect and there are so many things I need to work on, but I have learnt so much. The growth I have experienced has been immense and employability-wise, its been great to work in such a multicultural team – you learn so much. I really want people to realise the value of opportunities like WBC and get involved.
---
Thank you to Managing Director of WBC, Shaurya Pandey for this blog. You can find out more about Westminster Business Consultants by visiting their website.
Latest posts by Jeni Stokes (see all)