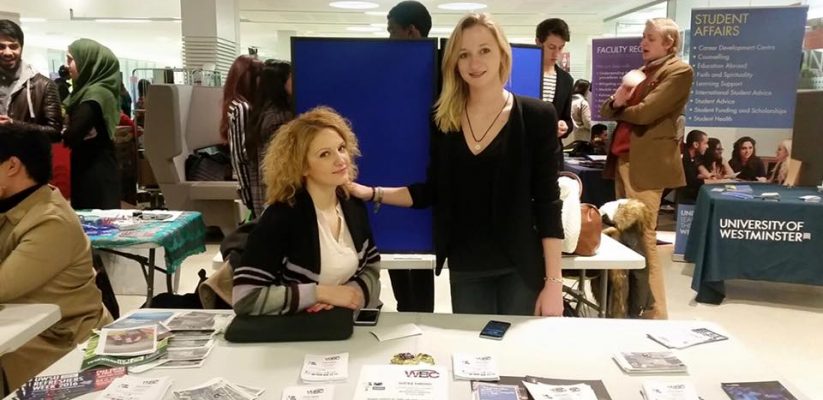 Fourth up in our Celebrating Success series is a joint interview with Westminster Business School students & Managers at Westminster Business Consultants (WBC), Oana Damian and Carole Mercier. With a variety of personal and professional achievements and can-do attitudes, it's lovely to be able to share their successes here on our blog. Both Oana and Carole are Managers at Westminster Business Consultants (a Junior Enterprise providing consultancy opportunities to Westminster students) and are studying Business Management at undergraduate level. Read on to find out more about their experience and roles at WBC!
Introducing Oana Damian, Marketing Manager, Westminster Business Consultants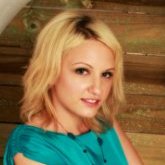 Hi! I'm Oana Damian, originally from Romania and currently studying Business Management with International Business. One of the main reasons I decided to study at Westminster Business School is the location – it's great studying and living in the centre of London. I'd visited this area previously, saw the university and felt really inspired. I also liked the course because it helps to you develop many skills such as management, being a team player and problem-solving. At university I'm proud to say I've won two Achievement Awards but I enjoy going out as well so try to balance studying and social life! Besides that, I love travelling – last year I think travelled to a different country each month. I haven't travelled on my own yet but it's definitely something I'd like to try 🙂
Why Marketing?
I was so proud and happy when I realised I could have the opportunity to get involved with WBC and I love my role as Marketing Manager. I'm especially interested in digital marketing and am currently researching and trying to learn more about PPC and search marketing. As it's an area you need experience for, I'm looking for any opportunities that will help me to enter this market – WBC is a great way to do this.
I've worked my way up within WBC – starting as a Business Development Consultant last year and moving into marketing as Marketing Manager. Although I have a passion for it, it was a bit of a challenge to begin with because there was a lot to learn, but I tried to figure it out by myself and then shared that knowledge with each of my Consultants. As Marketing Manager of WBC I manage a team of nine Consultants including one exchange programme student, which is great experience by itself! My aim is to inspire them and to teach them that social media/digital is the future and I try to motivate them by sharing my passion with them. We do a lot of social media marketing – we're on Facebook, Twitter, Youtube, Instagram, LinkedIn and we have a blog as well. Also this year we started our first e-newsletter so we started using MailChimp, again a great tool to have under your belt. We've been working on rebranding & have updated our website and marketing materials. This year we also completed a service portfolio which  is now inline with branding and house style.
I really love the creative side of social media – making things look great and sharing them and I love learning new ways of improving what we're doing. I also get to gain experience outside marketing, which has been really interesting – for example at the moment Carole and I are managing one of WBC projects, a brand entry strategy in the UK, for a German client.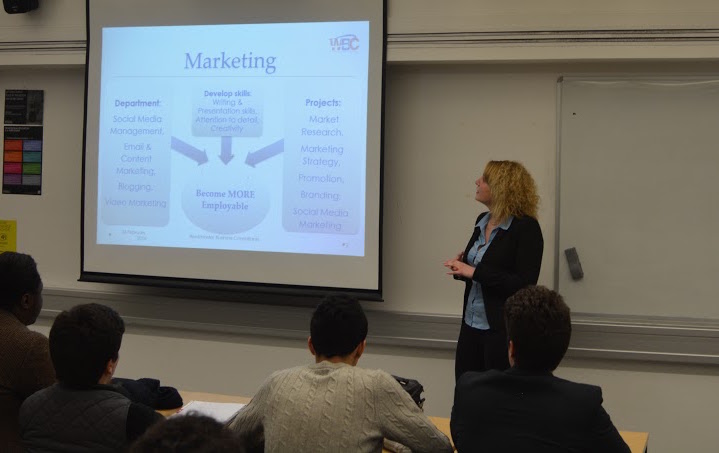 Who's your role model?
My role model is definitely my dad. Growing up I learnt that if you focus on something, if you really want something, it will happen if you put all of your energy into it. I watched him all the time – anything he wanted to achieve he did, and I look up to that because sometimes its hard, sometimes you're tired, sometimes you have problems but if you keep going and persevere I think you can achieve anything. One of my favourite quotes is "It does not matter how slowly you go as long as you do not stop"
A piece of advice? Join Westminster Business Consultants!
If you are a positive person with a can-do attitude and want to get ahead, join Westminster Business Consultants! WBC is a student led Junior Enterprise within University of Westminster, part of JADE Network – an umbrella organisation supported directly by the European Commission. I don't think a lot of people realise what a chance it is to be in a university that has a Junior Enterprise. This is the only university in London and the UK (except for Brighton which we helped to set up) which supports and offers this opportunity plus we have amazing Board Members at the university who support us. It's an amazing thing to be a part of the Junior Enterprise movement – to develop yourself in a safe environment where we support each other and learn from experience. It is challenging to manage with university life, but it's perfectly do-able. We're so motivated by WBC that for us it's a pleasure – we'll meet on Sunday until whatever time in the evening because we like it – because of the opportunities it brings. At WBC I met people and made friends that inspired me. I learned a lot about myself and had the opportunity to discover my strengths and develop my skills. It's an experience I would recommend to anyone.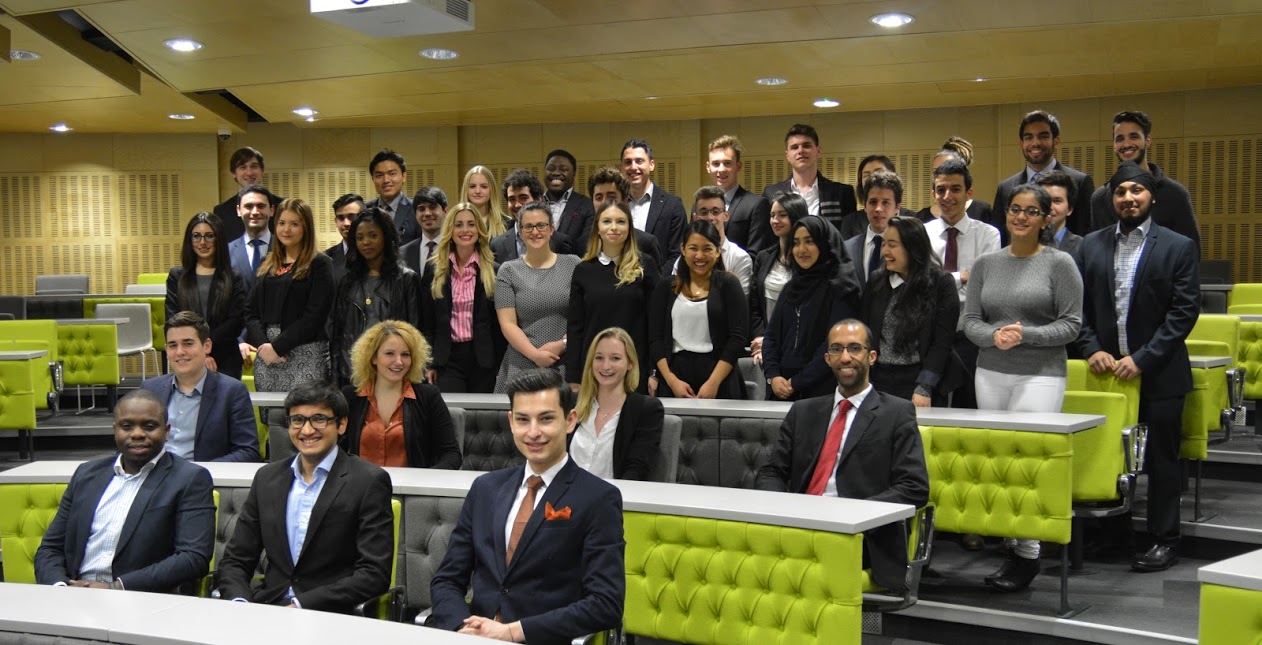 Introducing Carole Mercier, Human Resources Manager, Westminster Business Consultants
So I'm originally from Switzerland where I studied until I got my Baccalaureate. When I first came to London I initially thought I wanted to do art so did a year's foundation degree at an arts school. I soon realised that I wasn't intellectually challenged by any of the work that we were given though and so I started looking into Business and started course in Business Management (Human Resources Management pathway). I was very attracted to this university – again because of the location, but also because of the amount of things that are offered to students. There are so many societies to be a part of and in my first year (being very excited), I signed up to a lot. I later found out about WBC and joined in my second year.
Why HR?
I work as Human Resource Manager for WBC, something which I'm passionate about and ties in with my degree and career aspirations. Nowaday's, especially for young people, it's really hard to find the industry you're happy in. We have so many options especially with the growth and innovation in technology and I feel like if I can help people to find where they can be happy, where they're meant to be, where they can best utilise their skills, I would help in a good way. Im definitely a people person! Like Oana I worked my way up within WBC – last year I was HR Consultant and I now I'm HR Manager, literally putting into practice what I learn on my HR modules.
Day to day in WBC, there is no regular thing – there's always something different, which is one of the best parts of it. The HR team consists of four people and I meet with my Consultants regularly. We take care of all the appraisals, organisation and training, which is a lot of fun. It's been very hectic recently because we've done two recruitments so far – starting with a team of eight people in November and now we're 50! I also get to do things which are outside of HR such as meeting clients, working on projects, securing partnerships, which I always find really exciting.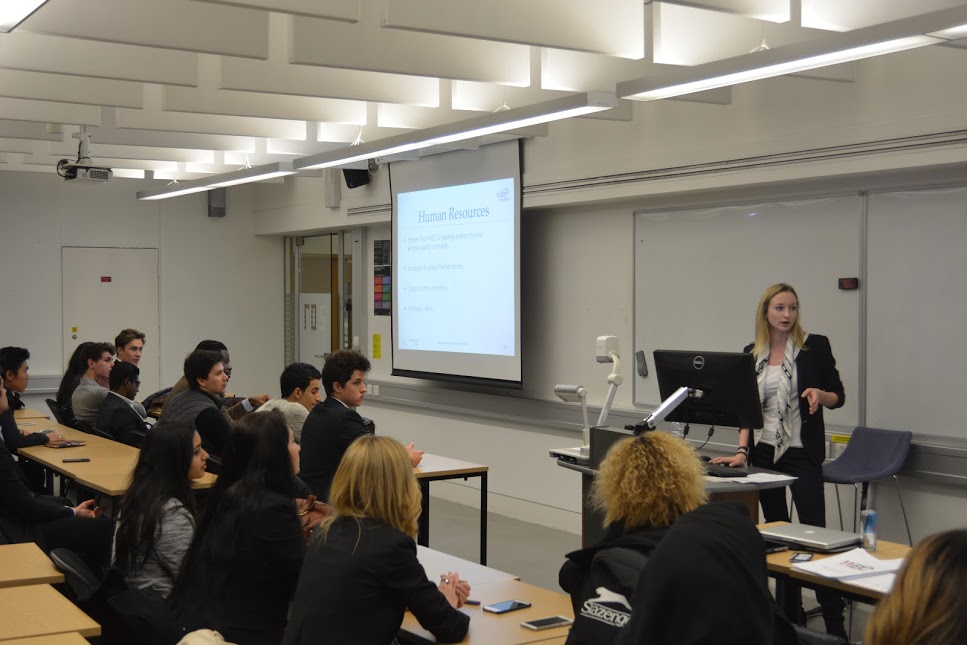 Which achievements are you most proud of?
I would say I'm perhaps less academic and more of a 'doer' – learning by doing is something that I really love. I feel that I relate more than learning from a text book, although I do enjoy that too. I did an internship last year in an organisation that focuses on empowering women in business; and actually I'm really proud of this because I got to learn so much and it has helped me to be proud of what I've achieved since. I got to go through all the archives and see how the company has developed over time. This was really interesting for me because I saw that although we don't see it that much in our generation, there's still a big fight for gender equality still going on.
How have Westminster Business School and WBC helped you to develop professionally?
I don't think I was much of a leader before I started university. I tended to be shy and not really give my opinion. Since working with WBC I've really overcome this. I also struggled with public speaking-  I couldn't stand in front of two people before and now I can – this year we hosted the handover ceremony and I presented in front of many people. I've also learnt a lot about how to approach clients – I've been dealing with clients on my own, on Skype or face-to-face, which Ive never done before and this is definitely a skill which I will need in my future career.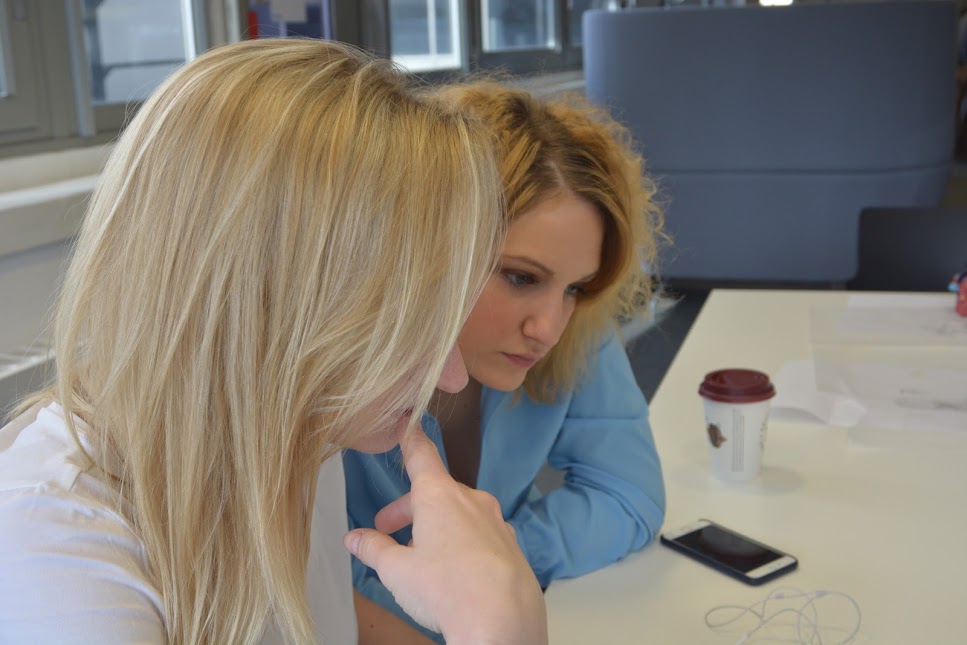 Who's your role model?
I would say my parents as well for all the advice that they gave me. At the time I thought they were wrong, but if I look back now I know that they were the right decisions and I'm glad I took their advice. If I think of a female role model, I would probably say Malala – just because of her age and she's so inspiring. She's 14 and received a Nobel prize because of her commitment to education – I think she's amazing and I think a lot of people should look up t oher, read her speeches – these are the kind of people we need.
A piece of advice?
My first piece of advice would be, whatever you do make sure you're happy with it and be happy where you are! My second, definitely apply to WBC! The best way is to get involved from the beginning – from first year when you start as a Consultant, to second year where you graduate to Senior Consultant to the final year where you can apply to be a Manager – it's a great progression!
---
Many thanks to Oana and Carole for sharing their experiences with us in this interview. If you'd like to find out more about Westminster Business Consultants you can find them on their website. They are recruiting again in September and will be at Fresher's Fair 2016 so keep your eyes peeled! To find out more about the course that Oana and Carole are studying, please take a look at this course page.
Latest posts by Jeni Stokes (see all)