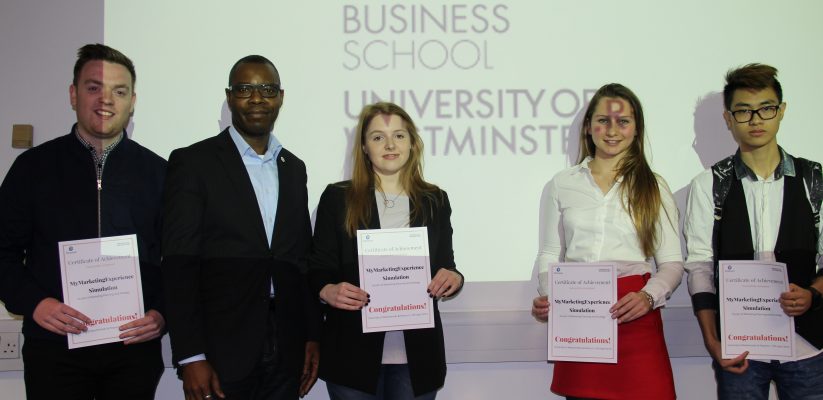 On Tuesday 5 April 2016, final year Marketing and Management BA students had a special and insightful lecture to conclude the BMKT602.2 Marketing Planning and Strategy module. The module – organised by Module Leader Dr Luca Cacciolatti – has a great differential, as it veers away from traditional and passive learning. It has a problem-based teaching approach, where students receive experiential learning and develop critical thinking – a skill highly sought by employers.
The method is utterly engaging, demonstrated by the level of participation from students who are very competitive throughout the module. It consists of an innovative simulation game developed by Pearson, which is called My Marketing Experience. This was the first time that Westminster Business School deployed this method, which will continue to be used in future years, as it proved very successful and popular amongst students.
During the first five weeks of the course students received an introduction to My Marketing Experience, and started running a virtual business, which consisted of a jeans manufacturer that needed to succeed in the market. Students worked in small groups and each week they were assigned tasks around specific aspects of the business, including marketing planning and strategy, the firm and its resources, competition through the marketing mix and marketing research. The simulation game is thought provoking and prompts students to be strategic and analytical in order to compete with the other teams. Each group have their own strategy, which ranges between high quality/high price and low quality/low price.
At the end of week 5 students were asked to submit a strategic plan, which reflected their learning experience through graphics and reports of their virtual enterprise. A fantastic opportunity to have a taste of what is like to run a real business competing in a global market.
The special lecture actually marked the end of the Marketing Planning and Strategy module, and the winning teams received prizes from Pearson, who kindly sent two delegates to attend the event.
In total there were 28 teams playing My Marketing Experience, but only five teams were chosen for awards in four different categories.
1- Best performing firm (team AJ House): based on the total score, which reflects the quality of the choices made;
2- Best market share (team Jacob Davis): based on the highest market share across all teams;
3- Altruism award (shared between Affordenim and Velocity Jeans): based on unconditional help provided to a team in difficulty;
4- Most improved team (Top Jeans): based on a team that struggled at the beginning but improved towards the end.
The winners gave a short presentation showing the highlights of their strategic plan to the audience, who also had the opportunity to mingle with the guests at the end of the event to collect their certificates, and of course, network 🙂
When asked what she liked most about the module, final year student Emilia Przyzycka (third from the left in the photo above) said:

"I found the module interesting because it gave me the opportunity to learn more about the strategic aspect of marketing rather than just learning about the communications or advertising side of it".
And she gives a piece of advice to those who will take the module next year:
"Don't worry if you are not in the winning position in the simulation. Just make sure that you get the most out of it. It's a great opportunity to learn how to manage a virtual business, while also developing your interpersonal skills" –  final year Marketing Management BA student Emilia Przyzycka.
"This is a practical module as students had to measure KPIs throughout, which made My Marketing Experience more realistic" – Seminar Leader Dr Ejindu Morah.
A presentation from Marketing Management MSc student, Julia Fernandes Ramos, added weight to the event due to her great work experience. Julia, former Brand Manager for Nestlé Brazil, talked to students about the work of a brand manager in a corporate environment. She highlighted that such a role involves much more than just branding, as many decisions are related to financial aspects of the business that must be considered. Julia reminded the students that cultural aspects of the country in which the business is operating must not be taken for granted as it is paramount for the success of the brand. Julia has great charisma and all potential to follow a successful career in Marketing. We are glad that she chose to do her Master's at Westminster Business School.
Winning My Marketing Experience and holding a Pearson certificate is a great thing to boast in the CV, and these students must surely be more employable after graduation…which is just a few months away! Best of luck to all of you in your exams, and please keep in touch 🙂
---
A special thank you to Pearson for sending their delegates and bringing prizes to our students. We also would like to thank Julia for having put together such an insightful presentation and speaking to our students.
Latest posts by Masood Azam (see all)