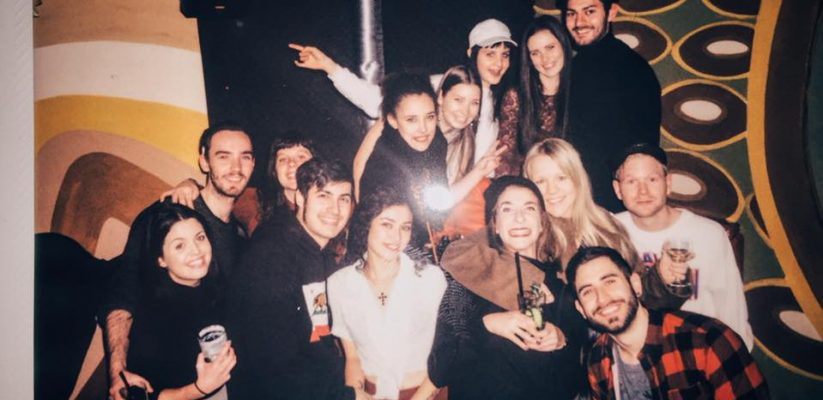 Hi! I'm Ashwin (Ash) Walton, and I study the International Business BA (Hons) with Course Leader Deborah Knowles. I chose to go to Berlin, Germany, for my study/intern abroad experience because I'd gone there for my gap year and fell in love with the city. It's a very infectious city and like many 'foreigners', I was very drawn to it. Something like 40% of Berlin's population are expats – they come for a weekend and stay for 10 years, it's a very common story. So yes, I just fell in love with it really and decided to go back. In total I did 12 months from September 2015 – September 2016. I spent 6 months at HTW Berlin (university) and 6 months interning with a start-up called Giggle. It's definitely something that I recommend, so if you're at all interested, read on and find out more about my experience! There are also some top tips for anyone who decides to go for it 🙂
Living in Berlin
So living in Berlin is amazing. It's very much a city in transition – with the recent history of the wall coming down. I think this was only 28 years ago so the scars are definitely still there and you can easily tell if you're in the East or the West. The buildings are very different and I would say the East is much more creative and the West a lot more decadent. Because Berlin's got such a rich cultural history, the museums and art scenes are insane. Clubbing is huge but it doesn't define the city in any way – so if you're not into the clubbing scene there's so much other stuff you can do. Temperature wise it's insanely cold in the winter so definitely invest in a coat – it got to minus 20! In the summer it completely transforms – 35 degrees and you can enjoy open air pools alongside the river and the parades.
Language wise you don't need to speak fluent German. Many students don't think to do a study/intern abroad year because they don't speak another language – don't worry about that, I hardly speak any German! When I went initially I had to do a two week language course at the university to get the basics. As the year progressed I did pick up a little bit and definitely I can understand more than I can speak. But it's not essential to speak German in Berlin, you can get by with just English. I remember when I was in a bar and saw a local Berlin girl in front of me order a drink in German – the bartender said "sorry, I only speak English"! In restaurants and bars I would try to speak in German but the people there really like to practice their English…
Adapting to cultural differences
The most abrupt experience I had in terms of cultural differences was on my first day when I was shattered and had just arrived. I was desperately trying to find my halls and get my keys and I remember running across the road and this elderly German man started shouting at me very aggressively! I later spoke to one of my professors who explained to me that there's a Jaywalking rule and that's why I was shouted at. The door policy for clubs is very different too – it's a selective door policy. The clubbing culture in Berlin is very trendy, very up and coming and so the clubs have a door policy where they don't let everyone in like they do in the UK. You go into the queue and then the bouncer will ask you a few questions about the night and what your plans are etc, and they would judge you on your appearance, the way you speak and the way you hold yourself. They'll either say yes or no, and it's a very German no if they do say no! That was different…I was quite lucky though and got into most places.
My highlights
The highlight of any time abroad is the people you meet – the people make it for sure. I stayed quite a while in Berlin and when friends started leaving it did get a little less bright. I really loved the clubbing scene over there too – they have an amazing attitude in Berlin, there's not much pretension in the city as a whole – it's a lot more liberal. I also love the way the city's set up in terms of the freedom and culture and the food is great as well! In Berlin there's the biggest Turkish population outside of Turkey (it's where there Donner Kebab was born), so the Turkish food and street food is insane. It's very cheap as a city too.
University life at HTW Berlin
I studied at HTW Berlin in the East of the city and have to say that I didn't enjoy the classes too much. Although I was studying similar business modules to those in Westminster, the way they were taught was very structured and text book-ie, which really didn't really suit me. The learning experience is very different to that in the UK – over here it's a lot more interactive and there are a lot more discussions in seminars. Saying that, my overall experience at HTW Berlin was fairly relaxed and the focus was more on cultural transfer, which you won't get if you're studying in your room 24 hours a day!
Why I chose to do a six month internship
I initially planned to study for a whole year at HTW Berlin, but the opportunity arose for me to take an internship and I took it. If you choose this path it's your responsibility to find an employer. I found the internship in Jan/Dec time and was quite late with my paper work but Monica really helped me out in terms of this (thanks Monica!).
The reason I decided to go for the internship in the end was that I wanted a bit of change and wanted to bulk up my CV. The employer that I met was actually a university friend of mine also studying at HW University. I was talking to him about his start-up idea and I asked if he had any internship opportunities. His company was called Giggle – we started off as a social media company with an app, which was basically an events-based Tinder for friends. It was aimed mostly at expats and students – people who wanted to make friends fast. Because the products we came up with (an app and website) were all in English, as a native English speaker I pitched to investors, clients and potential users. Because the company is a start-up there were only five of us including two interns so there was a lot of work which was quite strenuous, but at the same time it was a fun environment to be in. We later diversified into the tourism industry which is the biggest industry in Berlin.
And finally, some top tips!
Although it may be daunting, the experiences you get and the culture transfer you receive and the friends you make really make this an amazing opportunity not to be missed. If you decided to go I would suggest:
Making the most of the experience – get out and do things!
Do some research before you go. I know plenty of friends who went abroad and did no research and it's so worth doing just 30 mins on the computer – learn about the city, different cultural themes, and differences. I know it is Germany so it's not that much of a world away from the UK, but there are little things, that you need to know about,
Try and learn the language while you're there – that's one of my regrets – I felt that I should have tried a bit harder.
Definitely live inside the city if you can. I was in Halls which were very cheap (very basic) – they were about 25 minutes via train to the city centre and whilst they were fine if I had been more inside the city it would have been a better experience.
Have an open mind.
---
Thank you to Ash for this blog. If you would like to find out more about his course at Westminster (International Business BA Hons) please take a look at the course page. To learn more about the #WestminsterAbroad experience please visit our website or read the other blogs in this series.
Latest posts by Jeni Stokes (see all)