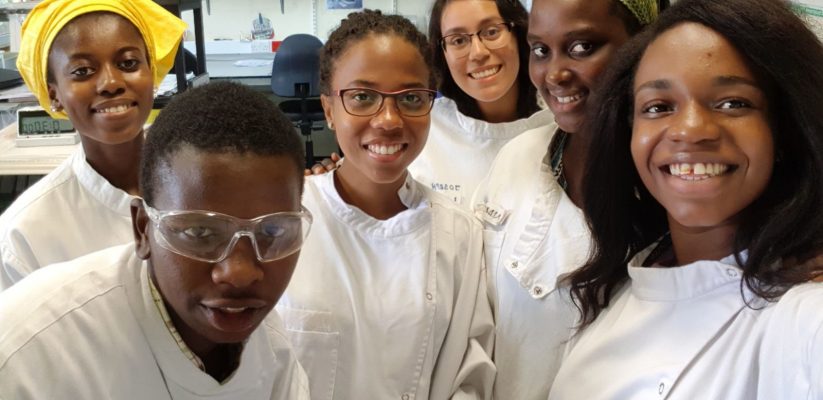 Monica is a final year student on a BSc (Hons) Biomedical Sciences degree here at the University of Westminster. Last summer she took part in an 8-week internship at the Medical Research Council Unit the Gambia . Applications are now open for Summer 2018. More info on how to apply can be found here. Here's more about Monica's experience.
Can you tell us a bit about your experience at the MRC Unit The Gambia?
Last summer, my colleague and I were selected by the University of Westminster to do an internship at MRC Unit The Gambia for 8 weeks at the Fajara site. Our internship was at the clinical services laboratory which provides services for the ward, OPD, gate and liver clinic, clinical trials and private patients. The laboratory, which has an ISO 15819:2012 accreditation, consists of three units: Biochemistry, Hematology and Microbiology. We were initially placed at the reception to learn the process of how sample is received and transferred to the corresponding units according to the Standard Operating Procedure (SOP). After the Health and Safety induction, me and my colleague were separated and placed in different units for 2-week periods.
What type of work did you have to do in the different units?
A typical day in all the units started with recording temperature of the fridges, freezers, room and equipment such as incubators, water-baths, decontamination of work benches (morning and afternoon) and equipment, as these tasks are part of quality management.
Biochemistry: In this unit there were two of us interns working alongside technicians. As this unit is mostly automated, not many manual tests had to be done. A manual test which I was able to carry out was hCG, CRP and RA/RF, using latex flocculation method. Under supervision, I was allowed to process samples and controls on the Vitros 350 analyser. Other tasks which I carried out were mainly for the analyser Vitros 350. Those consisted in removing the controls, refilling cups, removing cartridges from the fridge and placing them at room temperature. I also had to remove waste products, the micro tip and old refilling cups and replace them with a new ones.
Haematology: In this unit I learned how to carry out a number of manual tests. Those consisted in blood grouping, microhaematocrit (PCV), ESR, sickle cell test, slide preparation for malaria microscopy and thin blood film. Some other tests, such as cross match, PT/APTT/INR, Hb genotype, I was only allowed to observe, as I did not have the required training. I worked on the Medonic analyser to process samples, too. Usually, in the morning, there would be patients from OPD/gate clinic who came in for bleeding for tests such as PCV and Malaria microscopy, so I did a lot of PCV readings and staining of slides for microscopy by the technician.
Medical microbiology unit: In this unit I learnt how to prepare media agars and broth, examination of different specimens based on their appearance and colour, urinanalysis, , prepare urine and stool for microscopy, inoculation of bacterial organisms on agar plates for isolation. I learned different biochemical tests used for identification of species such as API 20E for enterobacter species, oxidase and catalase tests. I also prepared gram stains and bacterial suspensions/ inoculum for antimicrobial susceptibility test (turbidity of 0.5 Mcfarland standards using McFarland Densitometer). I assisted the technicians when they were reading plates the day after incubation to see how each pathogen grew on different media. Sometimes I assisted one of the technicians while they were working on their projects.
Research Labs: In the last 2 weeks, we were sent to research labs which were divided in 3 different sectors: disease control and elimination, nutrition, vaccines and immunity. We were placed in the immunology section and were able to shadow several projects such as PROPEL and TB. We followed the Protecting from Pneumococcus in Early Life (PROPEL) project closely, which aimed to check the effects of the pneumococcal vaccine on pregnant mothers and their infants from childbirth. We shadowed the technicians and, under supervision, we aliquoted the samples according to the SSP and storage of samples in the biobank.
What did you learn in this internship that will be useful for your studies and further career?
During the 8 weeks during which I rotated through all of the above units, I learnt many new procedures which are usually carried out in clinical laboratories and I was able to relate them to my knowledge gained at university. I was able to suggest the diagnosis of a patient based on the results, I learnt new techniques which can be useful for my upcoming project for my final year, I became more confident in myself and competent to carry out all the tests I mentioned earlier on any sample with or without supervision. Through this internship I managed to get first-hand experience of what it will be like to work as a laboratory technician/biomedical scientist after my studies and I am very grateful I was selected for this once in a lifetime opportunity.
You obviously worked very hard. Did you get the chance to explore the country too?
After working hours and weekends, we went exploring the country's most famous tourist spots such as the monkey park, crocodile pool, Banjul, beaches and many more. As I am originally from the Seychelles Island, where there are plenty of beaches and warm weather, it was great to finally have that in The Gambia, after having been in London for so long, where you mainly have buildings and cold weather. The best beaches were usually filled up with tourists swimming or tanning and locals exercising or playing football. They were perfect for relaxing after a long day at work and for watching amazing sunsets.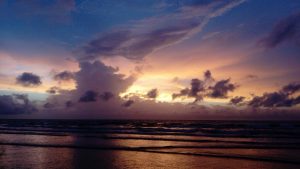 I was both excited and scared to visit Kachikally Crocodile pool. It came highly recommended by our colleagues from work. The small museum before getting to the pool had really interesting pieces about the history and culture of The Gambia. When we finally arrived at the pool, we saw crocodiles everywhere and it was both scary and amazing. One of the guides assured us it was okay to touch them. I was reluctant to touch one at first, as it was the first time came into contact with a crocodile, but when I finally touched one I was no longer afraid.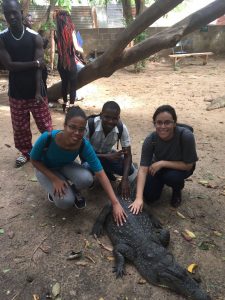 I visited Monkey Park with other interns from the laboratory. We brought peanuts to feed them as this is the only way for them to come to us. They were cute, but a bit greedy. At some point they literally jumped on us looking for peanuts!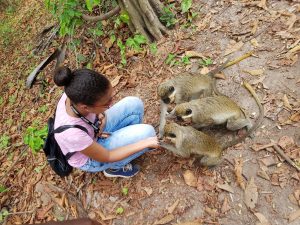 We also visited several towns, such as Banjul, the capital city of The Gambia, and Serrekunda. In Banjul we went up to the arch, a great viewpoint from which you can admire the city. We also visited the city's museum which has more interesting pieces on the country's history, culture, endangered species, etc. In Serrekunda market, as well as Banjul's, we visited the fabric shops to buy fabrics to make clothes out of them.
The locals are nice and we got on well with our colleagues from work, who invited us to their houses where we got the chance to taste the delicious local food. Among other things, we tried domoda and juice such as baobab and wonjor, my favourite drink.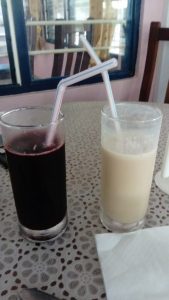 If, like Monica, you would like to have the chance to work at the MRC Unit the Gambia, do check out Engage to find out more about this amazing opportunity!
Latest posts by Monica Marie (see all)