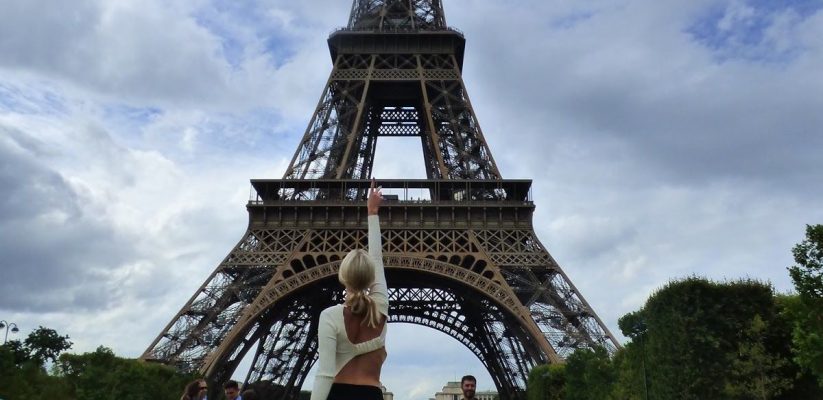 Christine is a student on our BA (Hons) International Marketing degree here at the University of Westminster. Last summer, she took up one of the summer opportunities that are on offer on the Global Opportunities blackboard and spent 4 weeks in Paris. ESCE Business School is one of the exchange partners of the Westminster Business School – they organise a great summer programme.
Tell us more about the French Luxury summer school at ESCE in Paris!
The French Luxury Summer School experience was extremely useful from an educational point of you. However, the best part of it was the fact that I made friends for life! Spending time with them, learning about different cultures and habits, learning different languages and taking care of each other, as we were all in the same situation.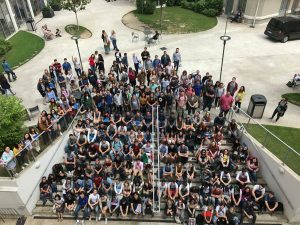 This picture above was taken on our first day in the courtyard of ESCE Business School. We were sitting there without knowing that by the end of the course we will all become a big family. We all were very excited to meet new people and we became friends very soon. We decided to go and discover Paris together straight away. This big group was divided into 3 smaller groups, according to the programme we were studying. There were people from different cities in Europe and also from China, Korea, USA, Argentina, Chile, Australia.
What was the academic side of the programme like?
In my group, the one studying Fashion and Luxury Goods Marketing, there were 25 people. We spent a lot of time together working in groups – we got to know each other very well and learnt a lot about teamwork. It was interesting to listen to different points of view, as fashion, trends and habits are so different in USA, China, Australia and in Estonia, which is where I am from.
The programme was 4-week long and in every week we had a one-day trip organised by ESCE.
Week 1. A Stroll through French historical gastronomy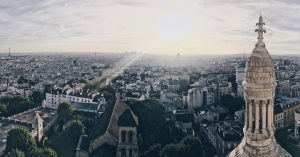 We first visited the most famous mustard shop in Paris, 'Maille', where we had the chance to try  mustard of different flavours.
Then we visited Patrick Rogers's chocolate factory, where all chocolate pieces were very special and handmade, and Laduree, where we tasted the most amazing macaroons.
Finally we went to shopping to the most profitable shopping mall called Galeries Lafayette and after that had a lovely lunch on the top of the roof.
Week 2. Passage couverts
In the second week we visited the oldest of the covered passage in Paris. It opened in 1800 and it is located in the 2nd arrondissement of Paris. It was one of the first covered commercial passageway in Europe.
Week 3. Baccarat
Fine Crystal Jewelry, lighting, decoration and tableware is all you can find in the breathtaking Musee Baccarat. The museum contains displays of fine glass work and a number of major works produced by Baccarat for celebrities. In the end of the tour we had a chance to watch a movie about House of Crystal and manufacturing high-tech Crystal.
Week 4. Opera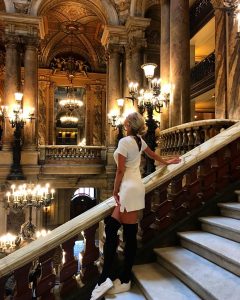 The Palais Garnier is home to the opera house in the heart of the Paris, which was built in 1861 for the Paris Opera.
And what about the social side of the programme?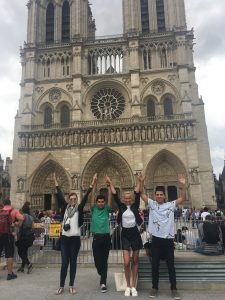 After compulsory lectures and trips with tour guides, I had a lot of time during this one month to
explore Paris by myself or with friends.
In this picture, I am with my new friends from Australia (the girl on the left with sunglasses), from the USA (the boy in the green t-shirt) and from Chile (the boy on the right).
I also got to visit 70 years of the House of Dior exhibition. We had to queue for 1 hour, but it was an unforgettable experience and totally worth the wait.
After our graduation ceremony, we went all together to have the last picnic next to the Eiffel tower, chatting, dancing and laughing. It was hard to leave mostly because of all the people I met, but we promised to keep in touch and organise a reunion in Paris.
What message would you like to pass on to students who are considering attending the ESCE summer school?
Taking part in this summer programme changed my life in many ways. I spent the most amazing summer there and I would recommend all students to take part in this wonderful programme if they have the chance.
Latest posts by Monica Marie (see all)