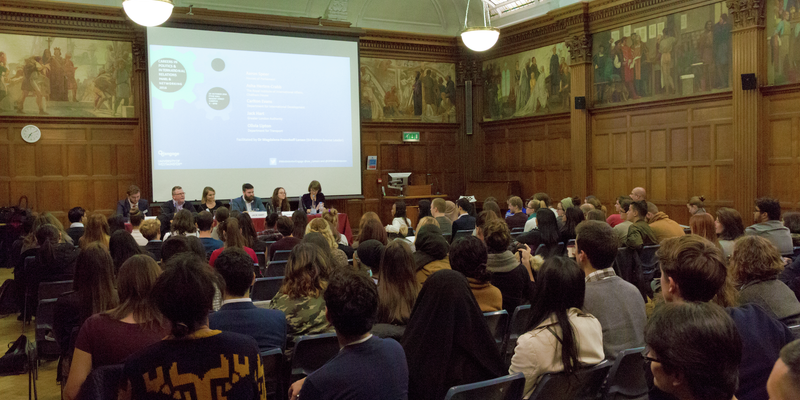 Author: Dr Dan Greenwood
Panel discussion with Professor Michele Betsill (University of Copenhagen), Professor Roberta Herzberg (George Mason University), Professor Joyeeta Gupta (University of Amsterdam), Professor Peter Newell (University of Sussex). Chaired by Dr Dan Greenwood (University of Westminster).
This week COP26 has shown increasing levels of global agreement on the need to drastically reduce greenhouse gas emissions and achieve a transition to net zero, however the question of the most suitable governance arrangements for reaching these targets seems more contested. With societies and political cultures varying so markedly, there may be no single answer to this question.
This panel discussion, organised by the Climate Change, Energy Policy and Sustainability research group at University of Westminster, took stock of prior academic research on global climate change governance to consider future research agendas. Central to the discussion were questions about the inter-relationships between the various scales and diverse forms of governance involved in tackling climate change, including how far we should rely on global level governance frameworks. This latter question was prompted by the reflections of the late Nobel prize winning economist Elinor Ostrom on ecosystem governance, whose work internationally offered rich insights into the diversity of governance institutions. Ostrom argued that local and sub-national scales of governance, by being more sensitive to cultural and geographical difference, will tend to be more robust in achieving sustainability goals than global level institutions. For Ostrom, polycentric systems are needed, in which problems are addressed across various scales simultaneously. As emphasised by Professor Herzberg, a former colleague of Ostrom, polycentric systems involve continual adaptation to the diverse nature and complexities of problems across multiple scales through processes of discovery and adjustment.
From the perspective of polycentricity, the issue with the suitable scale of governance for addressing a given problem will inevitably vary according to context. Highlighting forms of governance that are somewhat away from the UN process, Professors Michele Betsill and Peter Newell emphasised the importance of transnational networks involving public, private and third sector actors that address climate change across a variety of different cross-national scales. These networks, ranging from the C40 cities initiative to the Renewable Energy and Energy Efficiency Partnership ‒to name just two‒ have initiated various types of programmes, from monitoring and reporting emissions to the financing of renewable and low carbon technologies.
Certainly, the history of climate change governance so far suggests the importance of a plurality of different solutions across different spheres of society. Beyond the headlines about the targets set by international leaders at COP26, Professor Betsill noted that the Glasgow summit will be vital, just as Paris COP21 was, in shaping the operation of such wider governance networks away from the UN process.
Professor Gupta's contribution further emphasised the significance of climate change governance beyond the COP process. Global developments in finance, banking and pensions, she stressed, would be vital for promoting disinvestment in fossil fuels as would nation level policies such as taxation and subsidies (since national governments currently subsidise fossil fuels to the tune of $11 million/minute, according to the IMF). With conflicting interests clearly at stake here, the question of scale, as Professor Newell points out, cannot be treated in isolation from politically charged questions about power and authority that can of course be influenced by wider social movements. Given the responsibility of the Global North for a large portion of historic emissions, issues of justice are vital for the global South. Professor Gupta reflected upon the challenges of establishing such justice globally given the diverse and indeed rather fragmented character of current climate change governance arrangements, so shaped by vested interests. Yet all four speakers recognised the vital role that the UN framework could play in shaping the plurality of climate change initiatives over the coming years.
The discussion underlines the need for future research to understand and evaluate the inter-relationships between different scales of governance and political authority. While Ostrom's concept of polycentricity has been used to understand such multi-scale governance and institutional diversity, as Professor Herzberg argued, there is scope for further exploration of the questions raised by Ostrom concerning the effectiveness of different sites of decision-making and how actors and organisations adapt to multi-scale problems. This would exemplify the kind of interdisciplinary research that is needed, given the complexities involved in climate change and the question of how to establish effective forms of governance for achieving the transition to net zero.
Author's biography:
Dr Dan Greenwood is Reader in Politics and Joint Coordinator of the PhD programme for School of Social Sciences. He holds a PhD in political theory/ political economy from University of Westminster and his research focuses on the evaluation of governance and policy in the face of complex, cross-cutting policy challenges.

Latest posts by Luna Mia Sigle (see all)