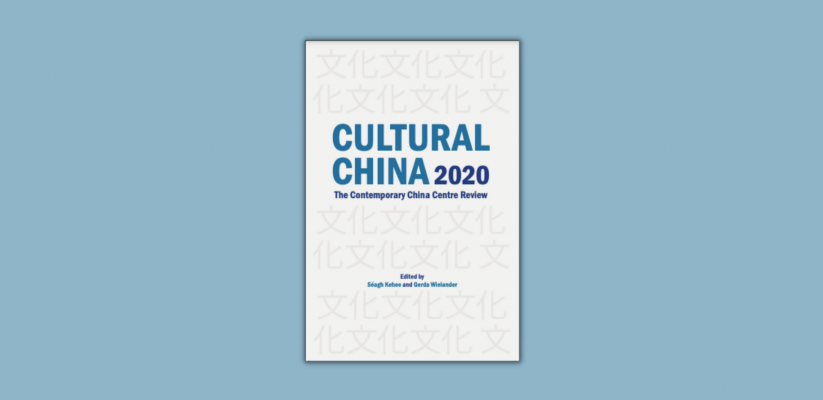 On 29th November 2021, the University of Westminster Press published our new book, Cultural China 2020: The Contemporary China Centre Review. Cultural China is a unique annual publication for up-to-date, informed, and accessible commentary about Chinese and Sinophone languages, cultural practices, politics and production, and their critical analysis.
Building on the Contemporary China Centre (CCC) Blog, an online project based at the University of Westminster's Contemporary China Centre, our new book brings together a selection of articles from the Blog by leading academics around the world that speak with particular relevance, originality, and insight into the previous year in China, Hong Kong, Taiwan and Sinophone worlds more broadly.
What is cultural China? The title describes our focus on China and the Sinophone from geographical areas, societies, groups, and individuals not confined by the borders of a nation state. Our work provides a different lens in a world where commentary on China is increasingly restricted to "China threat" discourses and concern about "China's rise". We focus on the less attention grabbing, less hyperbolic, less over-powering developments and considerations across Chinese and Sinophone worlds through the lens of feminism, post-colonialism, communitarianism, religious pluralism, to name but a few.
2020 was an unprecedented year for cultural China. It started with the outbreak of Covid-19 in Wuhan which soon spread around the world and led to a surge of racism and xenophobia against people of pan-Asian heritage. Yet, beyond the headlines of Covid-19, 2020 will be remembered for much more in cultural China. It was the year in which the mass detention, surveillance, and everyday violence against the Uyghurs and other Muslim minorities across China's northwest continued, and of major protests in Inner Mongolia against proposed changes to language rights. In Taiwan, it was the year of Tsai Ing-wen's landslide election win against the Kuomintang, while in Hong Kong, the brutal National Security Law came into effect, making it easier to punish protesters and reducing the city's autonomy. Perhaps less remembered, 2020 was also the year of Taiwan hosting the world's biggest in-person Pride parade, Singapore's 'hawker culture' being added to the UNESCO list of Intangible Cultural Heritage of Humanity, the death of acclaimed writer Yu Lihua who was known for her nuanced portraits of Chinese émigré in post-war America, and the PRC's first independent Mars mission. And the list goes on!
All the chapters in our book speak to this turbulent year that was 2020 as it unfolded across cultural China. They cover topics like celebrity culture, fashion and beauty; religion and spirituality; language politics, heritage, and music. One chapter looks at representations of China in Britain and, of course, our fantastic Westminster Chinese Visual Arts Project also features. Academics from the Contemporary China Centre, including Anne Witchard, Cangbai Wang, Giulio Verdini, Harriet Evans, How Wee Ng, Paul Kendall, and of course the editors introduce each section to provide relevant context for a general audience.
Our aim is to promote a different approach to the understanding of China, one that promotes interdisciplinary dialogue and debate about the social, cultural, political and historical dynamics that inform life in cultural China today. Cultural China offers academics, activists, practitioners, politicians and everybody keen to learn more about China a key reference with which to situate current events in and relating to cultural China in a wider context.
Cultural China is available open access and for purchase in paperback at the University of Westminster Press at: https://www.uwestminsterpress.co.uk/site/books/e/10.16997/book58/
Authors' biography:
Dr Séagh Kehoe is a lecturer in Chinese Language and Culture at the Contemporary China Centre, University of Westminster. They are also the editor of the Contemporary Chinese Centre Blog (CCC Blog). They have published in Media, Culture & Society, The China Quarterly, positions: asia critique, and Asian Ethnicity.
Gerda Wielander is Professor in Chinese studies and Associate Head of the College of Liberal Arts and Sciences at the University of Westminster. She is the author of Christian Values in Communist China (2013), as well as several book chapters and articles in leading peer-reviewed journals. Her most recent work includes a volume on Chinese Discourses on Happiness (2018).

Latest posts by Luna Mia Sigle (see all)