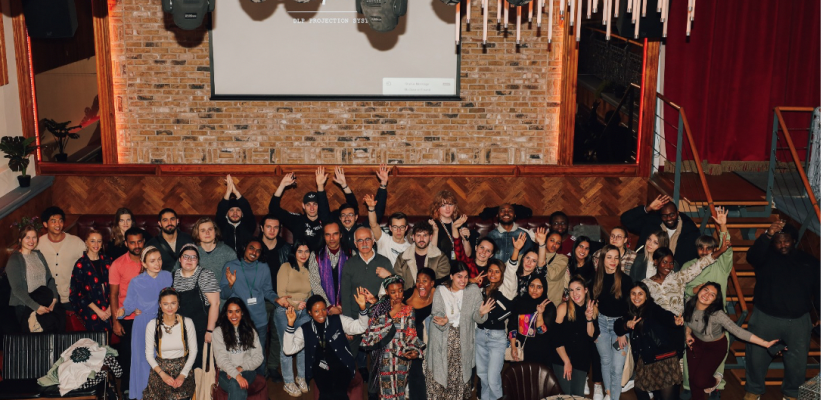 The Democratic Education Network (DEN) organised the closing event of the World in Westminster Festival on the 17th of March. DEN is a student-focused initiative based at the University of Westminster which engages students from all over the world to provide them with the opportunity to improve their employability skills and get involved with other communities.
Many of the university's students are either first- or second-generation immigrants, including people from Azerbaijan, Bangladesh, France, Germany, Hungary, India, Iran, Italy, Latvia, Kazakhstan, Morocco, Nigeria, Pakistan, and Somalia. This event was an excellent opportunity for our students to celebrate their diversity by sharing stories of their culture, mouth-watering cousins, joining a quiz game and listening to world music. The event was important for encouraging awareness of cultural identity, diversity and inclusion. One of the student organisers commented about the event, 
Everyone has had the opportunity to represent their country with a story, custom, or tradition. As a result, I was able to learn something new and meet new people.
DEN has always led cross-cultural exchange and dialogue between our students both here at the University of Westminster and abroad. For example, this academic year we organised celebrations for Black History Month and International Women's Day. Students contributed by writing blog posts for DEN's online magazine and producing videos for our YouTube channel to bring awareness and publicise these important days. In addition, in the last two academic years, DEN have collaborated with Hanoi academics and students to organise virtual field trips to Vietnam. Students from Vietnam and Westminster engaged in 10 weeks' worth of meetings, learning and discussing the society and culture of Vietnam.
The World in Westminster Festival was a true reflection of the University of Westminster, with such a diverse student and staff body. Equality, diversity and inclusion have always been some of the university's top priorities. In fact, the University of Westminster was named the most internationally diverse university in the UK. As one student commented,
I was so grateful to attend and have the opportunity to speak, outlining how the UK is divided into different, smaller countries with their own cultures. For example, there is a significant difference between the North, the South, and Cornwall in England alone. Each area has a different dialect, accents and even traditional delicacies. 
DEN will continue to promote intercultural learning and exchange outside of the classroom as this is a fundamental part of our student's education. Our forthcoming international student conference on the 13th of May is another example of leading and encouraging our students to engage, share and appreciate diversity. We hope students will join us to organise, present and celebrate our achievements.
---
Author's biography:
Dr Farhang Morady is Principal Lecturer in Development and International Relations and Academic Director of Democratic Education Network. His research focuses on the international political economy, the US/Iranian conflict, and state and development in post-revolutionary Iran. His recent publication includes Morady, F. (2020). Contemporary Iran: Politics, Economy, Religion, Bristol: Policy Press.

Latest posts by Luna Mia Sigle (see all)