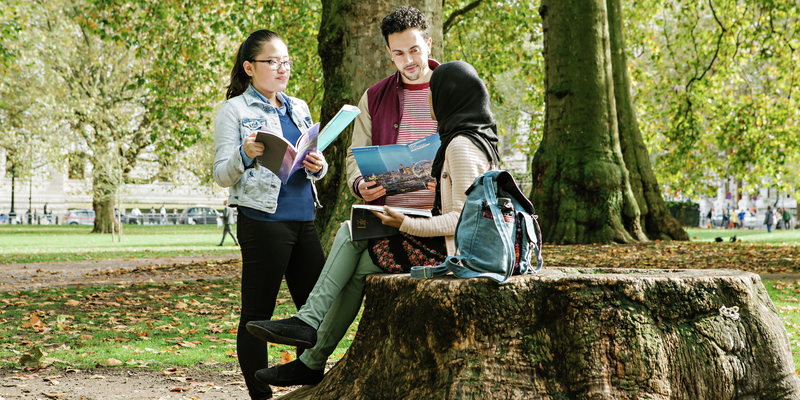 Authors: Dr Pooja Basnett, Dr Linda Percy, Dain Son Robinson, School of Life Sciences, University of Westminster
Educating the current generation about the impact of human society on the planet's natural resources and empowering them to design sustainable solutions is key in building a sustainable future. With the global climate crisis and environmental degradation, there is an urgent need for the reorientation of curriculum to embed content that underpins sustainable development. With COP26 about to begin, we're reflecting on our own efforts to inform and empower our students in this field.
Our objective was to make sustainability an intrinsic part of student learning in our Biological Sciences degree in the School of Life Sciences.  Therefore, we introduced a first-year core module called 'Application of Biological Sciences', where students are presented to the foundational notions of sustainability. That way, they become familiar with the concept of circular economy within the context of plastic pollution. Subsequently, in the second-year core module 'Contemporary Global Issues', students explore regional and global problems such as climate change and biodiversity, waste and pollution, food and water security, and their impact on the world's resources, the environment, and human societies. Through their own research, students identify and examine the underlying causes of the environmental and societal pressures and the risks these pose, such as water scarcity and conflicts or biodiversity losses versus food provision, thus prompting transformative learning.
Lastly, our core module 'Designing a Sustainable World' for final-year Biological Sciences students was developed as a part of the University's commitment to the Sustainable Development Goals. This module inspects the environmental, social, and economic foundations of sustainability and the influence of policy, governance, and design on them. We encourage undergraduates to design solutions to tackle local, regional or global sustainability issues. Possible solutions are designed  from a variety of perspectives, which can result in a sustainable product, process, business or a built environment. While designing these sustainable solutions, students are guided to embrace a holistic approach integrating environmental, economic, and social impacts.
Over the years, students have proposed some exciting sustainable concepts. These include the use of microbial fuel cells to produce electricity from society's waste, electrospun natural fibres used to develop air filters for bus stops, biodegradable plastics grown by bacteria, dish detergents produced from algae fatty acids, apps to monitor air pollution and pharmaceutical waste and many more. Embedding sustainability into our course curriculum has allowed  students to gain a deeper understanding of sustainable development and make it part of their everyday lives. Many of our graduates from the course have chosen to pursue graduate studies in sustainability-focused master's courses or research degrees that involve developing sustainable solutions for real-world problems. In turn, some have successfully started their careers in sustainability within large corporations and public sector organisations.
As educators in sustainability, our vision is to equip students of all backgrounds with the knowledge, skills and attributes to become global citizens and environmental stewards. We take pride in our successes, both in promoting the discussion and prototyping real-world solutions. We aspire to change wider society, allowing a more sustainable future for all.
Author's biography:
Dr Pooja Basnett is a senior lecturer in Biological Sciences at the University of Westminster. She received a Cavendish scholarship from the University of Westminster to complete a PhD in Applied Biotechnology. Her research focuses on the production of value-added products using waste feedstock and their application in the field of medicine.
Dr Linda Percy is a senior lecturer in Molecular and Applied Biology at the University of Westminster. She has worked as a postdoctoral researcher on the EU project SEED. In 2009, she was awarded the summer studentship from the British Phycological Society to investigate lipids and biopolymers in marine dinoflagellates.
Dain Son Robinson is the Sustainable Development Goal Co-Ordinator for the University of Westminster, and is also a recent graduate from the University where she Founded  the Student Environmental Society. With a passion for increasing biodiversity and wildlife population in London, she also works closely with Bees in the City to help deliver their goals by engaging with the students and stakeholders within the university.

Latest posts by Luna Mia Sigle (see all)