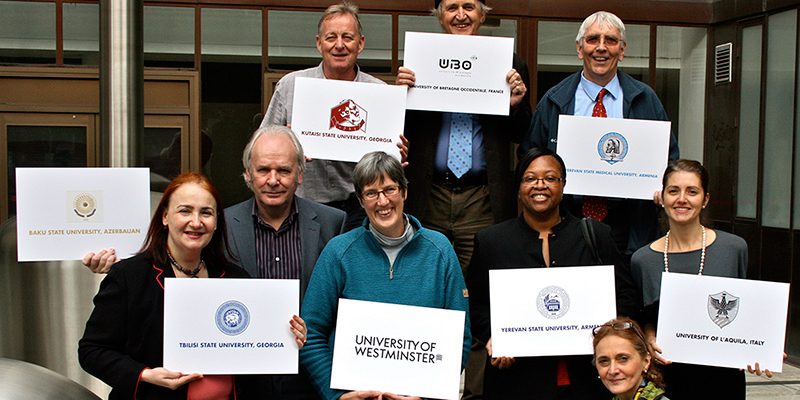 The University of Westminster (UoW) has been a multicultural university, aiming to globally unify the community to meet the challenges of the modern era. Indeed, our institution frequently tops tables of diversity and inclusivity. As a strong example of this, in 2003 the university set up strong, mutually beneficial collaborations with leading universities in the Southern Caucasus, which have won six consecutive EU Erasmus/Tempus grants. Our university, as a coordinating institution, led 10-strong European and Southern Caucasus consortium in each case. Moreover, in 2002, Westminster's first international campus was founded in Uzbekistan. Westminster International University in Tashkent (WIUT) became the first international university located in the heart of Central Asia to offer a Western-style education with UK qualifications.
In May 2022, some of our academics flew to Tashkent to celebrate our 20-year long relationship and collaboration. This made us reflect on the university's values of diversity and inclusion, and how we live by them every day to make a difference. At Difference Festival 2021, we hosted "Past, Present and Future of the University of Westminster's impact on the Southern Caucasus", a session organised at the Difference Festival 2021, where we had a chance to discuss the value which the educational institution brings specifically to the community through its relationship with the Southern Caucasus.
Getting to know @WestminsterEdu in person – the first time for some of us from @UniWestminster ♥️@alex_ah60 @Saljarvis @linsey_cole @peter_bonfield Stephen Wallis pic.twitter.com/hbsZ6XDCDw

— Dibyesh Anand 🏳️‍🌈 (@dibyeshanand) May 17, 2022
Over the years of collaboration with UoW, as a part of knowledge and technology transfer, new courses in Immunology, Haematology and Biomedical Sciences were introduced into curricula in universities from Armenia, Azerbaijan and Georgia. The philosophy of the programme was that teachers who were part of these projects would share their knowledge and experiences with other teachers, particularly young, inspiring members of staff in the collaborating universities as well as outside, leading to sustainability and dissemination of the transferred courses in a pyramid-like scheme.
One of the strengths of these collaborations was establishing the regional coordination Centre of the South Caucasian Universities in Georgia (Tbilisi State University) which provided neutral soil for bringing together scientists on the projects from Azerbaijan and Armenia despite the ongoing serious tensions between these two countries. We pride ourselves with being able to provide grounds for forging good collegial relationships and even friendship between members of staff and students from these countries.
During this period, UoW gained substantial gravitas and experience in the outreach knowledge transfer (KT), by reproducing in Georgia, Armenia and Azerbaijan know-how in biomedical sciences, e-learning and blended learning and haematology, all important for the university KEF-based profile. As a result, we developed strong collaborative links both in education and in research. Introducing e-learning and Distance learning turned out to be extremely useful and almost prophetic for the Covid-19 pandemic, particularly when universities in the Southern Caucasus have relied heavily on these technologies in their teaching.
One of the resulting events of our multifaceted collaboration with Georgia is the Annual Georgian Studies Day (GSD) hosted by the University of Westminster since 2003. GSD has been instrumental in establishing and in maintaining strong working relationships between institutions. Keynote speakers for this meeting have included Ministers of Health in Georgia, Scientific Directors of important scientific Institutions in Tbilisi, Vice Chancellors from various UK universities, UK Chamber of Commerce, UK Members of Parliament, Georgian ambassadors to UK and UK ambassadors to Georgia. The different annual themes include politics, education, health care, economy, social sciences, business and art, among others. Due to the pandemic in 2020, the meeting was held online. Thanks to the support of pro vice-chancellor and Head of the College of Liberal Arts and Sciences Professor Andrew Linn and Head of the School of Life Sciences Professor Brendon Noble, this event was very successful.
---
Learn more about the University of Westminster's Global Engagement Strategy.
For one of the projects – six consecutive EU Erasmus/Tempus grants – UoW was awarded the prestigious Times Higher Education (THE) award for the best International UK University collaboration of 2012. Together with acknowledgement of the best Tempus project throughout the whole history of the program. This has greatly contributed to the position of UoW as a global university. UoW also won research grants provided by the EU (INTAS) during this time, which were coordinated by Dr Nina Porakishvili and Professor Peter M. Lydyard on behalf of the university.
---
Authors' biographies:
Dr Nina Porakishvili is Principal Lecturer in Life Sciences at the University of Westminster. She has more than 20 years of teaching experience. In the Faculty of Science and Technology Dr Nina Porakishvili is leading three modules: Molecular Genetics (BSc), Molecular Therapeutics (BSc), and Immunopathology (MSc).
Prof Peter Lydyard is a Visiting Professor in the Faculty of Science and Technology. He is an expert in Immunology and Microbiology, author and editor of more than a 150 research papers and textbooks in Immunology and Microbiology.

Latest posts by Luna Mia Sigle (see all)