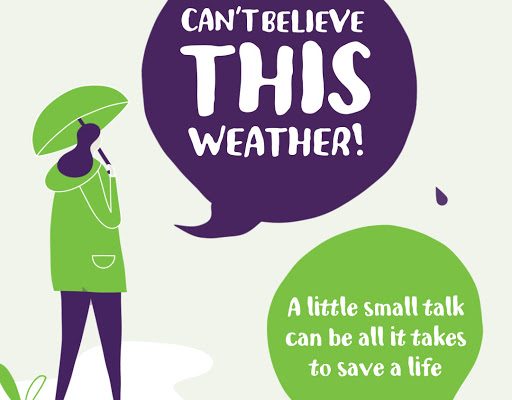 What is the best way to show people who are having a tough time that they are not alone? How could small conversations save lives? Where can you get support if you are feeling down?
With seemingly endless COVID-19 lockdowns, travel and socialisation restrictions, as well as major changes in our daily routine, mental health has become an ever present topic for discussion across the world over the last year. However, not everyone knows an answer to an essential question raised quite often – how to support somebody who is experiencing a mental health crisis.
This question and many others were covered during a remarkable Different Conversation podcast "How to talk about Suicide?" with Dr Jay-Marie Mackenzie, whose research interests lie primarily in understanding how important environmental context is in the prevention of suicide.
"The important thing is that sometimes we shy away from these conversations, because they are difficult to have, or they are perceived to be difficult to have", said Dr Mackenzie. "Actually, having that dialogue and having an open discussion around this can help people to come forward."
During the conversation, we had a chance to learn about how we could potentially help someone, why the message "you are not alone" is so powerful, and whether there is anything that would be better to avoid in a dialog with a person who is having a personal crisis. The podcast covered a range of topics which varied from positives of dealing with lockdown caused by COVID-19 to incredible projects Dr Mackenzie has been involved with. As part of a multi-University project and in collaboration with Network Rail, one of her projects led to changes in how the rail industry aims to prevents suicides on railways. It also led to the development of the successful "small talk saves lives" campaign .
Dr Mackenzie also told us about research which was carried out with the aim to understand better university students who self-harm, and to find ways to both support them and also those people who provide care to individuals currently in a crisis. This work led to the development of an incredibly useful website collating resources for both individuals, importantly but often overlooked, their carers.
Every week we have a different academic from the College of Liberal Arts and Sciences to talk about their research and why it is interesting and exciting. Feel free to subscribe to Different Conversations on YouTube, find us on Spotify, iTunes or any other channel that suits you best.  Don't forget to follow us on Twitter where we share all the most exciting news and updates!
About the guest
Dr Jay-Marie Mackenzie is a Senior Lecturer in Psychology at the University of Westminster. She teaches a range of modules for the BSc Psychology course and MSc Psychology course.
The award-winning campaign "small talk saves lives?", which was created based on research on suicide on the railways she was involved in, reached about 16.2 million people through broadcast, online and print media. In the year following the campaign the rail industry saw  a 20% increase in bystander interventions into suicide attempts by members of the public.
You can read more about Dr Jay-Marie Mackenzie here:
https://www.westminster.ac.uk/about-us/our-people/directory/mackenzie-jay-marie
To find Dr Mackenzie on Twitter follow this link: https://twitter.com/drjaymack
My name is Antoniya, I'm a recent graduate in International Relations, with interests raging from environmental issues, and gender, to modern history, and European politics.

My hobbies include horse riding and Netflix.
Latest posts by Antoniya Skuleva (see all)