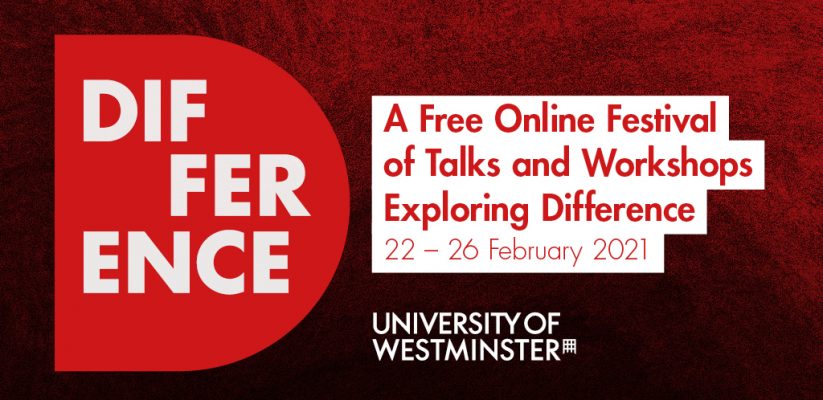 The University of Westminster's annual Difference Festival is back virtually for 2021 with a range of talks, readings and discussions exploring difference from 22–26 February. The public is encouraged to engage with the free and colourful array of events in support of Black Lives Matter, including an online play reading on 'SUS laws', a discussion about how we can work together to stop superbugs and a workshop which will explore ways to extend Gender-Inclusive Cities agenda to LGBTQ+ groups.
The Difference Festival is a week-long celebration showcasing the work of Westminster students, alumni, colleagues and friends, whilst honouring the history and roots of the institution. In 2021, the festival will highlight research on prejudice and discrimination, underpinning the University of Westminster's support for Black Lives Matter and stance against racism in all forms. Book tickets for the Difference Festival 2021 on the Difference Festival website.
For each day of the festival, three events will take place at 3.00pm, 5.00pm and 7.00pm, and will open on 22 February with an interactive workshop led by Annapurna Menon, Visiting Lecturer in Politics, exploring and focusing on how difference can be empowering and how identity can empower solidarity networks. The second event, 'Towards a Compassionate University' is a panel discussion led by Dr Kathryn Waddington, Reader in Work and Organisational Psychology, which will present an argument for the development of compassion in higher education in a global climate of increasing competition, complexity and uncertainty.
Also running from 7.00pm on Monday 22 February is a photo exhibition by Professor Adam Lazowski, Professor of EU Law, titled 'Pursuit of Silence', which explores silence and finding silence.
Tuesday 23 February begins with the discussion 'New Perspectives and Community Voices on British Chinese heritage: an afternoon in London's Chinatown' led by Dr Cangbai Wang, Reader in Chinese Studies, where attendees can experience multiple layers of meaning of London's Chinatown. At 5.00pm a session from Dr Nina Porakishvili, Principal Lecturer in the Department of Biomedical Sciences, will outline Westminster's role as a multicultural global university meeting the challenges of the modern era. At 7.00pm is the discussion 'From Me to We: Change the Pronoun, Change the world' led by Dr Kathryn Waddington.
Wednesday 24 February will start with an interactive session from Dr Manal Mohammed, Lecturer in Medical Microbiology, about the global emergence of superbugs and the rise in antibiotic resistance, followed by the event led by Dr Seagh Kehoe, Postdoctoral Teaching and Research Fellow, titled 'Sinophone Creative Responses to COVID-19 Racisms and Xenophobia'. Also at 7.00pm is 'Queering Public Spaces', a workshop led by Professor Pippa Caterall, Professor of History and Politics, which will address how LGBTQ+ people can feel more safe and included in urban public spaces.
Thursday 25 February begins with a seminar discussion by Dr Orkun Yetkili, Lecturer from the School of Life Sciences, about the use of mental imagery to reduce prejudice between conflicting group members. The day will end with an online exhibition of photographs from the project 'MARKS: Forensic Photography and the Removal of the Trauma of Migration' led by Dr Federica Mazzara, Senior Lecturer in Intercultural Communication.
The Difference Festival ends on Friday 26 February, with three sessions about the disproportionate use of stop and search, beginning with a session from Dr Simon Flacks, Senior Lecturer from Westminster Law School, titled 'STOPWATCH: A Discussion of Current Use of Stop and Search Laws'.  At 5.00pm, Professor Coral Dando and Dr Jay-Marie Mackenzie will deliver a session titled 'Police use of stop and search: An example of cognitive bias in action?' which will will introduce cognitive bias, why it occurs, and how and why this particular type of thinking affects the decisions and judgments that we all make.
The festival will close with the event at 7.00pm with an online reading of Barrie Keeffe's chamber play SUS, a political play about the stop and search powers that allowed police to arrest people deemed to be 'acting suspiciously' or intending to commit an arrestable offence. The event will be led by Dr Matthew Morrison and Professor Guy Osborn, and will be followed by a panel discussion outlining the relevance of SUS today.
Book tickets for the Difference Festival 2021 on the Difference Festival website.