Posted on: 27 April 2017
By: raymonm
No Comments »
Filed under: Law Research
BRYAN  CAVE  LLP  FRANCO-BRITISH INITIATIVE
Could French Contract Law Become the Preferred Governing Law for International Business Contracts?
On January 26 2017, Bryan Cave's London office hosted a debate on the recently implemented reform of French contract law – the French Civil Code – which is designed to make it the law of choice for international companies. Two teams of lawyers discussed whether French law was now a challenge to the dominance of English law in cross-border contracts.
The English law argument was presented by:
•         Rémy Blain, Bryan Cave M&A Partner and Managing Partner of the Paris office
•         Jeremy Aron, Group Legal Director, Packaging at DS Smith
And the French law argument by:
•         Mathew Rea, Co-head of the Global International Arbitration Team and a Partner in Bryan Cave's London office
•         Catherine Pédamon, Deputy Head of the LLM Course in International Commercial Law in the Department of Advanced Legal Studies at Westminster Law School and a Senior lecturer in Law
The event was moderated by Peter Rees QC of 39 Essex Chambers. Peter is a leading expert in international arbitration and commercial litigation and the former Legal Director of Royal Dutch Shell plc.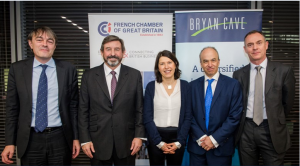 Catherine Pédamon (centre) with fellow debaters.
Read the full pdf. here: franco-british-initiative-bryan-cave-flyer_c01v03