Romela Ramberran graduated from the Legal Practice Course (LPC)
Posted on: 3 October 2017
By: raymonm
No Comments »
Filed under: Alumni LPC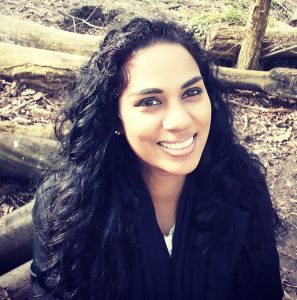 Romela Ramberran graduated from the Legal Practice Course LLM (LPC) with Commendation in 2016.  She loved studying close to Oxford street as well as the friendliness of the other students and staff.
"I decided to study at the University of Westminster following a presentation by Martin Skirrow and Miles McLeod, who did an amazing job of pitching the perks of attending the University, such as the location, the small group learning sessions, their willingness to assist with queries and their friendly and caring demeanours.
"My actual experience at Westminster surpassed all my expectations; while the courses were a bit challenging, the supportive staff and lecturers were always there as guides and mentors to assist in any difficulties encountered. It was by far my best tertiary-level education experience!
"As the course structure was divided between lectures and small group sessions, it allowed students to interact and work together on questions which helped to foster relationships with peers. The numerous events held both within and outside the Law School also aided in this process.
"The lecturers and staff were always very open and friendly, willing to assist in any way possible. Even before I was enrolled, they responded to emails and phone calls out of office hours; once I was actually enrolled they always treated my peers and I like part of their family.
"I really enjoyed the small group sessions which  allowed for active learning and participation in classes. The availability of online lectures were also very useful to my learning.
"The staff at Westminster ensured that students were well entertained – while serious about our learning, they still provided many avenues to facilitate mixers and student events, which I quite enjoyed.
"And one of the best things about being a student in London is the availability of all leisure activities at your fingertips! I loved being able to hop on a bus or the Tube and reach places of interest in a matter of minutes. I also enjoyed the fact that Westminster was a stone's throw away from Oxford Street, which was always bustling with life and activity.
"Upon my return to my home country, Trinidad, I began the six-month attachment with the law firm Johnson, Camacho and Singh Attorneys-at-Law. Since the LPC was a very practical course, it definitely made my transition into the world of work less difficult as the skills learned were actively used.
"To anyone thinking of applying for a Law course at the University of Westminster, I would advise them to prepare to work smart. The LPC is all about application and not a regurgitation of facts. All materials and resources for learning are provided, it is the student's duty to take those resources and manipulate them through practical application, an approach definitely fostered by the tutors."