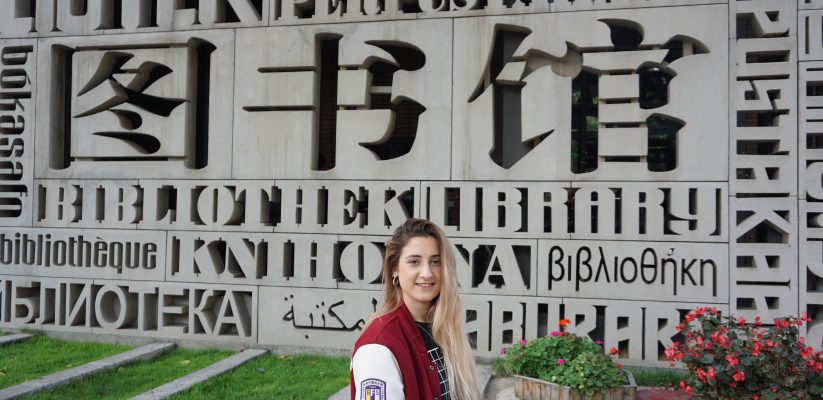 Here I am at BFSU, experiencing for the first time the "campus life" and still wondering whether I like it or not. Last year I stayed in another campus for a short period of time, so I was keener to adapt to the situation. This year I had different goals, expectations and I was also more demanding.
I remember when I arrived at the campus the first day and I went straight to my dorm. I talked to the receptionists and they told me they only had sharing rooms available, yet I could have joined the waiting list for single rooms; so, I accepted what they offered me.
When I walked into my room I nearly cried thinking that I would have spent a semester in this small and dark place. There was a comfortable looking bed, but it was taken, and an empty bunk bed ready for me, with underneath a wardrobe and a desk. I asked the receptionists to be moved, but obviously my request was unsuccessful, and I did not insist more as I did not want to come across in the wrong way. Afterwards, I found out that some people spent hours at the reception, almost harassing the staff and eventually got their single rooms; because they did have more availability, and my attitude was too "polite" for Chinese standards. Welcome to China Alexia!
My dorm is the newest in the campus and it is well located. On the left-hand side there is the canteen, and on the right-hand side the teaching building, the library and a pond. If you keep walking you also find the gym with a swimming pool and the pitch.
Most of the students eat at the canteen which is a three-floor building with food stalls, like a street food market but not as appealing as it sounds. As per the nature of Chinese cuisine, food is very greasy, yet it is quite cheap and there is enough choice to not get bored after the first month. I personally stopped eating there due to health issues, and I mostly cook my own food at the dorm or I just eat in one of the many restaurants right outside the campus. Options vary mainly between Chinese, Korean and Japanese food. There are also pubs and cafes, supermarkets, banks and whatever you need just a stone's throw away. I often eat in a BBQ place that during the night is only opened for dumplings and I usually have breakfast there with my friends after clubbing.
The pond is also one of my favourite spots on campus. It is like a small courtyard with wooden garden tables and stone benches, lotus leaves floating in the water and in the evening, it is lit by soft lighting. It is the meeting point, where everyone gathers at any time of the day with takeaway food, booze and play music, until the weather is still nice and warm. This is how I met tons of other students from all over the world (places I could not even pronounce) including my new friends. I spent a lot of memorable nights there, getting to know people, confronting myself with different cultures as well as witnessing fights, drama and friendships blossoming into love.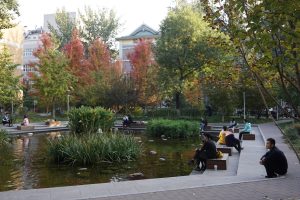 Not long after my arrival, it was time to take a placement test and kick-start the academic year. I was a bit stressed about it as I did not do much over the summer. However, I surprisingly did pretty well and ended up in a challenging level. At the beginning I was frustrated by the fact that I had no idea about what was said in class and many were the occasions in which I thought to downgrade. Eventually I stayed in my class, eager to prove to myself that I could do it. And here I am, passing all my exams and making improvements daily. Classes are engaging and entertaining and the teachers are friendly and helpful. In addition, BFSU is well known for teaching foreign languages and I would recommend everyone to be bold and "hit" on Chinese students as you will definitely find someone who is studying your mother tongue and will be happy to be your language partner.
Last but not least, since everything happens on campus it is easier than what you think to get distracted and tempted to do anything but study; for instance, you leave the library for a cigarette break that becomes a "couple of beers break" with that friend met downstairs. You are in pyjama ready to sleep as you have classes at 8am, but someone knocks at your door and 5mins later you are on your way to Sanlitun…
The struggle is real (at least for those easy to convince like me), therefore I highly suggest setting up daily routines and stick to them in order to get through the week in an efficient way… "earn that Saturday night out" kinda mindset!