By the end of September, one of my friends from the residence proposed me to send my CV at the clothing boutique where she worked as they were recruiting. Initially, I hesitated because I was not confident enough in my ability to communicate in French with costumers. However, I sent my CV and a couple of days later the manager contacted me to go for an interview. Thanks to my previous experience in customer service and the fact that I speak several languages I was hired.
Working as a sale assistant has significantly improved my French, extended my vocabulary and made me more confident. The shop is called Bimba Y Lola and it's a Spanish brand. There are several branches around the world and even one in London. The shop where I work is located at Saint-Paul, a beautiful historic Jewish quarter that I highly recommend to visit, especially for Falafel lovers. I work 15 hours a week on Fridays and Saturdays, the salary is great and it helps me to cover my expenses, as Paris is very expensive. So, I suggest to anybody moving to Paris to look for a part-time job and not to worry about the language. Paris is very touristy therefore employees are always searching for energetic people who speak English.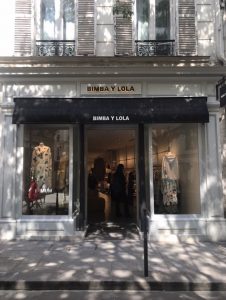 It is worldwide known that Paris is rich of culture and as an art lover I am in my natural habitat in Paris. France is the home of impressionism, yet French contribution to art started centuries before the 19th century. If you like art and you want to travel through time, Louvre is the perfect place where to go. This museum's art collection through paintings and sculptures reconstruct sublimely European history. For example, you would see how the raise of reason and science led to the Renaissance in the 16th century and how the religious conflict between the Catholic Church and the Protestants contributed to Baroque art in the 17th century.
Another art spot I enjoyed is the Palace of Versailles which was the Royal residence from 1682 till 1789. It is around 45 minutes away from Paris and you can reach it by train. The queue is very long during the weekends so it is better to visit it during weekdays in spring or summer in order to be able to enjoy the breath-taking Jardins. Both Louvre and Palace of Versailles, as all museums, are free for students under the age of 26. Visiting museums and other cultural places is a good way to socialise as Erasmus societies at universities organise trips that international and non-international students can take part in.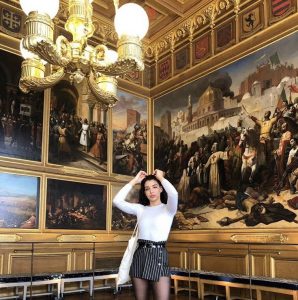 In the first semester, since I had little information about the module programmes, I could not take wise decisions. Therefore, I did not enjoy all my classes. However, this semester I am way happier with my choices. I am taking six modules: French grammar C1, French culture and civilisation, phonetics, Arabic language, Gothic cinema and American history.
The French credit system is very different from the British one. Modules are worth less credits. Therefore, to reach the British equivalent, you need to take way more modules than the ones you take at the University of Westminster. I believe that the best strategy is to take two or three modules that are specifically for international students and two or three modules that are for all students. The former are usually worth two or three credits, while the latter can go from two credits to eight credits. But bear in mind that the higher the credits are, the more difficult the module is. Nevertheless, I am almost done with my classes and exams. I have passed the first semester and I hope to pass the second as well.