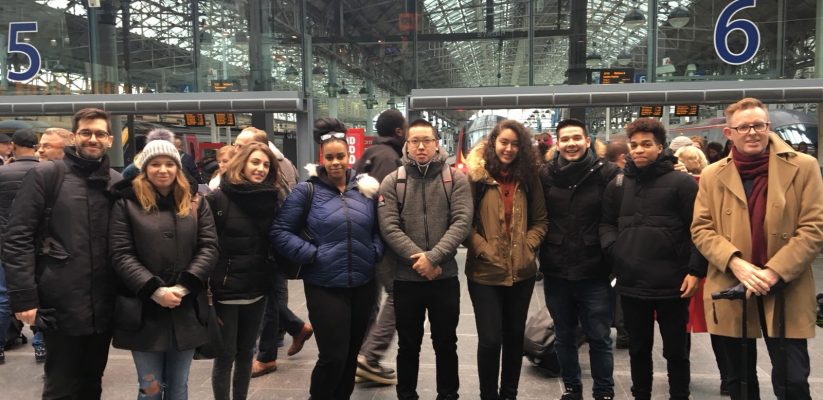 Designing Cities students visited Manchester to learn about urban regeneration from both active practitioners and the local authority. The trip was organised by Jim Coleman, Professor of Professional Practice at the University of Westminster, which has led the group together with Giulio Verdini, BA Designing Cities Course Leader.
Guided by Marcus Johns, Research Consultant at Regeneris, we had the chance to visit the city's Northern Quarter, which is undergoing a long-term process of regeneration. We then moved to the Manchester CBD, visiting the successful mixed-use development of Spinningfields, then eventually walking through Castlefield, Chinatown and the famous Gay Village.
Regeneris – an independent economic development consultancy working in various sectors such as place making, property & housing, transport, culture & tourism – was founded in the city. Marcus gave us a detailed presentation on the city's urban regeneration story and we discussed issues around gentrification, controversial forms of redevelopment but also the overall success of the Manchester model.
In the afternoon we met Mike Emmerich, Founding Director of Metro Dynamics and previously Chief Executive of New Economy Manchester and central to the Manchester devolution deal. His talk on the contemporary challenges of city governance in major urban centres such as Manchester and London was very inspiring.
Later on we met Patrick Karney, city councillor with key responsibility for the city centre. Clearly passionate about his city, he has witnessed its renaissance in recent years describing the great entrepreneurial capability developed by the city since the successful hosting of the 2002 Commonwealth Games.
Jim Coleman is currently Head of Economics at Burohappold and Module Leader for 'Economics of Cities'. The aim of the learning programme is to stimulate students to engage with real world problems around notions of city competitiveness, urban growth and resilience. It is therefore essential to meet those critical actors at the forefront of shaping the cities of tomorrow.