Meet the academic: Simon Flacks
Posted on: 6 January 2015
By: wyattr1
No Comments »
Filed under: Meet the academics, Uncategorized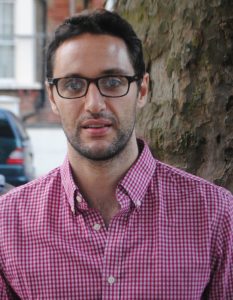 Please describe yourself and your role in a few sentences?
I co-convene Family Law and teach criminal justice. Before entering academia, I worked in the charity sector (undertaking human rights work and mental health advocacy) and in journalism.
What is your area of academic interest?
I have broad research interests that include youth justice, drug policy, human rights, discrimination and gender/sexuality. My PhD addressed under-18 drug treatment.
Please tell us a bit about the teaching that you are involved in?
At the moment, I teach family law, although I will also be teaching on criminal justice modules in the future. Both are really broad subjects, and I enjoy discussing controversial issues that students can get their teeth into!
What was your first job?
My first full time job was as a local newspaper reporter on the Brighton Argus, although I did lots of waiting tables and bar work before that.
Where did you work before coming to Westminster?
The University of Reading.
What has been the highlight of your career to date?
Getting a job in the university sector. I love the work and feel lucky to have found something I really enjoy doing.
What advice would you give students during their studies and after graduation?
Although there is a lot of emphasis on gaining the right skills and grades, try and enjoy the opportunity to learn about interesting subjects too. Choose modules that arouse your curiosity, rather than the ones you suppose might be easiest – I always found I did better in the subjects I liked anyway! In the same vein, try work experience in a variety of organisations so you can find out what you really enjoy doing. University should be about exploration.
What advice would you give students considering studying this subject?
The great thing about law is that there is so much variety. You can stick to legislation and cases if that's what interests you, but there is also the opportunity to study the law 'in context'. That might include learning about sociology, philosophy or politics.
What are your interests/leisure activities?
I love travel and the outdoors. I also take an interest in film and popular culture.