Meet the Academic: Professor Marilyn Freeman
Posted on: 17 March 2015
By: raymonm
No Comments »
Filed under: Meet the academics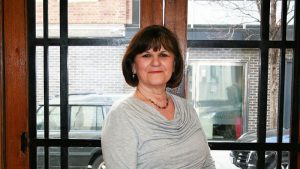 Leading child law expert and international child abduction specialist, Professor Marilyn Freeman, has joined Westminster Law School as Principal Research Fellow.
Professor Freeman is co-director of the International Centre for Family Law, Policy and Practice (ICFLPP) which will be affiliated to the University of Westminster, and which she co-heads with family law and dispute resolution specialist Frances Burton. With the support of its patron, Baroness Hale of Richmond (Deputy-President of the Supreme Court of the United Kingdom), ICFLPP works to develop multi-disciplinary cross-jurisdictional approaches to the challenges of international family law and to engage in collaborative research on these issues.
Professor Freeman joins the University of Westminster from London Metropolitan University where she was Reader in Family and Child Law, before becoming Professor of Family Law in 2010. Professor Freeman said: "I am very excited about joining Westminster Law School as Principal Research Fellow and the opportunities this presents for working with colleagues to develop creatively our mutual research interests, and to mine the interface between our various disciplines, in a way which both supports and enhances the student experience at our institution."
Elizabeth Duff, Head of Westminster Law School, said: "Marilyn Freeman brings an enormous amount of expertise and experience to Westminster Law School; her research and passion for teaching are threads that run through all her work and these resonate with the vision of the School as we aspire to make an impact on the wider community through the work of our Student Law Clinic and internationally recognised research and teaching."
Professor Freeman was called to the English Bar (Middle Temple) in 1986 after completing an LLM at Kings College, London. Her research efforts and practical work have focussed on areas such as international child abduction, forced marriage and relocation – she gained her doctorate in international child abduction. She is widely acknowledged as a leading expert in these areas in which she remains actively involved. She held the position of Head of the reunite Research Unit for many years, and has undertaken several ground-breaking research projects, some supported by government departments such as the Foreign and Commonwealth Office and the Ministry of Justice, including research into both international child abduction and relocation, most recently publishing her research into the long-term effects of child abduction in December 2014.
ICFLPP is holding its triennial conference entitled Culture, Dispute Resolution and the Modernised Family on 6-8 July 2016 in London. Professor Freeman and Frances Burton organised two international family law conferences in 2010 and 2013, which attracted widespread global support and recognition. For further information, please visit www.famlawandpractice.com.
More about Westminster Law School.