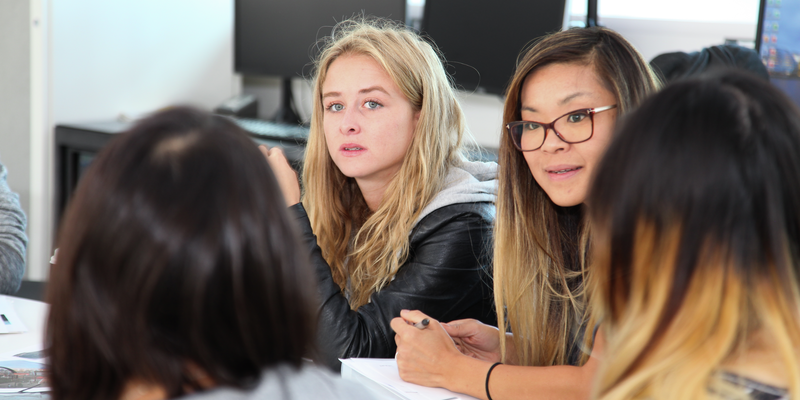 At the University of Westminster, we want to support you and make sure you have all the information you need to make your UCAS application process as smooth as possible. We've already put together an overview of each step of the application process here, so we asked our Course Enquiries team to pull together the most frequently asked questions that come up whilst students are applying.
What is Westminster's Institution code? How do I find my course code?
Our institution code is W50.
You can find your course code by checking the individual course page. In the top right corner of the page, just under the red 'Apply' button you'll find the UCAS code for the course, as well as a reminder of our Institution Code.
What if I don't have any work experience to include in my application?
Work experience placements or voluntary work can be a great way to enhance your application, but with social distancing requirements due to Covid-19, we understand that not everyone will be able to gain typical work experience to mention on their application.
There are still other ways that you can demonstrate your skills and passion for your chosen field; we'd still like to hear about any research you do in your spare time, which could range from reading articles, listening to podcasts, attending a virtual event or watching a documentary. You can also use examples of how you've gained skills through working on group projects at school or taking part in extracurricular activities.
What should I include in my personal statement?
Your personal statement is your opportunity to discuss why you want to study your chosen subject, as well as how your skills and experience make you a good candidate to study the degree you're applying for. The main things to include are what has motivated your interest in the subject, and what makes you suitable; this can range from your education to social clubs, sports and other hobbies you take part in outside of school or college.
We offer a free personal statement advice service, so if you want some feedback or a second opinion before submitting your application, you can send a draft of your statement to personalstatementhelp@westminster.ac.uk. Please note that this service is only available to those who are applying to study with us.
If you're applying through your school or college, they will give you a buzzword to include in your application. This links your application to your education provider so that they can provide your reference.
If you have made a UCAS application as an individual, but need to link it to your school or college to receive a reference, you can enter a buzzword so that a member of staff can provide your reference. Your school or college can give you the correct buzzword to use.
If you are applying as an individual (independently from a school or college), you don't need to provide a buzzword in your application.
What if I'm applying as an independent candidate?
If you are applying as an individual rather than through a school or college, you have a few options when it comes to supplying a reference. If you have a former school or college who can provide a reference, you will need to contact them to get their details and buzzword to include on your application.
Alternatively, you can provide the contact details of a referee (for example a tutor or employer), and UCAS will email them a link to provide your reference. The UCAS website has more information on how to do this.
Can I apply with overseas qualifications?
Yes! We consider a wide variety of international qualifications, and our admissions team will be able to assess your qualifications in line with our entry requirements to process your application. You can find information about the international qualifications that we accept on our country pages.
Can I apply before I've received my results or have all of my documents?
Yes! The majority of students apply before they have their final results and we will make a conditional offer based on you meeting the grades required. If you don't have documents such as a transcript at the time of applying, you can submit your application without and send us this when you have it available.
Can I send my transcripts or other supporting documents via post?
As all staff are currently working remotely, we cannot accept any documents by post. Please send a digitall copy of any documents to us. After you have applied, you will receive an email from your specific admissions officer, so you can send your documents directly to them or to ugadmissions@westminster.ac.uk.
Please make sure you include your full name, application reference number and the name of the course you are applying for, as this will help us to match your documents to your application quickly.
How long does it take after applying to receive a response?
We typically try to respond to applications within 2 to 4 weeks, but at busy times or for courses with extra requirements like a portfolio or interview this can take longer. Please know that as soon as a decision has been made, or if we require any further information from you, our admissions team will contact you directly.
How do I apply for financial support?
Once you have submitted your application, you will be able to start applying for support including student loans or scholarships. If you are eligible to apply for a student loan, you can choose to apply for a tuition fee loan, which would cover the cost of your course fees, as well as a maintenance loan which you can put towards your living expenses whilst studying at university. You don't need to have your place at university confirmed to apply; we would recommend starting your application as early as possible. For information on eligibility and what you could be entitled to, see the Student Finance website.
At Westminster, we also offer a selection of scholarships. There are different types of scholarships available for UK and international students, and different levels of support available depending on your circumstances. To apply for a scholarship you must first have applied for and been given an offer for a place on a course. You can find more information and search the range of scholarships available here.

Find further advice on our website

Latest posts by Emily Baker (see all)