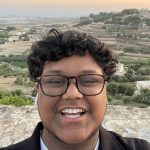 "If I could describe my 6 weeks in Malta to undertake the summer clinical placement at the Mater Dei hospital in one word, it would be "unforgettable". Not only because of all the new knowledge and experience I gained while at the hospital thanks to the fantastic team within the hospital but also because of the beautiful island of Malta and all it has to offer.
Histology and Molecular Oncology Departments and Immunohistochemistry laboratories
My clinical experience within the hospital started off in histology which was my favourite department I got to experience. I spent a lot of time in the cut-up room which is where samples would come in ranging in sizes as small as a biopsy to whole sections of the colon. Areas of interest would be cut up and put into cassettes so they could move on to their next step which would be embedding. After spending time in histology, I was able to watch 3 autopsies take place in the mortuary which is something I'd never thought I'd do. It was an experience I'll never forget and left a lasting impact on me.
After the mortuary, I spent a few days in the molecular oncology department which was the most fascinating department I spent time in. It is a newer department with a lot of promising new developments taking place within the space. While there I was shown how genetic testing is used to look for specific mutations within someone's genome to identify if a person has cancer, what mutation has caused that cancer and if that cancer can be treated with specialised treatment or not. As well as that they would also test pregnant women's blood to make sure certain factors were at normal levels to make sure their babies were healthy.
After molecular oncology, I spent time in immunohistochemistry which is almost a follow-up from histology. Samples from histology which have now been embedded in paraffin wax are sent to immunohistochemistry after histology if further testing is needed that can't be done in histology. There were over 50 different tests that could be done within the lab and although the majority could be done with machinery a handful had to be done manually. Once the area of interest had been stained, they were then observed under a microscope where observations could be made. Usually, areas of interest being stained brown would be a positive indication for cancer and a control would always be used to limit the chances of false positives. The final department I spent time in was cytology. Here, samples are taken from fluids for screening or to diagnose cancers.
Life outside of work was also great as Malta has a lot to offer when it comes to things you can do. I enjoyed watching the sunset on a cliff next to Singita Miracle or visiting the city of Mdina which seemed to be trapped in time which made it all the more beautiful. But my highlight when it comes to life outside of work was going for what I thought was just going to be a walk down Silema at night. It turns out that at the same time, a Feast was happening in the area, and I was able to watch a great firework show and a performance by a marching band which was great fun and an experience that could only happen in Malta.