Padlet is an online virtual "bulletin" board, where people can collaborate, reflect, share links and pictures, in a secure location.
Padlet allows users to create a hidden wall with a custom URL. Padlet creators can also moderate posts, remove posts, and manage their board 24/7.
Step 1: How do I sign up for Padlet account?
To sign up for University of Westminster's Padlet account send an email to: padlethelp@westminster.ac.uk

Please check your email for your account details
We will send you your account details within 24 hours. Once you have your credentials you'll need to access Padlet via the UoW Padlet domain.
Once you login, click on the button(top left hand side) , + Make a Padlet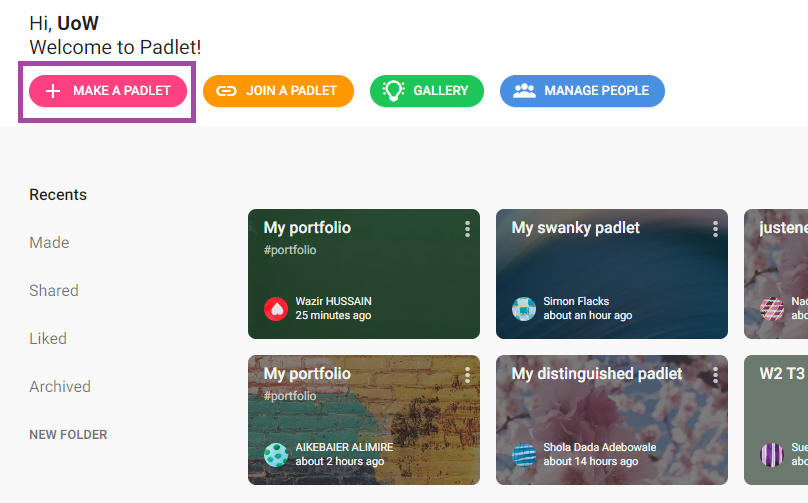 A popup window will appear. Click, any of the options as required.
Note: If you are not sure then select the Wall as shown in the picture.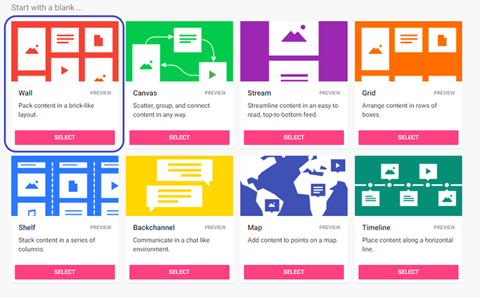 Once you click on the wall a window will appear on the right side of the screen. Make sure you follow the steps below.
1 Title: You can choose any title for your Padlet.
2. Description: Here you can give detail about your Padlet.
3. Icon: Icon is a fun way to represent your padlet. It can be left to none.
4. Copy to Clipboard: By clicking this button a link will be copied.  You will be sending this link to your students to access your Padlet. Please past it for now somewhere where you will be able to find it later.

5. Comments: Allow viewers [student] to comment on Posts by turning the button on.

6. Reactions: Will let you chose the desired option.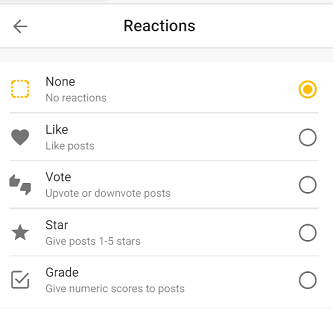 7. Content Filtering: Filter Profanity
Enable Filter profanity 

In the upper right hand corner of the screen. You can click, Share to see the default and recommended share settings which will allow your students to make posts without needing to sign in to Padlet
Once you click share, The setting side panel will appear from right.
Add members: You do not need to add members if you are sharing this Padlet with students.

Under Privacy, the settings should be left as below. 
See image below
a. Secret
b. Visitor permissions, Select Can Write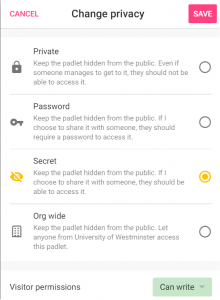 3. Share: Here you will have options available to share your padlet. 
4. Export: This option will let you export your padlet in different formats. You can also print it.


In the upper right hand corner of the screen, press the button [start Posting]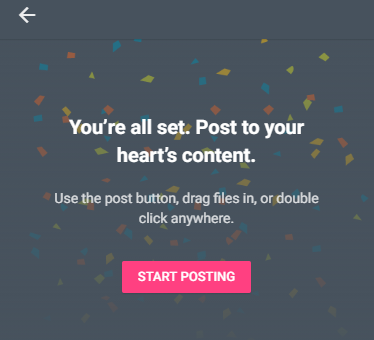 You can now add post by Clicking "+" icon on the lower bottom right of the page.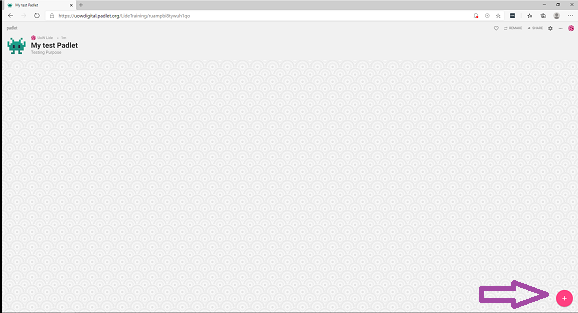 Link that was copied in step 3 or from step 4 can be pasted in your Announcement/Message or in your Blackboard site so students can access it. You can always find it under share option.
If you are unable to find your created padlet you can always click on made option.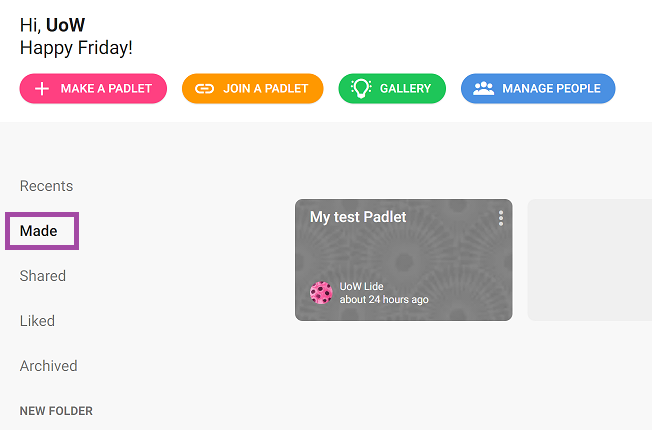 Please note: students do not need to authenticate to access your or  to start posting content (just make sure you have followed step 7). If students come back to you with access issue then double check your padlet setting following step 4 from document.
Important note — We only provide Padlet accounts to UoW teaching staff. We are not able to set up accounts for students (due to the number of available licences).
By following the Padlet guidance on this page, students will be able to post/comment in the Padlets you share with them without needing to register.
You also have the option of – in the Padlet's description or title – asking students to include their names when they create new posts/comments
University of Westminster 309 Regent Street, London W1B 2UW General enquiries: +44 (0)20 7911 5000 Course enquiries: +44 (0)20 7915 5511 The University of Westminster is a charity and a company limited by guarantee. Registration number: 977818 England