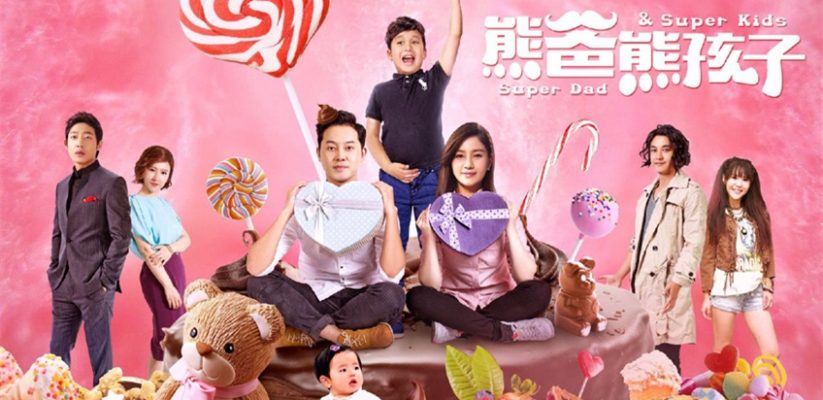 Written by Fei Huang
Stay-at-home fathers (SAHFs), as a newly emerged gendered identity, have recently featured in several TV family dramas in China. While much has been written about the discourses of familial relations in televisual culture since the late 1990s, no research has been done on the representation of this particularly gendered identity on the Chinese screen. In the following paragraphs, I use Super Dad & Super Kids (Xiong Ba Xiong Haizi 熊爸熊孩子, 2017), a TV drama that revolves around the life of a SAHF with his children and his spouse, as a case study, to examine how SAHFs are represented, in a bid to provide a new perspective to academic debates about the cultural production of gender difference and hierarchy in China.
Xiong Xiong (played by Sha Yi) is a general manager of an investment company. Just as he is about to be promoted, his assistant sets him up and causes him to lose the job. At the same time, given that Xiong has been distant both as a husband and a father, his wife Tao Jinzi (Hu Ke) walks out on him after a huge fight, leaving their rebellious son and little daughter under his care. With the wife/mother Tao being (temporarily) absent for most of the episodes, this series focuses on delineating how the SAHF deals with childcare and parenting on his own. Interestingly, with the mother being gone, the SAHF Xiong has been forced to be more attentive and caring towards his children.
I chose this drama because I find it particularly interesting from the perspective that the male character chooses to embrace his new status following his reflection during the time of being a SAHF. On the other hand, the common portrayal in many other dramas, such as Marriage Battle (Hunyin Baowei Zhan 婚姻保卫战, 2010) and A Little Reunion (Xiao Huanxi 小欢喜, 2019), is that SAHFs are represented as being perennially frustrated in their attempts to return to work. However, when probing deeper into the series, I identified three key themes in the construction of the SAHF's masculinity and his familial relationship in the series that resonate with other dramas: the implications of the abnormality of men assuming the role of SAHFs, class specificity, and the expectations of returning to work and having an intact family as a happy ending. These themes indicate the constant process of redefinition and renegotiation of gender roles and masculinity on screen, which will be further elaborated as follows.
Reflexivity in crisis
Although being a SAHF is forced upon Xiong as he is involuntarily laid off, spending time with his son and the little daughter as a SAHF makes him realise the value of the family and consequently changes his perceptions of caregiving and relationship with his wife. He eventually makes up with his wife and returns to work as a man with a new perspective on life. The series ends with Xiong being a more involved father with a successful career and a better marriage.
The shift in Xiong's attitude and behaviour towards his children and his wife after his unemployment substantiates Mario Liong's (2017, p176) argument that crises in men's lives, e.g., financial crises and prolonged marital conflict, tend to be 'opportunities for them to reflect upon their taken-for-granted duties', and thus help them develop closer relationships with both their children and spouses. As Liong explains, the loss of a job is likely to shift men's focus from their career and monetary rewards to the pursuit of building a closer relationship with his family; and prolonged marital conflict usually leads them to become more involved with their children, to compensate for the loss of spouse by satisfying their own sentimental needs. Given that marital relationships are closely linked with men's fathering practices (Kwok et al., 2013), marital relationships seem to be easier to improve once men have become more committed to the family, just as presented in the drama.
However, the representation of the father character seems to suggest that only external crises can lead men to connect with their emotional selves and develop an emotionally sensitive and more caring personality. To put it another way, why has no man been represented as voluntarily quitting the job and retreating to the domestic realm? The need to justify men's action of retreating to the domestic realm indicates the hegemony of breadwinning in masculinity and entrenches the gendered notion of labour division by implying that men are not expected to be the natural nurturer. Indeed, the representation of stay-at-home fatherhood and masculinity in the drama is based on the premise of the three-month absence of the mother. This plot is similar to the enormously popular American film Three Men and a Baby released in 1987, in the sense that fathers' attempts to demonstrate their capabilities in taking up caregiving responsibilities only happens when the mother is not around. Both works treat the role of SAHFs as incredibly unconventional and adventurous, rather than as a natural obligation, by highlighting hilarious mishaps as the characters attempt to adapt their lives to nurturing fatherhood. It appears that fathers as primary caregivers serve as a source of humour in the representational process, which implies that their role deviates from what is typical for men in the family. In other words, given that they are not considered as 'natural nurturer' of the domestic sphere, hilarious mishaps are most likely to happen (cf. Vavrus, 2002, p365; Modleski, 1991, p86-8). As Liong (2017, p172) summarises it, 'as caregiving is widely considered the maternal duty, it is only when the mother is absent that the father's caregiving can appear natural in the media representation'.
Class specificity
Class privilege is demonstrated in this series, which is to offer an escapism and entertainment for the viewers, rather than providing a real-life portrayal of the 'average' Chinese family: the family lives in a big house in Beijing, and the son Xiao Xiong goes to an international private school; as an unemployed father who has to cover the expenses of childrearing and household maintenance all by himself when his spouse is absent, Xiong does not feel the urgent need to earn money for the family until he loses some of his savings in the stock market (episode 10). In this regard, I argue that the drama offers an escapism for its audience by only reflecting the dominant position of the upper middle-class lifestyle in today's consumer society (see Baudrillard, 1983), rather than showing an image of what most Chinese families look like in reality.
'Perfect' ending with a better job and marriage life
One of the common themes of TV dramas that depict SAHFs is that all men go back to work in the end, which signifies that paid work is still considered to be central to men's identities, even though it might no longer be the overriding priority in their lives, as they tend to value the familial relationship more than they used to after connecting with their emotional selves during their stays at home (as shown in Super Dad & Super Kids). However, the temporality of the role of SAHFs in the drama bestows men an intriguing, unconventional, progressive, but clearly masculine identity derived from their career and social status. Furthermore, the cliché happy ending of the family conveys certain social expectations of how Chinese families 'should' be – men have a prosperous career with a happy marriage. I argue that the unified representation of the Chinese family with SAHFs demonstrates the intention of maintaining and promoting the stability of conventional types of manhood and nuclear family, which ties in with the mainstream state ideology of 'social stability' and building a 'harmonious society'.
Fei Huang is a Chinese-English interpreter/translator and PhD candidate in Chinese and Cultural Studies at the University of Westminster. Her research interests include masculinities, gender studies, and family life in contemporary China. Her current research explores stay-at-home fathers in contemporary China.
This piece was first published on the SOAS China Institute Blog and is republished on the CCC Blog with kind permission.