University Certificate of Special Study: Supporting Learning in Higher Education (SLHE) Run by the Centre for Education and Teaching Innovation (CETI)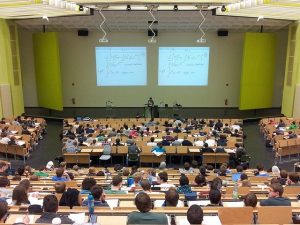 Supporting Learning in Higher Education introduces you to the core concepts, principles and skills that we need to successfully teach and promote learning at university-level. Whether you are brand new to teaching in universities or already have some learning and teaching experience, this module provides you with the chance to develop your understanding of how students learn, how to make effective use of the different learning environments we encounter at university and how to help every student entering Higher Education achieve their full potential. Through a combination of interactive workshops, webinars, online activities and observations of teaching, Supporting Learning in Higher Education provides you with the essential skills, practices and insight into how students learn that you need to start teaching at university level. From teaching in different contexts and using learning technologies, through to effective feedback and inclusive practice, we'll explore all aspects of HE teaching so you can face the classroom with confidence.
The module is worth 20 credits. To gain the 20 credits, you will need to have the required minimum of 12 hours of teaching during the semester in which you take the module*. As the module is part of the PRESTige programme and is a module on the PGCertHE, it is accredited by AdvanceHE. If you take and successfully pass the module you will achieve Associate Fellowship (AFHEA).
Please visit cti.westminster.ac.uk/prestige for full details and registration.
Got a question? Contact us at: CETI@westminster.ac.uk
*The availability of PTVL teaching varies greatly across schools and degree programmes. Contact your DoS or your Head of School to enquire about teaching duties. The specifics of any teaching duties will need to be discussed and agreed with the Head of School.
If you do not have the required number of hours to apply for this Certificate, you may wish to consider the Teaching and Learning sessions for doctoral researchers.
University of Westminster 309 Regent Street, London W1B 2UW General enquiries: +44 (0)20 7911 5000 Course enquiries: +44 (0)20 7915 5511 The University of Westminster is a charity and a company limited by guarantee. Registration number: 977818 England