Engagement, Influence & Impact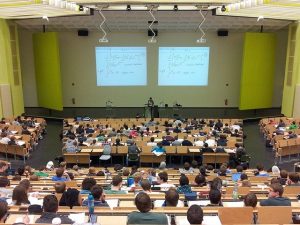 THE CONFIDENT SPEAKER
10th October 2023: book your place here
OR
13th March 2024: book your place here
Academics can make as great an impact from what they say as what they write, whether it be through teaching, conferences or job presentations. Public speaking is therefore a crucial skill for doctoral researchers and early-career academics. Working with a skilled actor and an academic, this workshop takes participants through the process of how to write and deliver a speech. In the first part of the workshop you will cover how to structure a speech, the use of appropriate language and imagery, audio-visual aids, and how to master the Q&A. Later in the day we will focus on your performance. Drawing on acting techniques, participants discover how to improve their diction, resonance, range and articulation, as well as exploring relaxation and breathing techniques to calm nerves.
These interactive workshops take place in person. They provide tailored guidance and feedback for every participant and numbers are therefore limited to 30.
SOCIAL MEDIA AND YOUR PhD: CRAFTING AN EFFECTIVE ONLINE RESEARCHER PROFILE
12th October 2023
Book your place here
Should PhD students be using social media, and if so, which social media should they be using? Is the use of social media a distraction from doing 'real' research, or can the adoption of social media benefit PhD students in any ways? What are the benefits of using social media and what are some of the potential problems? Tackling some of these questions based on both personal experience and research findings, this lecture explores the value, challenges and risks of using different forms of social media as a PhD student.
THE UN SUSTAINABLE DEVELOPMENT GOALS AND YOUR RESEARCH IMPACT
18th October 2023
Book your place here
OR
15th February 2024
Book your place here
Here at the University of Westminster, we are committed to making a positive social, economic and environmental impact through our research. We do this by using the 17 Sustainable Development Goals (SDGs) set out by the United Nation as a blueprint to contribute towards building a sustainable future.
Our researchers have a big role in helping create a sustainable university. Join the session on " The UN Sustainable Development Goals and Your Research Impact" to learn how you can contribute to the SDGs and our wider university commitments through your research during your time at the University of Westminster.
FUNDING YOUR RESEARCH
7th November 2023
Book your place here

Research of all kinds involves and relies upon funding, and on the related processes of costing and managing many different levels of research funding. Successful researchers therefore, whether independent or based in organisations, need a good working knowledge of relevant research funding policies and processes, and how to manage associated finance procedures as applied to individual organisations as well as across the research sector.
This session introduces you to some of the background concerning research funding and associated financial processes in universities and invites you to think more about various levels of funding and how to cost and manage research-related budgets. The main practical focus is on those aspects of research funding management – such as costing and managing conference grants and field research trips – that are most likely to be relevant to doctoral researchers at this stage in their research project, while also thinking about possibilities for future research funding.
INTRODUCTION TO OPEN ACCESS
8th November 2023
Book your place here
This short session will introduce you to many aspects of open access publishing, and where you can get further information.  This will include:
Making your own research outputs open
Making your thesis open
Open access publications, and where to find them
Free access to papers behind paywalls
Accessing and making research data open
Creative Commons licence
ORCID researcher IDs
An introductory presentation is also available online here
There is also a more detailed session on Open Access later in the year: Open Access and your Doctoral Thesis.
COMMUNICATING AND DISSEMINATING YOUR RESEARCH
Expectations around the communication of research vary from discipline to discipline. The following workshops consider the particular strategies and methods for clear and successful communication of research findings appropriate to specific disciplinary areas. These will cover, for example, the delivery of conference papers, the use of social media, and public engagement. For those whose work is interdisciplinary, it may be useful to attend more than one workshop.
Click on the appropriate link below to book a place. Some school dates to follow shortly.
Communicating and Disseminating Your Research in Social Sciences, Humanities and Architecture (SHAPE)
22nd February 2024: book your place here

Communicating and Disseminating Your Research in STEMM Subjects
February 2024: book your place here
Communicating and Disseminating Your Research in Business
February 2024: book your place here
Communicating and Disseminating Your Research in Arts, Media and Communication
February 2024: book your place here
AN INTRODUCTION TO INTELLECTUAL PROPERTY
26th March 2024
Book your place here

Intellectual property (IP) and its protection is an important consideration in any kind of research and has become increasingly important with those aspects of the Impact agenda that involve Knowledge Exchange and Enterprise. IP appears in many forms, with the three most important being Copyright, Patents and Design Rights. IP provides controls by the researcher on the use and exploitation of knowledge before, during and after a project. In terms of collaboration, it determines the nature, scale and range of participation in such research.
This interactive half-day workshop will provide an essential introduction to IP for researchers, how it is protected and how it might be infringed and will enable attendees to explore the existing IP potential in their current research.
Attendees will:
gain a wider knowledge of the various forms of IP, and how it is protected.
investigate the potential of their own Intellectual Property and its associated rights.
explore future directions for their research and identify new business and KE opportunities

OPEN ACCESS AND YOUR DOCTORAL THESIS
9th May 2024
Book your place here
This workshop will give you practical advice and guidance and includes: an introduction to open access and the wider context (both within and beyond the University), an overview of the University's requirements for making your PhD thesis open access including making it available in WestminsterResearch and advice on related issues such as copyright and licensing.
 
MAKING A DIFFERENCE – HOW RESEARCHERS CAN CONTRIBUTE TO POLICY AND PUBLIC DISCOURSE
Date to be announced – (takes place in 2024)
Book your place here
The research community is increasing expected to engage in policy deliberation and public debate both nationally and internationally based on the idea that research should be used to improve decision-making and benefit society. As a consequence, 'public engagement' and 'impact' are now important factors in research policy, evaluation and funding and researchers are expected to strategies and skills to contribute to, and in some cases, influence policy and public discourse. But what exactly does this entail? What are the expectations of policy makers and other 'users' of research? How can you 'adapt' your own research processes and findings to meet these expectations? What is the perspective of researchers in this process?
This workshop offers doctoral researchers the opportunity to work with UK-based public engagement experts and takes a closer look at the translation of research into policy, public debate and public discourse (including working with schools and other communities) and to share insights and lessons from practical examples. As always, the focus will also be on your own research project and how to think about it in new ways.
 
University of Westminster 309 Regent Street, London W1B 2UW General enquiries: +44 (0)20 7911 5000 Course enquiries: +44 (0)20 7915 5511 The University of Westminster is a charity and a company limited by guarantee. Registration number: 977818 England