Microsoft Teams (Students)
Accessing Microsoft Teams Guide for Students
Staff from the university may use Teams to contact you for instant messaging/chat, or to have a meeting via a voice or video call.     
Important. Please remember that Teams is a work product and tool – everything you write in it, and every file you share within it, whether that's in a 1:1 or group chat, forms part of the University record, and is subject to the usual Records Management processes. Once a message has been sent, it cannot be deleted. Recording of voice or video calls within the application has been disabled.
You may receive an email to your university email account with a link. Copy and paste the link on a Chrome browser.  
NB. Please use Chrome (and not Edge or Firefox) so be careful if default browser is not Chrome.   
Or an invite to join a Microsoft Teams Meeting. Click on Join Microsoft Teams Meeting. 

This opens a new window where you can download the application to your desktop or join using the web client.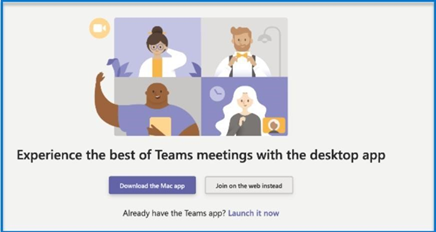 If you select web, a new tab will open in your browser and make sure to allow your browser to user your microphone and camera.
NB. Please use Chrome (and not Edge or Firefox) so be careful if default browser is not Chrome.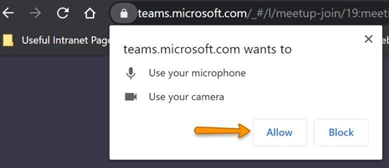 Now you will be taken to the meeting where you can enter your name [1], choose to have your camera [2] and mic on [3]. You can check your device settings by clicking on devices [4], click join now [5] to join the meeting.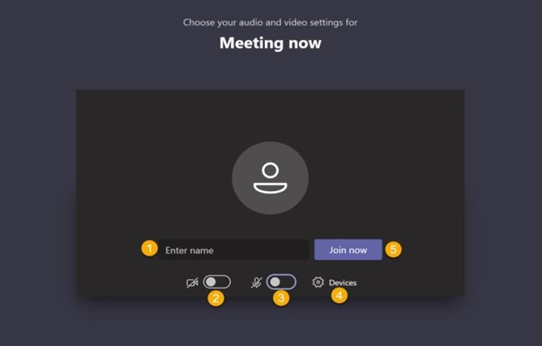 You can access Microsoft Teams in your web browser or via by downloading the desktop application.  If you prefer, you can download an app for your mobile devices from Appstore or Google Play Store.   
For video call, please use the desktop app or mobile app.   
How to login?   
You will need to use your University Microsoft Username in the format (without the 'My' in front of Westminster.ac.uk) username@westminster.ac.uk (where username = W + the first 7 digits of the student ID number e.g. W1234567@westminster.ac.uk) and your normal password when you are asked to login.   
Please Note this is NOT the same as your university google account. Students DO NOT have 'Microsoft email '. They only have Google email from the university. 
University of Westminster 309 Regent Street, London W1B 2UW General enquiries: +44 (0)20 7911 5000 Course enquiries: +44 (0)20 7915 5511 The University of Westminster is a charity and a company limited by guarantee. Registration number: 977818 England