Panopto Assignment Guide for Academics
Students are unable to use Panopto to record or upload unless an assignment folder is created within the module's Panopto parent folder. A folder is just a place where students can create or upload video and/or audio content.
Instructors cannot grade videos or leave feedback in Panopto. That's why a submission link needs to be created on Blackboard. On Panopto, students can edit and delete videos with no deadline. So instructors need to close the assignment folder on Panopto manually.
Step I: Creating assignment folder on Panopto
1. Please log in to Blackboard and go to the module where you would like to create a Panopto assignment.
2. Access the Panopto folder for the module by following the instructions here.
 3. Once the Panopto folder is open, you will be able to see the module code on the left side of the page (Figure 1). This is where you can double-check whether you are on the correct module page.

4. Please click the cog wheel icon in the upper right corner (Figure 1). This will open the folder's Settings menu (Figure 2).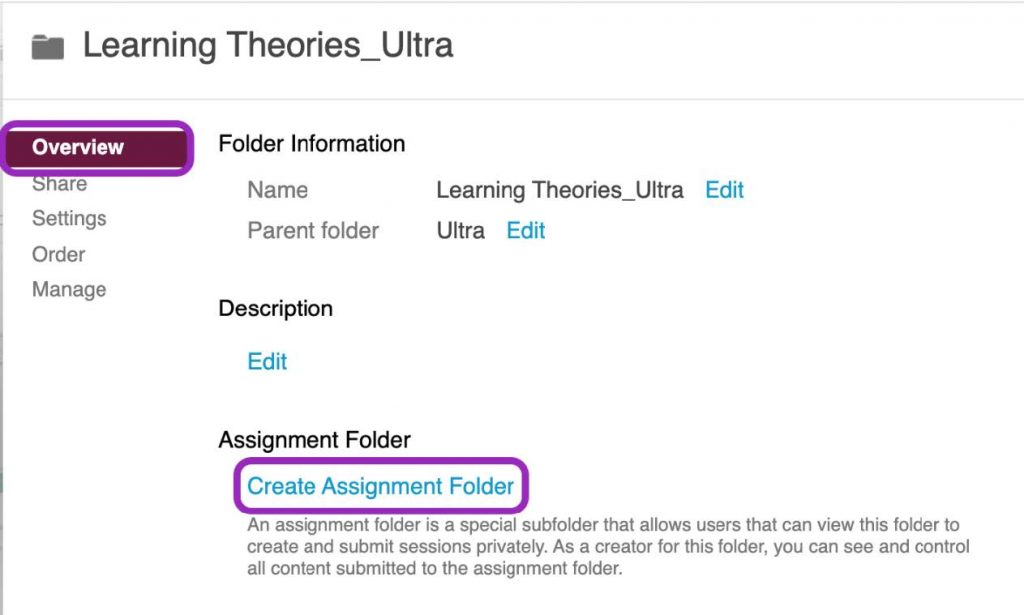 5. On the "Overview" tab, under "Assignment Folder", please click "Create Assignment Folder" (Figure 2) and a link to the new assignment folder will automatically appear (Figure 3). Please make sure to let students know the name of the assignment folder.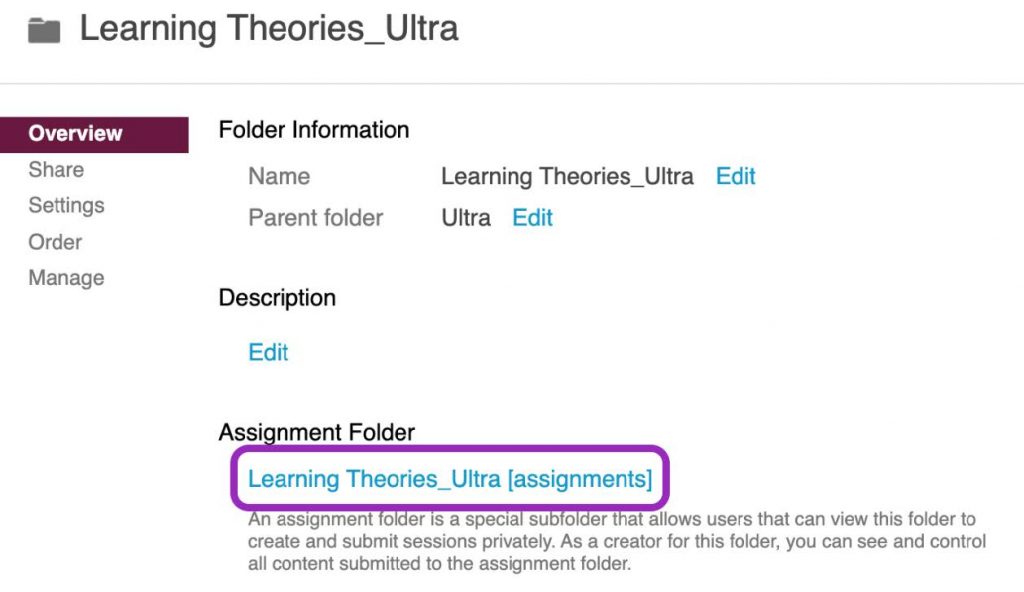 6. If you close the page of settings, you will see the assignment folder appear within the parent folder (Figure 4).

Step II: Creating submission link on Blackboard module page
1. Please go to the module page on Blackboard.
 2. Within the content area, select the plus sign wherever you want to add an assignment. This will open a dropdown menu.
 3. In the menu, select "Create" to open the Create Item panel and select Assignment (Figure 5). The New Assignment page opens.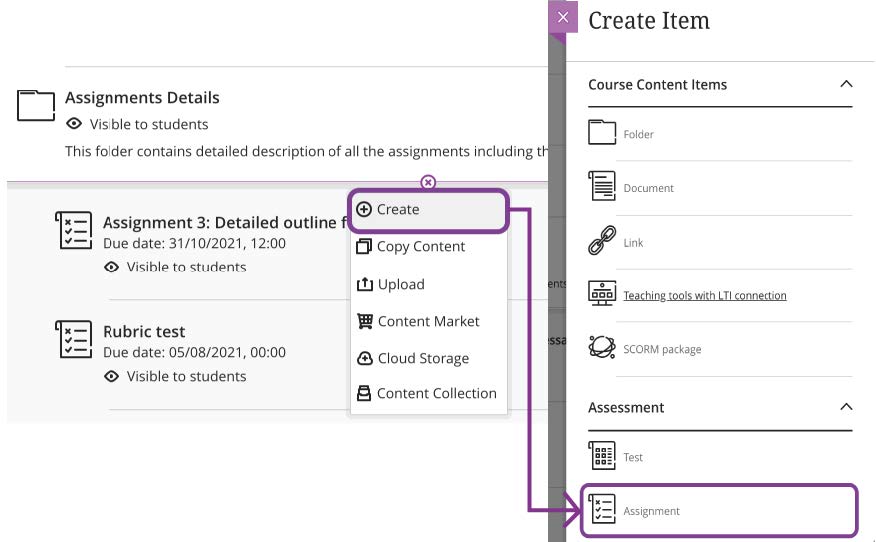 4. On the New Assignment page, enter a descriptive title, add text such as assignment instructions, change availability, provide due date, and determine the number of attempts (Figure 6).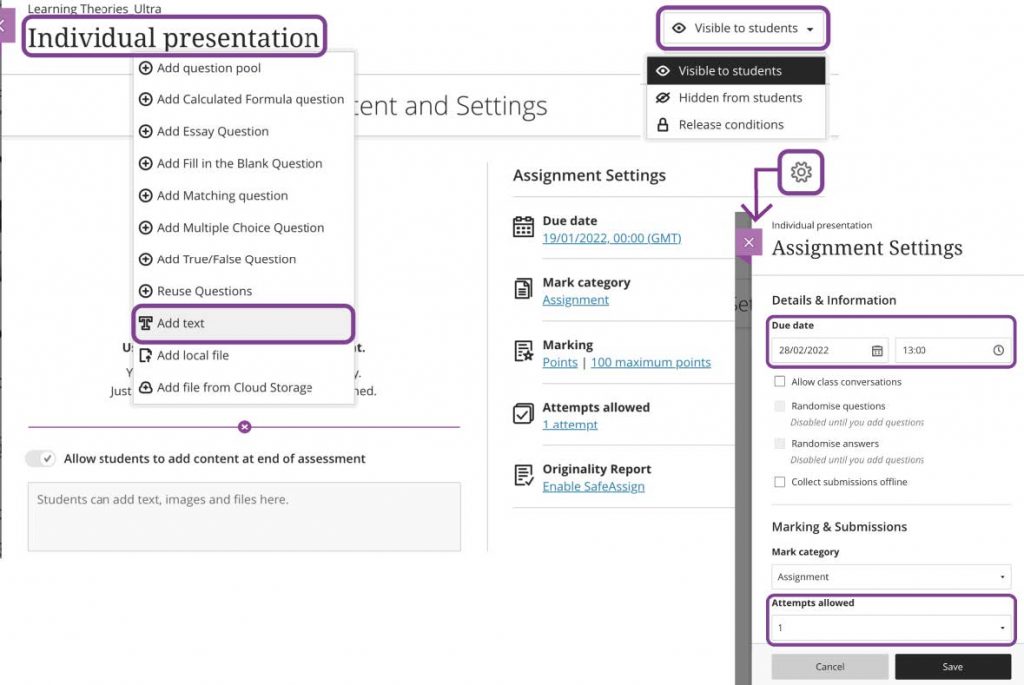 5. Please make sure to click "Save" before you close the page of assignment settings.
Step III: Closing assignment folder on Panopto
1. Once all students have submitted to the assignment folder or the deadline for the assignment has been reached, you can close the assignment folder. To do so, please click "Panopto Recordings" or "Panopto Folder" on your Blackboard module page.
2. Please click the cogwheel icon in the upper right corner of the parent folder to open the Settings menu.
3. On the "Overview" tab, under "Assignment Folder", please click "Close" (Figure 7). A pop-up window will appear to confirm that you want to close the folder, as this action cannot be undone. Once the assignment folder is closed, students will not be able to access or add content to it. The assignment folder and its content will remain accessible to instructors.
University of Westminster 309 Regent Street, London W1B 2UW General enquiries: +44 (0)20 7911 5000 Course enquiries: +44 (0)20 7915 5511 The University of Westminster is a charity and a company limited by guarantee. Registration number: 977818 England