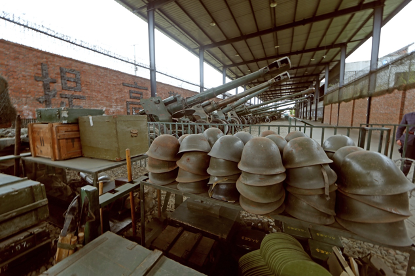 Written by Lisheng Zhang
The first item visitors see in the Jianchuan Museum Complex (JMC), China's largest non-state museum, is a red gantry crane. In its overwhelming immensity, the 20-by-12-metre steel structure, acquired from a city stricken during the 2008 Wenchuan Earthquake, serves as the museum's entrance gate, bearing the name 'Jianchuan Museum Complex' (Jianchuan Bowuguan Juluo), in the handwriting of its founder and director, Mr. Fan Jianchuan. The sheer scale of its entrance distinguishes the JMC from the landscape of its locale, a historic small town called Anren, just outside Chengdu, in Sichuan Province, southwestern China. Through the crane stands a statue of a gun-holding soldier, erected on top of a 40-ton Second World War Japanese bunker shipped from Tianjin, a northern port city some 1850 kilometres away. Behind it, a 1000-metre drive, lined with giant bamboo towering exuberantly over a narrow footpath on each side, leads to the main compound of over 82 acres, housing 30 individual museums, each dedicated to a specific theme related to the memories of the Resistance War against Japan (1931-1945), the Mao Era (1949-1976), the 2008 Wenchuan Earthquake and Chinese folk culture in the past hundred years.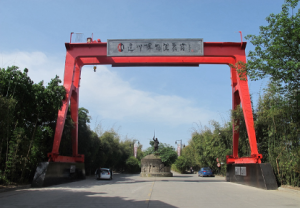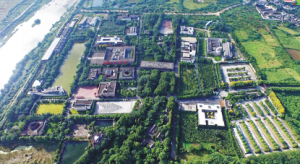 Developed since 2003, the JMC is built upon the personal collection of Fan Jianchuan, a self-made multimillionaire and collector who has amassed over eight million items over the past 30 years. His collection ranges from retired tanks, missiles and airplanes to suicide notes, personal diaries and photographs from the Cultural Revolution. While the museums display only a small portion of the collection, the majority is stored in a huge warehouse that opens exclusively to invited guests and employees.
From 2015 to 2017, I spent 15 months as a voluntary worker at the JMC conducting fieldwork for my PhD research as part of the Leverhulme-funded project Conflict in Cultural Value: Localities and Heritage in Southwest China, and had the opportunity of visiting the museum warehouse a few times.
Being in the presence of the entire collection is a formidable experience. Stepping into the warehouse, one is immersed in long lines of shelves of Mao busts, clocks, teacups, radios and mirrors from the Maoist period. Along the walls, huge piles of vintage posters and newspapers reach up to the high ceiling. Going further, one comes across lines of closed bookshelves with A4 signs noting 'Cultural Revolution Materials' in bold. These shelves are stuffed with documents wrapped in plastic bags, containing personal profiles, trial records, self-criticism letters, complaint documents, rehabilitation documents and so on. Mostly handwritten, these crisp and yellowish pieces of paper were items that had the power to have people imprisoned, persecuted, and their families broken. I remember myself breathing heavily while walking amongst the shelves, pondering the number of individuals being documented here by what lay quietly and banally in front of me. Yet the questions that really matter seem to be 'who were they?' and 'where are they now?'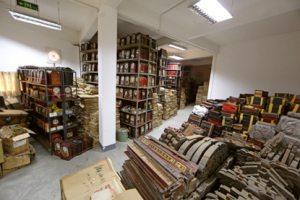 Equally worth considering as the destiny of their authors is the destiny of the documents themselves. Upstairs, there are six full rooms of photo albums and diaries Fan collected during home clearances in the 1990s. These images of total strangers, and brief or lengthy accounts of their days, are of the most ordinary hence familiar contents: trips to the park on a sunny day, family gatherings, the first day back to school after holidays, significant moments in a relationship. I refrained from photographing these diaries and photographs, for I found them simply too private, too intimate for some random spectator like myself.
With the earliest acquisitions made during and shortly after the Cultural Revolution, Fan's collecting took on momentum in the early 1990s with the emergence of antique markets across the country, where he travelled extensively and frequently. Over the years Fan cultivated a countrywide network of antique traders specialising in 20th century collectibles. The museum's 50,000 Mao-era mirrors were acquired by 20 of his contacts going through villages in different parts of China with loudspeakers looping the voice message 'there is a crazy guy from Sichuan who wants to trade new mirrors for your old ones and give you five yuan!'. Since 2009, the JMC has been running an annual Red Collectors Forum where these traders gather to showcase their collections, network, and most importantly, sell their items to the museum. Given the quantity and miscellany of its collection, the JMC's cataloging process has never been able to keep up with its acquisition, and only about 15% of its collection were cataloged by 2017.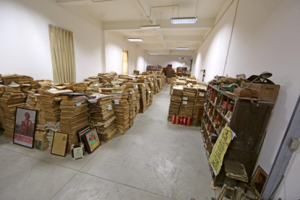 The JMC is one of the very few museums in the country that has ever been able to address some of its most politically contentious memories. The early museums in the complex, opened from 2005 to 2010, are engaged with 'sensitive' topics such as the Chinese Nationalist Party (Guomindang) and the Cultural Revolution that have been largely marginalised or completely obliterated in official museum narratives. Highlighting the power of 'real artefacts', which the JMC possesses abundantly and often displays in unusually large quantities, with contextual explanations kept to a minimum, these museums create uniquely affective and evocative experiences.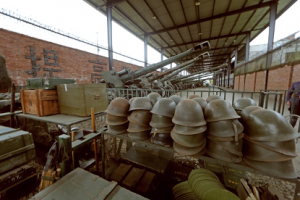 In the meantime, the project has also been developed as a profitable business since around 2010. It now welcomes close to two million visitors a year and has successfully branched out to museum planning and construction, working with local governments across the country. In 2018, it opened another group of eight museums in the nearby megalopolis, Chongqing. Therefore, though non-state, it is deeply enmeshed with government authority in political and economic terms.
The largest non-state material culture repository of China's 20th century history, the JMC speaks amply of the moral and political complexities in remembering, collecting as well as understanding the museum and heritage industry in China today. And yet the vast majority of its collection remains unavailable for research or display, and the future of this unprecedented and gigantic project is still a story unfolding.
Lisheng Zhang is a researcher with UCL Institute of Archaeology. His PhD research investigates the largest non-state museum project, the Jianchuan Museum Complex in Sichuan, China. He worked as research assistant for the Leverhulme-funded research project (coordinated by Harriet Evans with Mike Rowlands) Conflicts in Cultural value: Localities and Heritage in Southwest China. He also works as a postdoctoral researcher for the AHRC-Newton funded project "Craft China: (Re)making ethnic heritage in China's creative economy". Images courtesy of the Jianchuan Museum Complex.