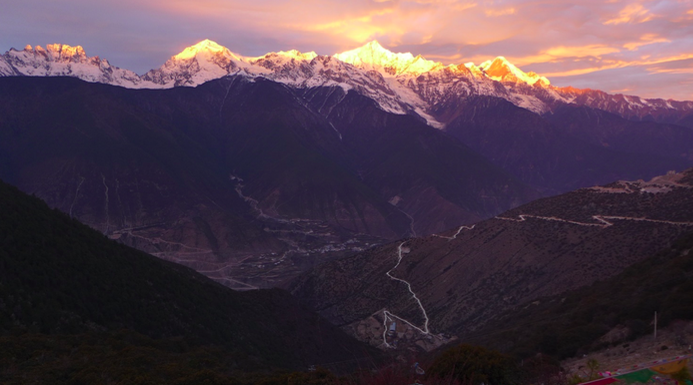 Written by Sonja Laukkanen
Meili Snow Mountains National Park is located in the northwestern corner of Yunnan Province in Diqing Tibetan Autonomous Prefecture, close to the border of Tibet Autonomous Region. The park is a part of the Three Parallel Rivers UNESCO World Natural Heritage site, consisting of 15 nature reserves with a total area of 1, 7 million hectares. Here, three of the great rivers of Asia: Yangtze, Salween and Mekong, flow off the Tibetan plateau within 75 kilometres of each other in deep parallel gorges. The reason for the UNESCO natural heritage site nomination is the unique landscape of these great rivers in deep gorges with rich climatic variation; it is one of the world's biodiversity hot-spots. Thus, the landscape as nature is being preserved as heritage.
But landscape is never just nature, especially in Meili Snow Mountains, which are holy to Tibetans. The highest peak, Khawa Karpo (6,740 meters), is classified as neri (Wyley: gnas ri) literally translated as "mountain abode". Those are the holiest mountains in Tibetan Buddhism and pilgrimage destinations. Originally Khawa Karpo was a fierce warrior god that Padmasambhava transformed into a protector of the Dharma. Neri mountains are specifically the residence or embodiment of the chökyong, or "defenders of Buddhist religion," a class of deities that constitute a large section of the rich Tibetan pantheon (Nebesky-Wojkowitz, 1956). While Khawa Karpo is the only neri in Diqing, there are hundreds of other sacred mountains that also date from Tibet's pre-Buddhist cultural foundations, but they are not pilgrimage destinations. In addition, the physical environment in both its animate and inanimate dimensions is believed to be occupied by deities and spirit forces.
Landscape and Heritage Discourses
Since the late 1990's ecological management and sustainable development have become critical aspects of the Chinese Communist Party's claim to political legitimacy. The 1998 national logging ban in the upper Yangzi and Yellow River basins and the 1999 nationwide Sloping Land Conversion Program are examples of the narrative of ecological modernisation and the new "ecological state" (Yeh and Coggins, 2014). For the state, the Western areas function as a macrogeographic zone of forests and grasslands for the nation's watershed protection, providing ecosystem services for downstream regions.
The logging ban caused a decline in the economy for which tourism coupled with infrastructural development was seen as a solution. Heritage and nature tourism can be developed in remote rural minority areas as a way to promote development and modernisation. Since the launch of the Western Region Development Program in 2000, massive infrastructural development projects have changed the landscape of this corner of Yunnan shortening the travel time and making it more accessible. Central in these projects was the consolidation of central state control over western landscapes seen as manageable 'resources' (Oakes, 2004).  The road constructions included viewing platforms with parking lots and entrance gates walling off the sights. Thus, landscape for tourist consumption is often produced as a scenery or a view also explained in signs.
National Parks were among the provincial government's plan for tourism development. Already when preparing for an application to UNESCO to create the Three Parallel Rivers heritage site it became clear that the Chinese "nature reserve" (ziran baohuqu) designation was too narrow. There was a need to allow a greater level of human use and occupation and tourism development that would fund conservation management (Zhou and Grumbine, 2011). The original aim of The Nature Conservancy, which initially worked with the provincial government in the project, was to encourage the adoption of new models of conservation. Yet, many of the nature reserves emerged as mass tourism attractions constructed according to one model and dressed up as Tibetan (Zinda, 2014).
Most tourists to Meili Snow Mountains head to Feilaisi which used to be a sleepy little village with stupas facing the holy mountains. In 2010, the old stupas were removed and a viewing platform, new stupas and a wall were constructed with an entrance fee, although the fee only applies to tourists. Feilaisi 'scenic spot' has AAAA rating in Chinese tourism. In China the officially recognised tourism landscape is organised into 'scenic spots' to be toured (Nyíri, 2006). A five-tier ranking system is used to classify the quality of all scenic areas, ranging from 5A to 1A designations. When Chinese group tourists visit 'scenic spots,' they expect the site/sight to be 'developed' (Nyíri, 2008).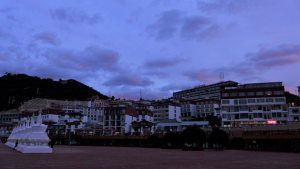 Feilaisi 'village' in 2018
Performing Heritage: Pilgrims and Tourists
These discourses work together to produce certain kinds of landscapes. But landscape is more than just visual. It is the richly nuanced contextual surroundings in which people move, think and dwell (Tilley, 2012). People produce it in their daily activities and movements in the landscape. In fact, some of these routes are considered to be heritage, e.g. the tea-horse caravan route with 1,300 years of history and ancient pilgrimage routes that connect with it.  Pilgrimage is a core element of religious practice and there is a sort of national pilgrimage network extending throughout cultural Tibet. It also serves as a prominent identity indicator. The Chinese authorities suppressed the practice during the 1960s and early '70s but it has been allowed again since 1978. For pilgrimage Tibetans commonly use the terms gnas-skor (lit. "going around a gnas"), and gnas-mjal (lit. "to encounter / Meet a gnas") (Huber, 2004). A Tibetan pilgrimage is generally a circular journey around a gnas which involves encounter(s) with the gnas. Gnas can be aspects of the natural world, like mountains and lakes, but gnas can also reside in architectural edifices such as stupas, monasteries or shrines, or particular persons such as Lamas (Huber, 2004).
Some have argued that heritage has to be experienced to be heritage. In the performance of heritage its values and meanings are represented and negotiated (Smith, 2006). In a pilgrimage/trekking destination like Meili Snow mountains, walking seems a perfect method for experiencing and performing landscape heritage. Walking is different to pilgrimage, although tourism has been compared to it as a modern ritual with a structure which is basically the same as in all ritual behaviour. But there is no hard, dividing line between pilgrimage and tourism, as the roles can be combined (Graburn, 1983).
The experience of landscape is more than visual, and walking offers an embodied understanding. A walk not only gathers together and mediates places and their material properties, including the weather, along its path but also events, social encounters with people and plants and animals. Walking gathers known histories, practices and traditions fusing, the past with present and future (Tilley, 2012). I discussed the experience of walking with a friend and the following quote is from her:
You're walking a path because other people have walked that path. Instead of being connected by time, you're connected by space. Think about the Tibetan prayer flags – every time the wind blows all of the prayers are released again. And the pilgrimage, taking this route at this time is really important, or this specific route. That seems like a sentiment of that religion, that ritual or the sacred activities are a connection with the past and the present. And the present like rereleasing or reanimating the past and making that real again. That the past isn't locked away. Yeah, that a space can unite people. We think about ourselves temporally. You can also think about how every time I stand on this spot I'm connected to everyone who ever stood on this spot. Multiple realities as I'm walking from here to there right now. That time can be stacked on itself, standing on one point on the earth. Multiplicities expanded across the sequence of events. And I think that's maybe something I learned by living in a Tibetan place.
The recent road constructions have changed the landscape in Meili Snow Mountains as, in additional to the massive construction projects, the road network expands everywhere. From Feilaisi, pilgrims used to walk down to Mekong river canyon, cross a bridge and then perform prayers near Bajur Monastery in front of a key-shaped indentation on the rocks to gain permission to approach the holy mountains. Now most pilgrims and tourists arrive by car to Xidang.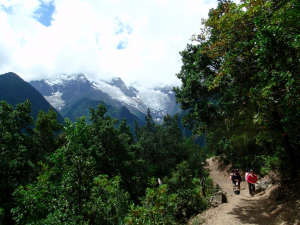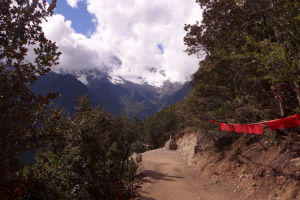 On the way to Yubeng in 2018 and 2015.
The main destination along this inner pilgrimage route is the Holy Waterfalls above Yubeng Village. Previously getting to Yubeng required walking or riding mules from Xidang. In 2015 the path was upgraded into a dirt road passable to pickup trucks. In 2018 the mule transportation was discontinued, and the park administration set up a company with exclusive right to transport tourists to Yubeng. Most tourists and nearly all pilgrims still walk, but it is now possible to see these landscapes from the comfort of a car instead of arduous hike of several hours, thus altering the experience of heritage of Meili Snow Mountains.  Walking, then, could be seen as an activity through which modernity can be resisted or reworked (Lee and Ingold, 2006) by paying more attention to the different understandings and performance of heritage.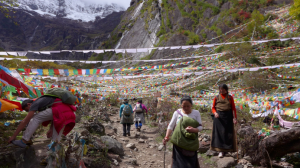 Path to the Holy Waterfalls in 2015
Sonja Laukkanen is a Ph.D. student in Helsinki University China Studies. In her thesis she explores the construction, consumption and performance of heritage, landscape and authenticity. She has contributed a chapter about identity and authenticity in Meili Snow Mountains for a collection Chinese Heritage in the Making by Amsterdam University Press. Prior to doctoral studies she spent four years (2009- 2012) living in Northwestern Yunnan. Image credit: author.