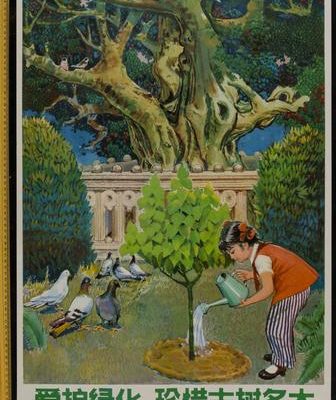 Written by Editor
Our ninth issue explores a variety of themes, topics and visions in the study of the environment and ecologies. We asked contributors to reflect on the various ways in which environment and ecologies are/have been understood, inhabited, cultivated, represented, governed, politicised and/or commodified in China and the Sinophone world past and present.
Our opening piece, Jessica Imach discusses how techno-pastoral narratives from 1950 and 1960s' Chinese science fiction continue to resonate with current articulations of state environmentalism and its promotion of 'ecological civilisation' (生态文明 shengtai wenming).
The second piece comes from Ross Anthony and takes a look at how, at a time of accelerating atmospheric warming and ecological fragmentation, China has become a signifier of planetary anxiety in many western countries.
In the third piece, Adam Liebman examines how changing garbage bin designs, aesthetics, and the politics of their placement provide a lens into shifting urban political ecologies in contemporary China.
The fourth piece in this issue comes from Justyna Jaguscik and explores the local/transnational and cross-class dimensions of Sinophone eco-feminism.
In the fifth piece in this issue, Shaw-wu Jung discusses a project which saw the successful reconstruction of a community garden in Lancheng, Taiwan, and the various ways in which environmental justice and local sensibilities converge.
Our final piece in this issue comes from Darryl Sterk and examines Indigenous language autoethnobotany and translation in Taiwan.
Image credit: University of Westminster's China Visual Arts Project