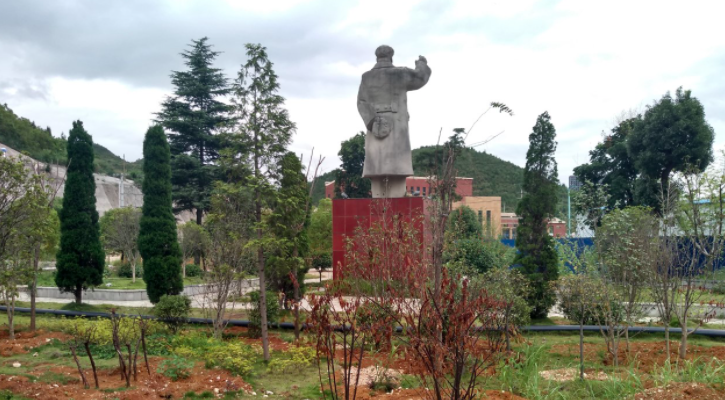 Written by Paul Kendall
During 2011 and 2012, I did fieldwork in the small city of Kaili studying – among other things – its branding as a tourist destination of singing and dancing ethnic minorities.  Branding turned out to be pervasive in this autonomous prefectural capital of southeast Guizhou, including the physical imprint of ethnic minority motifs upon nearly all official leisure spaces. I was therefore surprised in 2013 to learn that a small park had been built in Kaili to celebrate not ethnic minorities but the Third Front, a 1960s Maoist military-industrial project constructed in response to the threat of nuclear war amid some of China's most inhospitable terrain, including the mountain valleys around Kaili. On a further trip in 2018, I returned to find the park in ruins. In the following paragraphs, I analyse the park's rapid rise and fall as a manifestation of tensions between recent nationwide efforts to repackage the Third Front as industrial heritage and a city brand that stresses rural minority culture rather than Maoist industry.
During the 1960s and 70s, 11 Third Front factories were constructed at a distance of around 5-10km from the (then) small town of Kaili in accordance with a central directive that these war factories should be dispersed, hidden and located in mountain valleys. During the post-Mao era, in contrast, the municipal government has marketed Kaili as a tourist destination of exotic minority culture, while all but one Third Front factory has relocated or gone bankrupt. City brands are synecdoches (following Doreen Massey's work on London's "strategy of synecdoche"), in the sense that a preferred part (or "unique selling point") provides a simplified representation of a complex whole. In the branding of Kaili, the preferred part has been the exoticized cultural practices of the Miao and Dong minorities, while the Third Front has been almost entirely overlooked. Indeed, there is a tension between images of industrial spaces – with their contemporary associations of homogeneity and pollution – and Kaili's brand as a place to escape the stress of the big city and experience untainted rural minority culture. Monikers attached to Kaili, such as the "homeland of 100 festivals" (baijie zhi xiang), refer to the festivals of minority groups who have long been associated with the rural and the primitive, rather than with industrial production. There is also a certain hostility towards the Third Front in Kaili, with some local residents remembering factory workers – many of whom came from big cities – as aloof and arrogant.
I was therefore surprised in 2013 to come across a couple of online articles which described the ongoing construction of a Third Front park in Kaili. Later that year, I visited this unexpected commemoration to industrial heritage. The small park was located far outside the city centre next to the ruins of a former Third Front factory. A towering, renovated Mao statue visually dominated the park, with visual support provided by mock tanks and guns as well as commemorative plaques. The park was deserted, difficult-to-reach, and only occasionally depicted in local media, in contrast to ethnicized spaces such as the Nationalities Stadium which have featured heavily alongside pictures of Miao villages in touristic representations of Kaili. Nevertheless, the park's mere existence fascinated me, given the lack of representation that the Third Front had previously been accorded within the built environment of the city.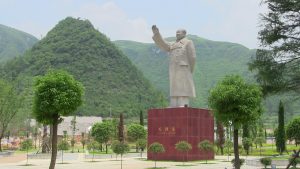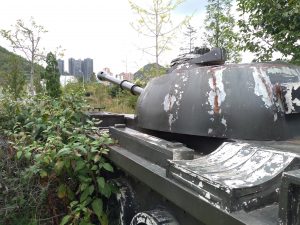 Looking beyond Kaili, this neglect of the Third Front has not been representative of recent governmental approaches in southwest China. In fact, many local governments and businesses have come to regard the Third Front as exploitable heritage, given its visually striking combination of industrial architecture and picturesque rural surroundings, as well as its narrative of heroic patriotic workers. Discourse is always on the move, and understandings of the Third Front have become intertwined with the rampant production of national heritage, as it extends even to include Maoist industry. Thus, the municipal government of neighbouring Duyun in south Guizhou has transformed one former factory site into a Third Front museum. And in the suburbs of Guiyang, another former factory site has been shaped into a variation on the 798 Art Zone theme, as a site of consumption and commemoration including museum, art gallery, shopping mall and cinema.
A city brand typically stresses the unique selling point of a place. It shapes and promotes a tamed, managed form of difference. However, there is also a defensive, hedging quality to many city brands, so that a unique selling point may be complemented – or even contradicted – by emulations of other cities' unique selling points. So if Guiyang has been developing its reputation as a big data city, then Kaili develops its own big data centre. And if multiple cities in Guizhou have Third Front commemorative sites, then it would be best for Kaili to avoid being different, even if difference is what makes a city brand stand out.
When I visited Kaili in 2018, I found that the park – a commemoration to ruined factories – had itself fallen into ruin. Grass and flower beds were untended while plaques were faded or broken. The Mao statue also seemed to be facing in the opposite direction to how I remembered. In 2013, Mao's face and upraised hand could be seen from the road that passed in front of the park, with the factory's ruins to the rear of the park. In 2018, the road provided a view of Mao's backside in one direction and a view of a new luxury residential complex in the other direction. It eventually dawned on me that the road had been moved so that it now cut through where part of the park had previously been located, while the residential complex stood where the ruins of Factory 210 had been located. On the residential side of the road was an impeccably tended space of greenery, in contrast to the semi-abandoned Third Front park.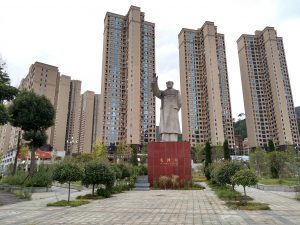 In 2013, a huge billboard close to the park had advertised the impending arrival of this residential complex, whose name "Mountain and City" (shan yu cheng) encapsulated a tricky PR balancing act of depicting the complex as not only surrounded by greenery but also close to urban amenities. Fortuitously, a park constitutes both greenery and urban amenity, and the complex's profile must have been enhanced during initial advertising by the presence of the new park at its main entrance. In 2015, the residential complex's profile was further boosted by the announcement – covered by Kaili Online (Kaili wang) – that the existing 58-mu park would be expanded into a 260-mu park including Third Front-style buildings, a museum, underground car park and, of course, ethnic minority architecture. It would be "constructed  according to the AAAA standards for scenic sites", although, as of 2019, it did not feature in the Guizhou Government's official directory of AAAA sites.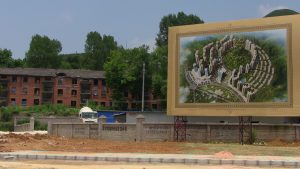 In 2016, Civilized Kaili Online (Kaili wenming wang) reported that work on the first stage of this new Third Front commemorative project was 80% complete. On my 2018 trip, work looked nowhere near complete. In 2020, the promoters have seemingly gone not so much for a soft business opening as a silent opening, with no online indication that the new park has formally opened. Regardless of physical realities, Kaili is now frequently mentioned when online articles on the Third Front provide lists of cities that have Third Front commemorative sites. However, it remains to be seen to what extent the project will represent a genuine branding attempt to recognise the complexities of Kaili's urban development, as built not just on the brand of ethnic tourism but also the construction efforts of Third Front workers.
Paul Kendall is a Senior Lecturer in Chinese and Cultural Studies at the University of Westminster. His research interests include urban and industrial space, rural/urban relations, ethnicity, everyday life, soundscapes, and music. His book, The Sounds of Social Space: Branding, Built Environment, and Leisure in Urban China (2019), examines the production of social space in Kaili, a small city in southwest China, through its branding as 'the homeland of one hundred festivals', ethnicized public spaces, high-decibel soundscapes, amateur music-making practices and inhabitants' conceptualizations of music, ethnicity and the city. His current research explores worker memories and wider representations of the Third Front in urban Guizhou. Image credit: author.