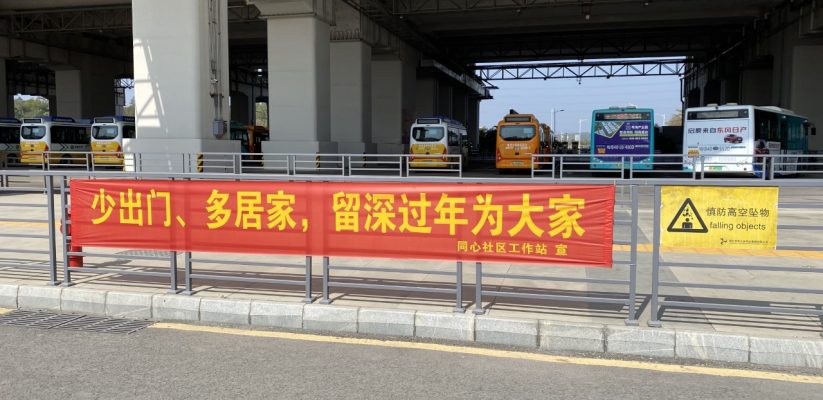 Written by Meng Li
The largest public health campaign in recent years was rolled out in China during the 2020 Spring Festival. On January 23rd, two days before the Lunar New Year, China announced a mandatory lockdown of Wuhan to combat the then newly identified coronavirus. Travel restrictions in Hubei and many other provinces soon followed. To discourage people from gathering during the festival, stringent mobility control measures were supplemented with creative persuasive messages. In villages across China, propaganda-style red banners were strung across roads, walls, and trees, bearing slogans that were cautionary, playful, and even threatening (e.g., Visiting relatives this year, visiting graves next year 今年上门,明年上坟  jinnian shangmen, mingnian shangfen, Mask or ventilator, choose the one that you like 口罩还是呼吸机,您老看着二选一 kouzhao haishi huxi ji, ninlao kanzhe er xuan yi). Reminiscent of the political slogans of the Cultural Revolution, the old school ideological technology of propagandistic messages gained popularity on social media, earning the nickname of "hardcore" (硬核 yinghe) anti-epidemic mobilization.
The Chinese government is facing an even tougher persuasive challenge this year: convincing its citizens not to make "unnecessary trips" to their hometowns and, instead, to stay put during the Lunar New Year (就地过年 jiudi guonian). Hit by a new spike of coronavirus cases in December and January, China is striving to curb the spread by doubling down on its mobility regulation measures. Nonetheless, the Spring Festival travel rush (春运 chunyun) poses an immediate threat to public health. It is the time of the year when Chinese people nationwide travel for family reunions and tourism. Between 2011 and 2019, about three billion passenger journeys transported the equivalent of half of the world's population by rail, road, water, and air each year during the 40-day official travel season (starting 15 days before the Lunar New Year and ending 25 days after). The epic size of this, the world's largest annual human migration, only dwindled in 2020, when domestic and international travels were suspended due to the coronavirus outbreak.
Separated from their immediate family members in the countryside, many of the country's 290 million rural-urban migrant workers long for a sense of family togetherness and normalcy during the Spring Festival. Images that portray anxious ticket buyers, overcrowded train compartments, and jubilant family reunions usually flood the public sphere around this time. For instance, just two years ago, the trailer for the movie "Peppa Pig Celebrates Chinese New Year" took the country's social media by storm. In the trailer titled "What's Peppa Pig?", a perplexed grandfather attempts to understand his grandson's wish for "Pei Qi" (佩奇, Peppa's Chinese translation) as a New Year's gift. The old man embarks on a comical quest to find out who Pei Qi is. With the help of a fellow villager, the old man makes over a metal air blower and paints it in pink. When he presents the gift to his grandson after reuniting with his son's family in the city, everyone's faces light up. Countless viewers were moved by the heart-warming depiction of unspoken familial love, captured oddly enough in the encounter between an old Chinese grandfather and a British cartoon character. However, in the time of the coronavirus, stories like this are a thing of the past.
The Chinese government has performed an abrupt about-face when it comes to holiday travel. Previously, the government has prioritized the smoothness of homebound journeys, proclaiming chunyun to be "a grand project of the people's livelihood" that bears on "the immediate interests of hundreds of millions of people." But, as the start of this year's chunyun drew near, it became apparent that the priority has shifted. The popular saying, "Rich or poor, the Spring Festival reunion is the allure," (有钱没钱,回家过年 youqian meiqian, huijia guonian), has been replaced by calls to stay put. Since the end of 2020, 29 provinces and municipalities have issued statements urging people to reduce holiday-related travels and gatherings. Propaganda slogans on prominent red banners have reappeared, but this time on city streets instead of village walls, reiterating the state's admonition with catchy, rhyming slogans. One reads, "Rather than returning home to be quarantined, stay in Suzhou and earn thousands instead" (与其返乡隔离十四天,不如留苏多赚四五千 yuqi fanxiang geli shisi tian, buru liusu duozheng siwu qian). Another also rhymes, "Returning home is a risk, and your wallet will be punished! Staying here at the company, familial love won't be diminished" (回家是冒险,钱包还会扁!过年留公司,亲情不会减 huijia shi maoxian, qianbao haihui bian! Guonian liu gongsi, qinqing buhui jian). Some local governments and companies promised an array of incentives to persuade migrant employees to stay.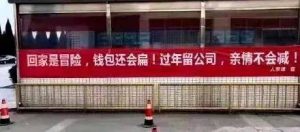 Image of propaganda slogans urging people to reduce holiday-related travels and gatherings. Source.
However, such gentle persuasive techniques were eclipsed by the new draconian travel regulations announced on January 20th. In a surprising press conference, a public health official accounted that people traveling back to their hometowns were now required to obtain a negative COVID-19 test no more than seven days before their arrival, complete 14 days of "health monitoring" at home, and get tested every seven days while at home. The announcement immediately caused confusion and complaints among the public. A widely-circulated article titled "Eighty-One Questions about COVID-19 Testing for Returnees" questioned the one-size-fits-all decree and demanded explanations. Details of the policy were laid bare in the following days, exposing its explicit targeting of rural migrant bodies. A notice published on the website of the National Health Commission proclaimed that the increase of "sporadic and cluster outbreaks" this winter indicates the weak epidemic prevention and control capacity of rural areas. The Spring Festival travel rush will greatly increase the transmission risk, the Commission concluded, making it necessary to strengthen the prevention and control mechanisms.
In a marked break from poplar chunyun discourses that conflate all passengers and promote universally shared feelings of family attachment, the new policy singled out rural-urban migrant workers and treated their desire to return home as a looming threat to coronavirus containment. Some local governments also scaled up travel restrictions for migrant returnees to discourage them from traveling. It is now up to the rural migrants to decide whether they will jump through bureaucratic hoops to return home or not. Many migrants, reluctant to let go of this once-in-a-year opportunity to see their children and elderly parents, have rushed to get the required certification showing their clean bill of health. Others have already changed their holiday plans since getting multiple nucleic acid tests is not only troublesome, but also expensive (each test costs between 60-100 RMB without insurance). On the first day of this year's Spring Festival travel rush on January 28th, major railway stations saw a 40%-60% drop of passengers compared to prior years. As the travel season unfolds, the festival that has so long symbolized the earnest hope of countless Chinese people is bound to be a far cry from the unfettered family togetherness that it has been in the past.
Meng Li received her Ph.D. in Communication Studies from the University of Iowa. She is currently an Assistant Professor of Communication Studies at Loyola Marymount University in Los Angeles, California. Her research has focused on the impact of rural-urban migration on the Chinese family as well as on the changing mobility cultures, technologies, and politics in China. A more comprehensive analysis of the state discourses of the Spring Festival travel rush can be found here. Feature image credit: Ma Xiu, a theatre critic and student of media art.