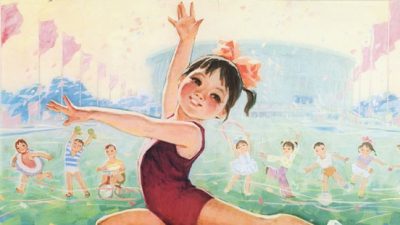 Written by Cassie Lin
In October, 2015, China announced the decision of ending the decades-long "One-Child Policy". The policy was introduced in 1979, and stayed in the centre of international discussion for many years. With the abolition of the "One-Child Policy", those Chinese children born in the 80s and 90s are perhaps now the only generation in the entire Chinese civilisation to not have any brothers or sisters.
I am one of these children, along with other only children born around that time, we were called the "Loneliest Generation".
The population of Communist China experienced a rapid growth, from around 540 million in 1949, when it was established, to 940 million in 1976. It caused the Chinese government started to concern the risk of overpopulation in the country. Many assumed the One-Child Policy was a product of communist idealism, or a real-life consequence of Maoism. However, the policy was actually affected by the international debate on a possible overpopulation catastrophe suggested by global think tanks like the Club of Rome. Song Jian, missile scientist and member of the Chinese Academy of Science, got to know influential books of the movement, such as The Limits to Growth and A Blue Print of Suvival, while he was attending a conference in Finland in 1979. With a group of mathematicians, Song developed a demographic model that projects China's population will reach 4 billion by 2080 – and the turning point started from here, millions of future born babies, including me, were results of this scientific thought. At the time, Song and his team's demographic findings were taken into consideration by policy makers, and pushed the final implementation of the policy in the 1980s.
'Birth Control is a Good Thing', 1978
'Establish the New Family based on Gender Equality, Democracy and Harmony', 1981
In China, the policy is more known as the "Family Planning Policy". National propaganda campaign began to promote the idea of healthy pregnancy and scientific nurture, as well as late marriage and postponed child-bearing. Different methods for contraception were introduced, including birth control pills, intrauterine device and ligation. It radically changed the size of ordinary Chinese families, from having at least four to five children, to only one child, or two children at special circumstances. At some degree, it also freed women from their traditional burden of child-bearing, marrying and having kids late allow them to have more time to seek educational and professional opportunities. But, as the policy has always been criticised, it causes several controversial social problems, such as force abortion, increased aging of population, and disparity in sex ratio. In a traditional Chinese value, boys are always more favoured than girls, with the pressure of having only one child, some families choose to abort the first child if it is a girl, and wait for a boy to come in later pregnancies. So in most propaganda posters of the One-Child Policy, the child image is normally appeared as a girl, attempting to change people's conventional mind.
'The Only Child is Like a Flower', 1980
The One-Child Policy was originally designed to be a One-Generation Policy. Those 80s and 90s born children were brought up in a completely new age compares to their parents and grand-parents. We are the first generation opened up to the westernised and capitalised culture, the first generation entering the digital era. We were growing up with tags of 'overly spoiled', 'extremely selfish', 'video games addition' and a lot other stereotypes. Some of us defended ourselves, pointing out that this generation grew up with speedy social changes caused by the famous "Chinese Economic Reform" (A national economic reform programme commenced in 1979,  aimed at raising rates of foreign investment and growth), and has been facing difficulties during this transformation from socialism to consumerism, such as increasing tuition fees, competitive job market and unaffordable housing price.
A British friend once asked me about being the only child in the family, "As a kid, when did you realise you are going to be along forever and will never have any sibling?", she said. I didn't know how to answer the question. Such realisation never occurred to me when I was little, being the only child was a common sense, most of my friends in school are the only ones in their families, I naturally thought this supposed to be the normal family structure. And not as some western press overly exaggerated, the loneliest moment of my childhood was the time I locked myself out of the flat when both of my parents were at work. I ended up spending the whole afternoon peeking through the living room window, tried to watch Japanese cartoon from the television that was still on. When I have grown up and got to know some other people with their siblings, I finally felt this regret of never knowing what it would had been like to have brothers or sisters. But I did have a perfect childhood, all those years of being alone, I got to enjoy literature, film and music without any disturbance. I have wonderful friends that I knew from school and we are still as close as sisters.
'Having Only One Child is Good', 1980
But still, I couldn't help to feel slightly emotional when knowing the One-Child Policy was officially ended. "We have unexpectedly become the only 'One-Child' generation in the entire Chinese history", this was a quote trended intensively  on Chinese social media when the announcement was made. The policy was a double-edged sword that has finally resigned from its historical stage. The right and wrong are left to be judged by later generations. As an only child, 25-Year-Old HaiYue told The Guardian, "I wonder how well we'll be talked about in 100 years' time? As a golden generation full of steel, hard work and good character, or as a social experiment that brought only sadness and selfishness?"
---
最孤独的一代
2015年10月,中国正式废除实行长达三十余年的"独生子女政策",推行"全面二胎"。网络上一片唏嘘,许多八十年代、九十年代生人在线上积极地转发这样一句话,"我们竟然成了中国历史上唯一一代独生子女"。
我也是这一代人的其中一员,作为世界上最具影响力的人口控制实验的成品,我们曾经被媒体称为"中国最孤独的一代"。
中国独生子女政策的诱因,要追溯回上世纪七十年代。年轻的共和国成立之后,经历了人口总数的高速增长,从1949年到1976年,人口数由5.4亿攀升至9.4亿,致使当时的中国政府开始考虑人口膨胀可能带来的消极影响。1978年6月,控制论及导弹研究专家宋健前往芬兰,出席国际自动控制联合会全体成员大会。与会期间,宋健第一次接触了预测人口膨胀的著作,包括西方知名智库-罗马俱乐部发表的《人口的极限》,该书预测人类文明在人口扩张和资源萎缩的情况下面临崩溃的危险。宋健还从荷兰教授奥尔斯处得知,他手头有一个用偏微方程描述的人口模型,可预测未来人口数量。宋健将这一模型带回国,并成立专家小组进行研究,在国家计划生育小组的支持下,以"妇女总和生育率"为基础,改造并计算出预测中国未来人口走势的模型。(徐天-《影响计划生育进程的三个研究报告》)1979年开始省级试行的"计划生育"政策将这一研究成果作为重要科学依据,并于1982年写入新宪法,正式成为必须履行的公民义务。
这就像一个蝴蝶效应,一些西方学者的思想,一个基于中国现实的再创造,最终影响了整整一代人的生活轨迹。历史,以及它的必然性,再一次为我们呈现了其不可逆转的特质。
在我们的收藏里,有一些七十年代末、八十年代初推行计划生育政策的宣传画,大多注重于宣传 "晚婚晚育、优生优育" 的新兴概念。这一政策的实施,直接改变了中国的传统家庭模式,由从前的一个家庭至少拥有四到五个孩子,降至一个,或特殊情况下的两个孩子。从很大程度上来说,这也将中国女性从生育、抚养后代的传统义务中解放,使她们有更多自由去追求高等教育和职业发展的机会。当然,计划生育政策也带来了不可避免的负面影响,譬如强制节育、流产,人口老龄化,以及严重的男女性别失衡。迫于当时大多数中国家庭的"重男轻女"观念,推行独生子女政策的宣传海报通常会选择展示女孩的形象。
当初,独生子女政策是作为"一代人的政策"而实施的。这些出生于八十、九十年代的孩子,成长于一个与他们的父辈完全不同的时代。有人说,这一代人与中国的改革同岁。我们是新中国第一代面对开放的西方文化和资本主义经济模式的孩子,也是第一代进入信息时代的孩子。独生子女通常会被贴上"宠坏的","极端自我的","电脑游戏上瘾"等刻板标签,但也有许多人为自己辩护,指出这一代人正面临更大的挑战和压力,包括高额的教育经费,竞争残酷的就业市场,以及难以负担的房价。
一个英国朋友曾经问我,"作为家里唯一的孩子,你是从什么时候意识到,你将一直独自一人,永远不会有兄弟姐妹?"我不知如何回答这个问题。小的时候,一个家庭只有一个孩子,对于我来说,是像常识一样的存在,我自己是这样,我在学校里的同学也是这样。我很自然地认为,我们本不该有兄弟姐妹,"三口之家"是再正常不过的家庭模式。也不似一些外媒略带夸张的报导,我童年时最孤独的一刻,是假期的某一天,父母都在上班,我不慎将自己锁在家门外,于是我花费了整整一个下午,尝试透过客厅的窗户,去看电视上仍然在播放的日本卡通片。成年以后,我在国外接触到更多有兄弟姐妹的朋友,这时我才开始感到有一点遗憾,遗憾自己将永远不能体会那是什么样的一种感受。但我从来未曾对自己一个人的童年感到悲伤,我有许多时间可以不受打扰地听音乐,看书和电影,我在学校结识了许多好友,我们直到现在,都依然亲如姐妹。
尽管如此,在得知独生子女政策全面废除这一消息时,我还是有一些感触。这个人类空前的实验,终于退出了历史的舞台,它就像一把双刃剑,其中的功劳与过失,都只能留待后人去评判。独生子女,25岁的海悦(音译)这样说道,"我想知道,100年后的我们会受到怎样的评价?是意志坚强,努力工作且品质优良的黄金一代?还是只剩悲伤和自私的社会试验品?"(卫报-《中国"最孤独的一代"》)
---
Cassie Lin is a doctoral student at the University of Westminster. She previously worked as an archive assistant at the University of Westminster's Chinese Poster Collection, now renamed the China Visual Arts Project Archive.