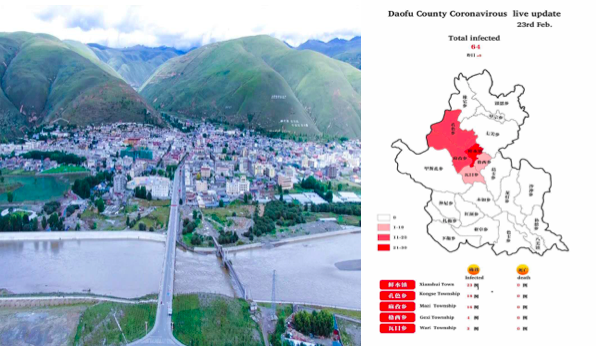 Written by Sonam Lhundrop
The name rTa'u (Daofu in Chinese) means 'weanling' – a young foal that has just been weaned. This county in the Tibetan area of western Sichuan is not well-known, but has recently become a center of attention in China and around the world, due to the large number of coronavirus cases there. Suddenly, the county's name seems apt: the place and its people have become fragile and vulnerable, like an unsteady weanling.
Until the 19th of February, the only information on the situation in Daofu consisted of daily government reports of the number of people infected in the county. But on February 19th, the Central Television News published an interview transcript titled "One Prefecture, 62 Reported Cases! Why is There Such a High Concentration in Daofu (Ganzi Prefecture, Sichuan Province)?"
The following is an excerpt translated from the published transcripts, containing an interview with the head manager of the Ganzi coronavirus prevention team of Daofu county.
17th February. Ganzi Prefecture, Sichuan, has 5 newly-reported cases, all from Daofu County. As of midnight on the 17th of February, there have been a total of 62 reported cases, among which 57 are from Daofu County.
Question: What is the current coronavirus situation in Ganzi prefecture, and particularly in Daofu County?
Answer: Outside Daofu, there are 5 cases in total in three counties, which are Kangding, Seda, and Daocheng, all of which came from Wuhan (i.e., non-natives). As of midnight on the 17th of February, 57 cases have been reported in Daofu: two have been discharged from hospital. Additionally, there are 11 suspected cases and 16 asymptomatic cases, which may well turn into infected cases soon. All cases reported from Daofu belong to five townships and one town: Mazi, Kongse, Gexi, Geka, and Wari townships, and Xianshui Town, the county seat.
Upon discovering the first case on the 24th of January, inspection work has been systematically conducted, including identifying and separating those who had close contact with the infected. This work has enabled us to identify two sources for the initial spread of the epidemic. One is from a Mr. Luo who, before experiencing symptoms, traveled to places like Chengdu, Nanchong and Meishan, and returned to Daofu on the 18th. Subsequently, he attended multiple gatherings, resulting in several families becoming inflected. This is identified as the main source of the epidemic. Another source is a truck driver, Mr. Jiang, who traveled to places like Ya'an and Chengdu around the 20th of January and who infected his co-driver.
Question: What are some preventive programs that have been implemented?
Answer: Based on initial data, all intimate and distant social contacts of the infected people from the above five townships and one town have been separated either in hospitals or at home. Thus, to prevent further infection, by midnight on the 17th of February, 339 intimate social contacts had been quarantined and medically inspected; 1,908 distant social contacts were being quarantined at home and medically inspected. A total of 8,463 social contacts, with or without symptoms, were medically examined. We have modified our 'wait until symptoms' method to 'Check all in advance,' so as to identify all sources of infection in the shortest possible period.  
According to the medical examination results, since February, all infected individuals were identified among the 8,463 contacts. Until midnight on the 17th of February, a total of 7,018 contacts were medically examined, among whom there are 57 with initial symptoms. Results for 1,445 contacts are yet to come out.
Starting from the 17th of February, to enforce preventive measures, all in-coming and out-going vehicles are prohibited from driving through Daofu County; within Daofu County, all routes from and to those five townships and one town have check points.
Where is Daofu?
Daofu is located about 550km west of Sichuan's provincial capital, Chengdu, and about 250km northeast of Ganzi's prefectural seat, Kangding. It is on the southeast edge of Tibetan Plateau, and borders Kangding Municipality to the southeast, Danba County to the east, Luhuo County to the west, and Jinchuan County of Aba Prefecture to the north. It had a population of 56,943 in 2015, of whom 89% were Tibetans, and almost a third (27.4%) were urbanites. The county has an average altitude of 3,245 meters, and is divided into three ecological zones: in the east of the county are the Bamei grasslands and hills, inhabited by both nomads and farmers; in the south are the Zhaba canyons, occupied by farmers, and in the north are the Yuke high altitude grasslands, occupied primarily by nomads.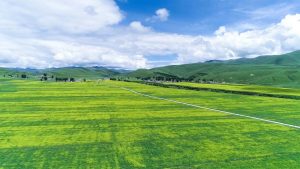 Image credit: Wechat's Xianshang Daofu
Daofu's 'Ghost' Language
The coronavirus crisis has seen an outpouring of generosity from all corners of society, including efforts to disseminate public health information. Amongst Tibetans, an important part of this effort has been dedicated to translating public health information to people who speak minoritized languages that are different from standard Tibetan. There have been several videos directed to Tibetans in Daofu who speak a language named after the county—rTa'u—a Tibeto-Burman language that is incomprehensible to neighboring Tibetans, who refer to the language as 'Ghost Language.'
These videos are of great benefit to the 45,000 Tibetans who speak rTa'u. As a speaker of rTa'u language, I have conversed with several people from Daofu about these videos. Most of them expressed surprise, since there is practically no media in the language. One person said, "It is such a wonderful feeling that people we do not even know would make such an effort to produce these videos in our mother-tongue, to educate us about this epidemic." Another elderly man told me he was genuinely excited to hear the information in his mother-tongue, because it sounded more trustworthy.
Tibetans Rally to Support Daofu
There has been an outpouring of love and support towards Daofu people from other Tibetan areas, since Daofu has not only the highest infection rate in Tibetan areas, but also ranks second in the whole of Sichuan province, right after Chengdu City, the provincial capital. The following is a translated poem that was written to show support for Daofu people.
Daofu: The Delightful Dharma-holder
by Tshering Norbu
Franky, I call this place The Delightful Dharma-holders
It is an achieved name:
where Dharma is wholeheartedly adored and karma is protected as the eyes
where unity is as undifferentiated as the fingers of one hand,
where wild animals befriend humans, and thus are conferred freedom,
where fathers behold wisdom and mothers soften the wildest souls,
where sons engage in trading and daughters are prized for their elegance.
Often, when the pilgrims (to Lhasa) arrive in Daofu
they are struck by the beauty
and wishes are made to be reborn in this place.
Oh! A snowless, sorrowful winter,
a terrifying epidemic engulfs this place,
daily increasing numbers reflect your worried face,
like an increasing flame slowly diminishing.
—-continuing
Epidemic and Prejudice
Many Tibetans have sought answers as to why Daofu, in particular, has emerged as the epicenter of the coronavirus outbreak. Unfortunately, many of their explanations are rooted in prejudices and shrouded in misunderstandings of Buddhist philosophy, which constitutes the core of the perceptual and ideological world of Tibetan farmers and nomads. In WeChat discussions, many Tibetans have interpreted Daofu's misfortune as karmic retribution for inhabitants' supposed lack of piety, as reflected in their economic activities: many Daofu Tibetans are traders and entrepreneurs.
It is true that Daofu people are good at business, but it is not clear whether this has anything to do with the spread of the coronavirus in Daofu. Perhaps instead we need to look at local history to understand the situation. In the 1980s, when the local economy first opened to the outside, Daofu became home to a booming timber industry. Although the lumber companies were owned by outsiders, people in Daofu exploited this opportunity by transporting logs to Chengdu. Then, when this industry was closed down in the early 2000s by strict environmental regulations, many Daofu people stayed in the transport industry, working for local mines and other industries.
In this context, it is certainly significant that both of Daofu's 'patient zeros' were local people who had been travelling for business immediately before they brought the epidemic home. It is perhaps a lack of local economic opportunity, rather than a fatal character flaw, which has wounded the weanling, and left this place and its people particularly vulnerable.
Sonam Lhundrop received his PhD in linguistics from La Trobe University (Australia) and is currently teaching at Southwest Univesity of Finance and Economics in Chengdu. He has written a descriptive grammar of rTa'u (Daofu), a rGyalrongic language of western Sichuan Province, China, and is also a speaker of the language. For the last decade he has been engaged in language and cultural documentation projects in the region. Image credit: Wechat's Kangba Chuanmei and Xianshang Daofu.