Blackboard Collaborate (Students)
How can I access Blackboard Collaborate?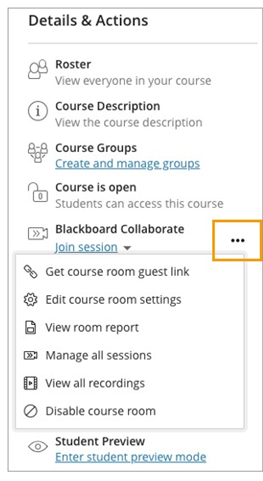 You can find Blackboard Collaborate under your course Details & Actions.
Next to Blackboard Collaborate, open the More Options by clicking on the three dots …  From this menu you can get:
the course room guest link

edit the course room settings

view the course room attendance report

disable the course room.

view all scheduled sessions and watch recordings
 *Info* Collaborate is only visible to students when the course is available to them. Please ensure that the course is not set to private. 
How Do I Join a Session in Blackboard Collaborate?
You should always join a Collaborate session via the Blackboard site in which the session was set up.
In Blackboard Collaborate Ultra a unique session link is generated to help each session identify you. 
Each link is associated with an individual session and can be reused multiple times if you wish.
You can use the telephony feature to communicate with other users. To learn more, see Join by Collaborate Teleconference.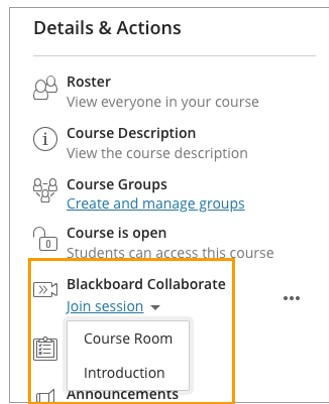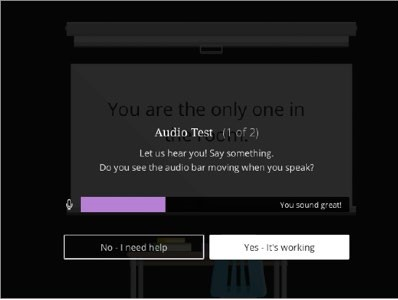 *Info*Browser Permissions
You must give the browser permission to use audio and video to participate in a session. This is necessary so that you are seen and heard.
You'll be asked to do this when you first join a session or when you first go to share your audio or video.
How to Participate in Sessions in Collaborate?
1. Let others hear and see you. You can select the microphone and video camera icons any time during a meeting to turn them on or off. This may be turned off by your lecturer.
2. Open the Panel Menu
3. Chat with others in the session
4. See who else is in the session 
5.See the content that is being shared with you
6. You can set up the microphone and camera as well as adjusting the volume
7. You can raise your hand to attract the attention of the lecturer
For more information on Collaborate please see Blackboard's Collaborate Ultra Help for Participants

Viewing Recorded Sessions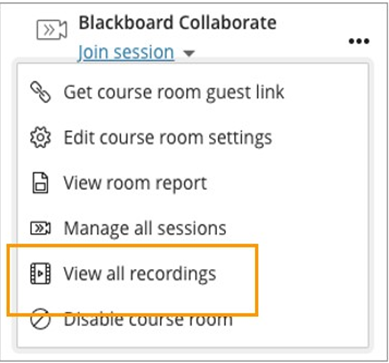 You can find your session recordings in the menu. Open the More options for Collaborate menu and select View all recordings. 
Audio and Video issues
If you are having issues with your audio or video, please check your session and browser settings.
Are the audio or video controls on in Collaborate? A line through the icons means that a device is not enabled, and you will need to click on the icon to enable it?
Are you using the latest version of Chrome?

Download the latest version here

. 
Does the browser have permission to access your camera and microphone?
To check this, select the audio/video icon in the URL bar to check the default audio and video settings.
From the pop-up window, ensure that the Continue allowing https://eu.collab.com to access your camera and microphone is selected
You also may need to check view site information icon (padlock) to the left of the URL to check nothing is blocked. When you click on the icon information a pop-up window about the site will be displayed.

Within site information pop-up window, you will need to check that camera,
microphone and sound is allowed.
If you are using macOS X 10.14 and higher, open your computer System
Preferences and select Security & Privacy. Select Privacy. Make sure your browser is a selected app for both the Camera and Microphone.

Connection issues
You can check the connection status for everyone in the session, including yourself. There are two places you can watch the status of network connections. From the Attendees panel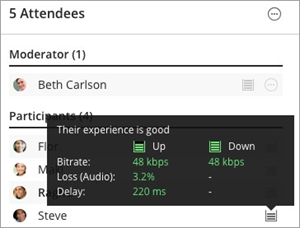 Live session link not showing
The is because of the Time settings on your computer. Please follow the steps below to fix the issue.
Open the Windows Settings as below, click on Start and type Settings

Select Time & Language as below

3. On the Date & Time window as below, please make sure :
Set the time automatically is set to ON
Set the time Zone automatically is set to ON (This does not have to be London time; your local time will work as long as it is set automatically.)
Click on Sync now, as below make sure you see a Tick next to it
Save the new settings
Check your Blackboard Collaborate sessions. This should fix the issue, if not please check again if the settings you have done above have been applied.