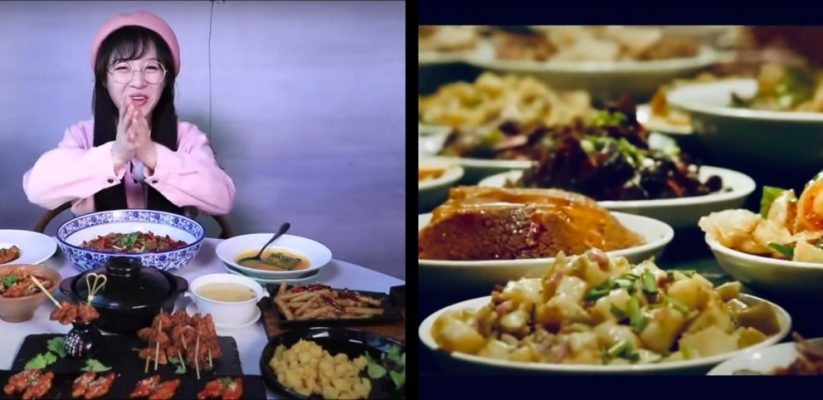 Written by Caroline Yiqian Wang
Amidst the global food crisis and skyrocketing trade tensions, the Chinese government has begun to wage war on domestic eating videos and live streams (吃播 chibo). Last August, Chinese Central Television (CCTV) reproached chibo for encouraging over-consumption, promoting disordered dietary patterns, and losing 'traditional Chinese virtues' of thrift and frugality. Other party-state mouthpieces followed, criticising this rampant phenomenon with President Xi Jinping's remarks on Chinese food security and anti-waste campaigns. According to the People's Daily (August 21, 2020), more than 1.26 million eating clips were posted on Douyin (the Chinese version of Tik Tok), 25% of which wooed viewers with 'big stomach king' labels (大胃王 dawei wang). The total viewing volume of these videos hit 33.2 billion, with several clips reaching over 7 billion views.
The question then arises: given the many entertainment options at their fingertips, why are so many Chinese citizens so interested in watching people eating on screen? This essay briefly introduces the development of chibo in China and discusses its socio-cultural values under the backdrop of Chinese post-reform urbanisation.
Chibo is a direct translation from the Korean term, mukbang (the combination of meokneun/eating and bangsong/broadcast). In 2014, one CCTV's news program introduced the 34-year-old Korean mukbang influencer 'the Diva' (Park Seo-Yeon), who earned as much as 9000 US dollar per month by eating huge quantities of food in front of the camera every day. The program also commented on the promising market of Korean mukbang industry and showed multiple clips; soon after, Korean eating live streams began to go viral in China (Choe 2019; Qu 2021). Initially, domestic video-sharing websites (like Youku-Tudou, Ac Fun and Bilibili) only 'transported' (see note 1) mukbang recordings. The localisation of mukbang did not occur until the government espoused the domestic live-streaming industry and e-commerce in late 2015 (Qu 2021). In less than a year, chibo was flourishing and had inundated major live-streaming platforms, including Douyu, Kuaishou and Huya. These companies signed up popular broadcasters and marketed them as Internet celebrities to loyal fans. Video-sharing websites continue to be crucial venues where viewers can see people eat Chinese stir-fries, fast foods, snacks, etc. According to an independent media poll (Fengniao Survey 2020), all 2,445 respondents had seen chibo before, with 77.13% of them identifying as frequent viewers. Undeniably, chibo was a burgeoning media industry before the official criticism eventually hit last August. Responding to this signal with strict self-censorship, major media platforms immediately took down the eating videos and labelled both 'big stomach king' and 'chibo' as sensitive keywords that block all search results.
Returning to the discussion, why do these videos attract viewership? First of all, regarding chibo as a kind of gluttony is a misinterpretation. Most broadcasters do not start eating right away but begin with placing and introducing dozens of dishes. Having clean and organised plating is the basic requirement for chibo; to gain more clicks, broadcasters often prepare visually appealing and diversified cuisines (Choe 2019). Such table arrangements closely resemble prototypical Chinese family banquets (see Figure 1). Due to China's agriculture-centred and lineage-based history, extended families with generations living under one roof often gather around a large table and share 8-16 communal dishes (Farquhar 2002). Meals are further interpreted as cultural signs and everyday performances: multi-course banquets generally embody affluence and well-being, while single servings signify scarcity and misery (Farquhar 2002; Qu 2021).

Fig 1. Left: The opening scene of a Chinese chibo video broadcasted by 'Mini.' Right: The family banquet table of a Chinese family in Chengdu, A Bite of China: Celebrating the Chinese New Year (2015).
However, after forty years of reform and opening-up, China's household structure has undergone dramatic changes, simultaneously affecting the country's eating routines. In 2015, the percentage of single-person households had risen to 12.57% (Li, Fan & Song 2020). These 'empty-nest youths' with similar demographic characteristics — in the range of 20-35 years old, living alone in first-tier cities, busy commuters, having little social contacts, experiencing high levels of anxiety and stress — often have no choice but to adopt the undesirable, humble mode of isolated eating since multi-course meals are neither practical nor convenient (Liu & Luo 2019). 'Big stomach king' chibo offers a virtual alternative. Watching broadcasters finishing up a whole table of foods helps these solitary city dwellers temporarily escape from their humble meals and brings them back to hearty family banquets. These eating shows satisfy their gastronomic voyeurism and vicarious desires for enjoying various relishes and opulent life.
Apart from sensory pleasures, interactions and companionships involved in chibo appeal to empty-nest youths as well. In Chinese food cultures, sociality lies in the heart of dining. Group eating enables participants to form parasocial relationships and tighten up emotional bounds. Unfortunately, eating alone deprives modern citizens of their opportunities to have intimate conversations and receive affective supports (Lasmane & Antonova 2019; Li 2021). This lack of interpersonal engagement can be made up by multimodal communications facilitated by chibo. Typing in live chat rooms, listening to broadcasters' responses and reading other viewers' comments all promote the active sociality of single eaters. These live chats 'link online and offline worlds' and transform isolated eating into a jointly conducted activity (Choe 2019, 2). Real-time flying comments over uploaded videos (弹幕 danmu) further shatter geographic and temporal boundaries between virtual audiences. These virtual chit-chats between viewers are very similar to those informal discourses that happen on real dinner tables. In other words, chibo not only replenishes the missing dishes but also fills in the place of separated friends and family members.
During the COVID-19 lockdowns, many broadcasters started to include livestream cooking in their chibo (Qu 2021). This phenomenon reflects another transformation of Chinese foodways in the age of rapid urbanisation — the loss of home cooking inheritance. Like most food cultures, home kitchens are pivotal to 'authentic' cooking methods and unique family flavours. Nevertheless, as teenagers' participation in housework gives way to academic workloads and city migration brings forward generational separations, few people in China today spend time in home kitchens with experienced family members. Many millennial youths coming to alien cities barely know how to cook properly. As a result, when they were trapped in their single apartments during the pandemic without the possibility of takeaways or going to restaurants, preparing food became a huge issue. On spotting this, some chibo broadcasters quickly launched amateur cooking shows. Novices as well, these broadcasters fumbled with simple stir-fries and stews like most young viewers do. Surprisingly, slip-ups (翻车 fanche) became amusing, informal and relatable moments. Many viewers post 'It's exactly me' or 'it's as if I saw myself cooking' in danmu. Since broadcasters have to 'eat their fruits,' their chibo videos are also seen as reliable tests for recipes. If one dish is easy to make and looks delicious, viewers can replicate it by following the broadcaster's recipe. For some empty-nest youths, chibo became a crucial venue for acquiring cooking skills from peers, rescuing them from the fractured lineage of home cooking and plights of solitary city lives.
Instead of clamping down on chibo and condemning it as a crime of waste and harmful entertainment, I would like to regard it as a mass cultural phenomenon in response to the country's rapid urbanisation and its associated livelihood issues. Three essential elements of current eating broadcasts — eating, multimodal interactivity, and amateur cooking tutorials — target urgent needs of empty-nest eaters in major cities across China. Taking a big picture approach, we should also consider the influences of city migration upon traditional Chinese eating patterns and home cooking lineages.
Notes:
1.'Transport' (搬运 banyun) refers to the activity where Chinese Internet users who either live overseas or have access to virtual private network (VPN) record or download foreign videos and reupload them on domestic websites.
Caroline Yiqian Wang is a final year Master candidate and researcher in the School of Culture and Communication of the University of Melbourne. Her research interests fall between interdisciplinary fields of East Asian cultural, film, and media studies. Her latest projects include a short documentary about thriving Chinese food landscapes in Atlanta and an article on Hong Kong food and ethnic identities in Food, Culture & Society.