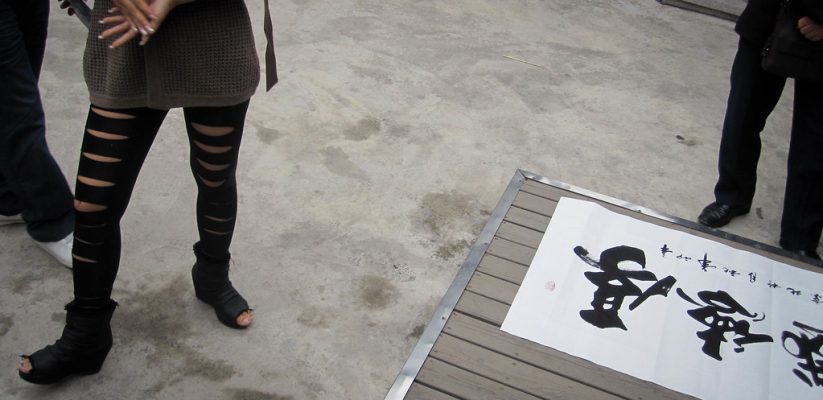 By Editor
Fashion and beauty may sometimes seem a trivial matter, but they are matters that sit right at the heart of contemporary culture and are often deeply political. Sartorial and cosmetic 'choices' are much more than simply questions of individual self-expression; they also engage and communicate messages about consumerist materialism, identity-making, group differentiation, as well as labour and production practices across local and global supply chains. In this sense, fashion and beauty practices are inseparable from broader political, economic, social, cultural and historic processes, and can be important sites for expressing power, integration and exclusion.
In our very first issue, we explore the politics of sartorial and beauty practices in contemporary China. We asked our contributors to reflect on the everyday practices of wearing, choosing, discarding, consuming and producing fashion and beauty ideals in China today, with particular attention to how these issues variously construct, contest, and negotiate national identity.
In the first piece of this issue, Timothy Grose writes about the ways in which the Chinese state has used fashion and beauty to discipline and transform the appearance of Uyghur women. Drawing on Foucault's concept of biopower, Grose looks at how state policy has introduced legislation, campaigns, staged public fashion shows, and even introduced a 'Beauty Parlour and Hair Salon' initiative across Xinjiang to promote particular ideas about 'modernity' while also identifying pious and Turkic standards of beauty as deviant.
Our second piece, written by Zheng Tiantian, looks at sartorial practices among rural migrant karaoke bar hostesses. Exploring the intersection of class, gender, and the consumption of Korean and Japanese fashion trends, she shows how migrant karaoke bar hostesses perform fashion in such a way as to imagine a sense of global belonging and citizenship, staking a political claim to the cosmopolitan through their foreign 'ultra-fashion.' In doing so, she argues that these women also disrupt, subvert and transgress rural-urban hierarchies constructed around ideas of what it means to grasp the 'true' sensibility of modern fashion.
In piece three, Jian Xiao examines punk culture and its fashion in China. Tracing the emergence of punk fashion in China since the reform era, Xiao describes the various symbols and processes of constructing the 'punk look' and the kind of messages they communicate in the Chinese social context. Xiao also considers how this particular visual style has been received by the general public, as well as some of the ways in which the state have responded to these punk practices.
Piece four, written by Wen Hua, examines beauty practices among men in China today. Wen describes how and why cosmetic surgery and beauty practices have become increasingly popular among Chinese men in recent years. She explores how the rise of 'flower boys' and men's growing interest in their appearance challenges conventional macho masculinity and presents an alternative soft masculinity. Wen also considers why these practices have received a strong pushback from Chinese state and society.
The final piece of this issue, written by Freja Howat, introduces the China Visual Arts Project Archive at the University of Westminster. Howat writes about her time working on digital preservation at the Archive, reflecting on how and why the collection was acquired, as well as questions of accessibility.
Image by Dawn D is licensed under CC BY-NC-ND 2.0