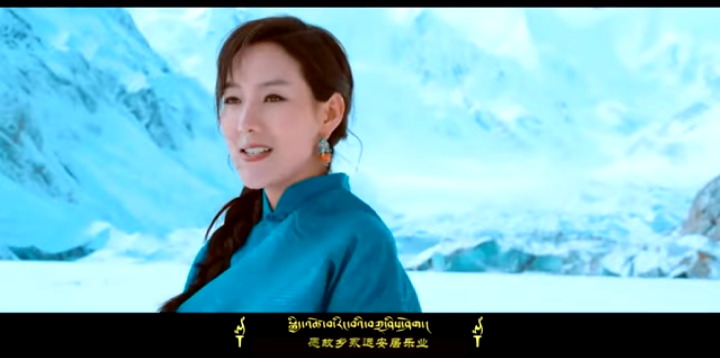 By Anna Morcom
In today's Tibet, popular music is showcased vigorously by the state on television and in festivals, and in fact, popular music emerged in Tibet from state institutions. At the same time, it is widely seen as subversive or patriotic or at least assertive of Tibetan identity. Here, I explore some layers of complexity in the politics of music in contemporary Tibet.
Tibetan Landscape and Identity in Pop Music
A deeply-loved song of 2012 that exemplifies how Tibetan pop music powerfully embodies Tibetan identity is Tsewang Lhamo's 'Glory of the ancestors'. The lyrics praise the distinct Tibetan language, writing, culture, and customs, and the video showcases the beautiful landscape in particular. I focus here on the video.
Rather than a land that is worked and is the basis of life, the Tibetan scenery, animals and clothes in the video evoke aesthetic beauty. Tsewang Lhamo is pictured mostly in grasslands with sheep and yak, yet is clearly not a herder, and the person herding is a small dot in the background who appears momentarily (see 14 seconds in). The three sumptuous Tibetan outfits she wears are a long way from what Tibetans who live on the land wear.
Such a view of the land is a vision from a distance, one that shows a fundamental separation from the land, and belies a modern and urban viewpoint, as I have written. It is in fact a classic example of what has been termed the 'landscape idea' by the geographer Denis Cosgrove, a way of looking associated with the rise of capitalism, the transformation of land into a commodity, the movement of people from subsistence living off the land, and a shift to urban rather than rural centers of power.
This vision in Tsewang Lhamo's song is particularly clear when we compare it to the way land and nature are portrayed in the lyrics of pre-modern oral folk songs. This is a housebuilding song, from a book by Dawa Dolma:
The rammers resembling southern dragons built a wall, resembling the blue sky.
The rammers resembling white-chested eagles built a wall, resembling a white rocky mountain.
…
The rammers resembling fierce tigers built a wall, resembling a forest.
In seven lines (three shown here), the humans working are compared to ordinary, rare, and mythical creatures, and similarly, the wall they build, intertwining people, animals and environment. The parallel lines (an age-old characteristic of Tibetan oral poetry) outline a 'vertical' hierarchy of cosmos, religion, society, where land and animals and nature and environment are not contemplated in and of themselves as beautiful. In pop songs, in contrast, we have a 'horizonal' view of the land as territory, the Tibetan land. This is ultimately a nationalist vision of ownership. But it is also a fundamentally ambiguous one, as it could be seen as 'China's Tibet', or a Tibetans' Tibet.
It is crucial to note that the celebration of Tibetan identity per se is not restricted and cannot be said to be resistant or subversive in and of itself, as I have explored. Tibetans as a distinct people with distinct culture is not denied, but rather, is core to the structure of the Chinese multicultural nation, the minzu system. Assertions of Tibetan identity are not fundamentally subversive, unless this framework changes, which it may.
The pristine landscapes and glossy representations of Tibetans and their culture in music videos are often equivalent to what we see in tourist magazines and publications produced by the state to showcase Tibet as an exotic, beautiful paradise that they nurture. Tibetans in these videos look well-to-do, wealthy and successful, and, crucially, not dirty, and not embedded in rural life and work. This encapsulates the process of development, urbanization and transformation of Tibet under China in recent decades.
The gloss and high production standards of pop music are also a key part of the larger ideology of modernization and development led by the state. As I have argued, the ballet-based, Sinicized dance style of state troupes aesthetically embodied socialist progress; it then surfaced in popular culture, its polish and professionalism utterly salient for capitalist / market-based development too. The song 'Tibetan' (Gangchanpa), by the singer Dolma Kyab, is seen as extremely powerful and subversive in its description of the Tibetan people and their primordial history, yet the dancing and costumes as performed here in a festival are entirely that of the state troupes, born of the socialist era.
In Tibet, rapid development and its ideologies subsume life, and people naturally seek to do well in this climate. Glossy, professional portrayals of Tibet and Tibetans and slick performance are inevitably appealing. Given the prevalence, still today, of Chinese stereotypes of Tibetans as backward, it is hardly difficult to understand how songs that assert Tibetan identity and culture and portray it richly are loved, and also fuel patriotism and to some degree, anti-state emotion. Nevertheless, the value of such a popular culture to the state should not be underestimated. State promotion of Tibetan language education or Buddhism is much less enthusiastic and comprehensive than popular music, to say the least.
Other Subversive Potentials
Tibetan hip hop is an interesting new space where we can see Tibetan identity being created in ways that break from state visions, with the presence of anger, swear words and the portrayal of urban lives that are gritty or tough or poor. Negative emotions that present Tibetans as not happy, wealthy, successful etc., have in fact played a part in politically potent songs before, notably, the deep sadness in Dadon's songs of the late 1980s, described by Isabelle Henrion-Dourcy. With the state all-controlling, negative emotions of the people point directly to its failures and wrongs.
Some songs, particularly from Amdo, also exhibit a style of video very different to the glossy norm. An example is 'Lamentation' (Kyo bod), by the singer Pema Trinley. The lyrics are a searing complaint against the state of affairs in Tibet as ruled by the Chinese communist Party and the singer was arrested for this song. The video, however, is more subtly subversive though would not cross any lines. There are some shots of landscaped land typical of music videos, but they are paired with more bleak shots and overall, the style is not glossy, but DIY or even ethnographic (note DIY was central to the protest of the Punk movement). There are no costumes or exotic locations and much more closeness to Tibetan people and their lives. For example, from 56 seconds into the video, the camera lingers long on a crowd of real-looking rather than merely picturesque Tibetans, then after a shot of meadow flowers, it enters into and underneath a web of prayer flags where people sit here and there. Rather than aestheticized and landscaped and a view from outside, this is animated, sensuous and immersive.
I would describe this video as having 'thickness', as in 'thick description'. If, as Sherry Ortner analysed in 1995, scholars failed to do justice to resistance due to a lack of ethnographic thickness, we can see how 'thinness' in pop songs and videos potentially undermines resistance, and how the state, with its thin, stereotyped portrayals of Tibetans, exerts control. I would add, 'Glory of the ancestors', even as it portrays culture and identity in a glossy and landscaped way, still has richness, especially in lyrics, and the potency people perceive arguably lies in this. This is even more the case for Dolma Kyab's 'Tibetan'.
In terms of high production standards, gloss, slickness, sheer wealth, power, conspicuous grandeur, material success and upward mobility, the state is always more powerful, and these are its terms of modernity. Music videos that speak on these terms can, inadvertently, support state structures, even if in other ways they challenge them or assert within them. But 'thickness' of representation is another dimension, beyond and contrary to the way power is wielded by authoritarian states.
Anna Morcom is the Mohindar Brar Sambhi Chair of Indian Music in the Department of Ethnomusicology, UCLA. Her work focuses on Indian and Tibetan music and dance from a variety of perspectives including politics, nationalism, modern history, media, gender, and economy and development. She has published widely, including three monographs. Her current research focuses on the economic anthropological study of music, the contemporary ecosystem of Hindustani music, and new age-style Tibetan Buddhist chanting music. Image credit: Youtube